Hormann Rollmatic T Doors

20% EXTRA OFF the Hormann RollMatic T Roller Door!!
GarageDoorsOnline are offering a huge extra 20% off when you order the premium quality RollMatic T Roller Door from Hormann.
Use the Voucher Code: 20OFFROLLMATICT at the checkout to receive your extra 20% Discount

Hormann RollMatic T Roller Garage Door
The Hormann Rollmatic TDL is the most cost-effective roller garage door version with a tubular electric motor drive.
The RollMatic TDL roller garage door creates more room in front of and inside the garage. It is available in 16 different RAL colours as well as the decopaint surface finish Golden Oak or Rosewood which gives a natural timber look.
The Advantages of a Rollmatic T roller door:
✓ The space advantage: the door construction incl. standard curtain cover requires very limited fitting space.
✓ The convenience advantage: the tubular operator with emergency crank handle as standard is conveniently operated via a hand transmitter with rolling code radio 433 MHz.
✓ The safety advantage: an opto-sensor in the floor seal offers reliable protection. It monitors the closing edge acc. to DIN EN 13241-1.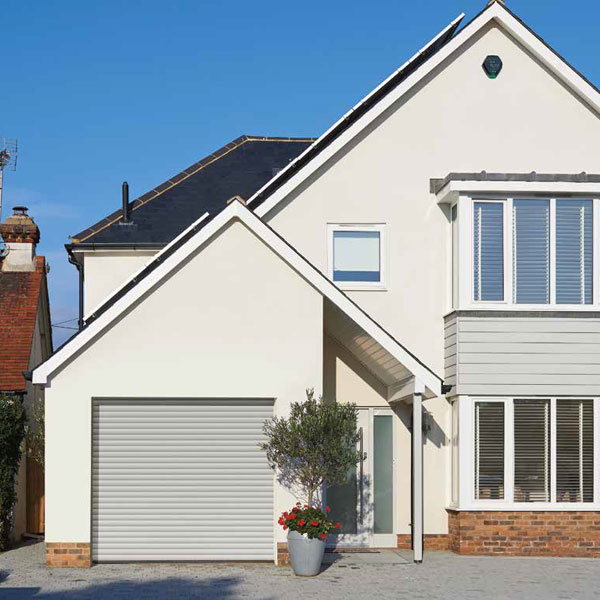 Standard equipment
✓ Door including tubular drive, emergency hand chain drive and complete curtain cover as standard.
✓ Control with 2 control buttons in the cover and integrated radio receiver 433 MHz rolling code
✓ 2x Hörmann RSC 2 hand transmitter
✓ Connection cable with plug
✓ Optical closing edge safety device with photocell in bottom profile
Overview of benefits
✓ Particularly space-saving tubular operator with emergency manual gear
✓ Compact door design with only 290 mm required headroom and only 75 mm sideroom.
✓ Trouble-free to maintain curtain cover as standard
✓ Safety acc. to DIN EN 13241-1 through closing edge safety device with optosensors
✓ Standard emergency crank handle for opening the door in case of a power failure
✓ Quiet door travel through track rollers
✓ Handy belt system for the easy fitting of the curtain to the barrel
Size range: Width (LB): 1200 – 5000 mm | Height (LH): 1500 – 3100 mm


Use the Voucher Code: 20OFFROLLMATICT at the checkout to receive your extra 20% Discount
Terms and Conditions Apply. | Excludes any existing offers.

Offer Ends 31st January 2022