Garador Standard Up and Over Doors
10-07-2017
Due to the massive success on this promotion we have managed to continue the low price promotion for the most standard of Garador steel up and over door sizes during July and August.
If you just require a white finished steel up and over door in one of the standard sizes offered then look no further!! 3 styles, 6 sizes per door and a choice of canopy or retractable operating gear. If you have a timber sub frame then fine, if not, order with a factory fitted steel box section sub frame, also finished in white to match the door.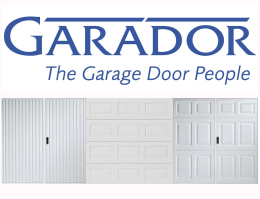 The Garador up and over door is one of the best garage doors you can buy in the UK. Wholly owned by Hormann Doors this Somerset based company produces some of the best steel up and over doors with the smoothest of operating mechanisms. Every door on offer can be ordered with canopy or retractable gear with the option of a factory fitted box section steel sub fixing frame also powdercoat finished in white as is the main door panel, inside and out.

All the operating mechanism is factory fitted so the door is delivered to you ready to offer stright into the opening to secure and then release the transport screws and away you go. The only part requiring installation on site is the handle set and lock barrel!!


Back to Product News Listing