garagedoorrecommendations
See our current recommendations for just some of the garage doors available on our site:

Standard Steel Up and Over Doors
Look no further than the
Hormann Series 2000
range of steel one piece up and over doors for the very best in quality, strength, style and finish and best of all they are pretty much the best price garage doors as well right now!! There are cheaper steel up and over doors about but the difference in quality is very apparent once you begin to install and use the Hormann up and over door and compare the steel pressing quality and thickness of steel used in the panels.
Garador are as good, with slightly different styles, but also a made to measure range of up and over and matching side doors. They use exactly the same high quality operating gear as Hormann as they are owned by Hormann outright.
Standard sizes only for installation to a timber sub frame or doors can be purchased with a box section steel fixing sub frame already factory fitted making this door about the easiest garage door to install of any doors available. The handle is the only part not already fitted and that is only one screw!
Hormann Steel Up and Over Doors >
Garador Steel Up and Over Doors >

Standard Size Timber Up and Overs
The best up and over timber doors for overall value for money are also currently produced by Hormann. With a wide range of standard widths and heights and the option of specifying a factory fitted box section steel sub frame for easy installation these are very easy doors to install. A wide range of cedarwood panels built into a tried and tested steel chassis system gives a timber door with very stable and long lasting properties. Factory finished wood treatment colours are also widely available.
All the doors up to 8 feet wide are offered with either
canopy or retractable
operating gear and all doors can be manual or electrically operated.
Hormann Timber Up and Over Doors >

High Quality Timber Doors Standard and Purpose Made
The
Woodrite
range of timber garage doors are about the best you can buy in the UK currently. They use modern and traditional joinery methods, a very high quality timber selection and a range about as big as it gets in terms of styles and gearing options.
If you want a solid timber joinery made timber garage door then take a look at the Woodrite range. Also on offer is a complete range of Idigbo, composite Oak and Accoya hardwood timber doors to match any oak timber used on a project but without the weight, price and instability.

Woodrite Timber Up and Over Doors >

Maintenance Free GRP Up and Over Doors
There have been many GRP door manufacturers over the years but many have varied in quality too much and the price differences are enormous between various levels of the same door design offered in different built types, i.e. thicker panel, finished inside, extra locking, etc.
For a no nonsense, high quality GRP up and over door range in a good range of styles and woodgrain effect finishes look at the Cotswold range of doors. Using the Hormann operating mechanism and framework these doors have the pedigree and the GRP panels themselves are of a very consistent high quality at middle market prices. Always beware of cheap GRP doors as they simply have all the material stripped out for lowering the price and then are flimsy and unstable .
Cotswold GRP Up and Over Doors >
Garador GRP Up and Over Doors >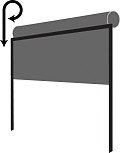 Basic Budget Steel Roller Garage Door
For a steel single skin basic roller shutter door which is made to order and designed to install straight onto the inside face of you brickwork opening then Gliderol roller doors provide the solution. This door has been around for many years in the UK now and is still the same in principal as it always was. The door curtain is a continuous steel sheet curtain plastisol coated finish to the front and available in 12 standard colour options with 3 further woodgrain design finishes in Rosewood, Mahogany and Golden Oak. These doors are made up to 16' (4877mm) wide and 10' (3048mm) high with or without an electric motor option.
Gliderol Roller Doors >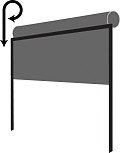 Basic Budget Insulated Aluminium Roller Doo
r
For a really good, no frills, fully compliant, aluminium remote control electric roller door, made to order, in a choice of colours and with very reliable internal mechanics and a state of the art control panel look no further than the Samson SupaRolla. It is ideal if you want the benefits of double skinned aluminium slat construction and electric operation with the very latest in safety for anti stop and anti drop. Ignore anything that is cheaper than this roller door in aluminium as it may well cause you a lot of grief!! If you want a lower price than this door buy the Gliderol steel roller door, it will last longer than a cheap aluminium roller door.
Samson SupaRolla >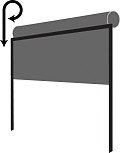 Insulated Electric Aluminium Roller Garage Doors
We have been quite open about our recommendation for this type of roller door for many years for those who want the best and it is simple to explain. The
SWS Seceuroglide
was one of THE original insulated aluminium roller garage doors to come onto the UK market and today still remains one of the best. It isn't the most expensive or the cheapest but it is one of the best by far and has always been manufactured as a fully compliant roller door with regulations governing the safety of automatic garage doors in the UK, regulations some companies choose to ignore. Remote control electrically operated as standard with a patented locking system far superior to any others if you want a good quality electric operated aluminium roller garage door get a Seceuroglide. If you want excellent security features then get a Seceuroglide.
Seceuroglide Insulated Roller Doors >
Hormann
and
Gliderol
do produce high quality insulated roller garage doors too but don't have the locking system of Seceuroglide and this is important to many customers. However these are still very high quality roller doors.
See our more comprehensive
Roller Garage Door Comparison page >
for more information on the best roller doors to consider.

Steel Side Hinged Garage Doors
Often overlooked as a very real alternative to timber side hinged garage doors we offer the Garador range of single skin steel side hinged doors and they are standard or made to order sizes with a factory pre fitted with a steel box section fixing frame for easy installation. Hinges, locks and weather strips are all factory fitted before delivery. White powder coat is the standard finish both sides and colour options are available.
Garador Side Hinged Steel Garage Doors >

Insulated Steel Side Hinged Doors
A fairly niche category but doors are available from Carteck with high levels of insulation using the same door panels to produce these doors as used for their superb insulated sectional door range. The 42mm double skinned steel panels provide excellent strength and insulation with the foam filled panels and the additional use of weatherseals on all sides built into the steel fixing frame as well as the rebated edge of the door panel giving the best possible weather resistance. Have a look for yourself, there are some excellent finishes and the doors are all made to measure for the best fit every time.
Carteck Side Hinged >

Pre-assembled Timber Side Hinged Doors
The Garador cedar wood side hinged doors are the easiest timber doors to install as they all come pre fitted with a box section powder coated steel sub frame meaning you only have to offer the door and frame into the opening fix the steel frame and they are ready to use. The main door leaves are a sturdy box section framework with quality cedar wood designs inserted giving a stable pair of side hinged doors with hinges, locking and weather seals already factory fitted when the door is delivered. Designs are limited but the classic designs are there for a quality timeless look.
Garador Timber Side Hinged >

Basic Sectional Garage Doors – Single Skin Steel
This category is taken by Hormann again for their
LTE40 range
offering a single skin steel sectional door range with a wide variety of panel designs and colours. All the doors are either manual or remote control electric operated and if you do some comparisons you may well find many of the larger width sizes offer better value than the steel up and over doors but with a lot more for your money!
Hormann Steel Sectional Door Range >

Insulated Sectional Garage Doors
A lot of variations occur from one sectional door manufacturer to another and this is normally down to sizes available and types of operation mechanisms offered meaning that one may fit perfectly and another will still fit the same garage opening but with some compromises. For example the Carteck sectional doors offer many more standard intermediate heights than the Garador or Hormann doors and have a standard headroom requirement of only 115mm due to the springs being in steel trays alongside the horizontal tracks. This means you can more often than not optimise your garage opening height with a Carteck and it is still a standard door on a 2-3 week delivery.
We would suggest you look carefully at the Hormann and Carteck ranges when looking for a double skinned insulated sectional door. If you are building a new garage the Hormann door correctly specified and ordered will nearly always prove to be the best value for money if you are looking at standard sizes and will be the easiest to install.
Hormann Sectional Garage Doors >
For replacement garage doors specifically the Carteck may offer you better options for maximising your opening heights as a range of intermediate sizes are available in the standard door range. The Carteck has the total quality you expect from a German made steel product and a unique spring lifting mechanism requiring only 120mm of headroom.
Carteck Sectional Garage Doors >