Sectional Door Brands
As the sectional garage door has become so popular in the UK there are a lot of manufacturers wanting to get in on the action. Quite a few brands from Europe and the USA have come and gone over the years, as their product doesn't quite match the requirements of the UK market in terms of quality or functionality.
GarageDoorsOnline offer the three market leading brands which have been about for many years and also offer the highest levels of quality and easiest installation process:
Carteck, Hormann and SWS will fulfil 99% of most peoples requirements in all ways. The Garador brand is on our site as an alternative but is actually the Hormann sectional door rebranded as Hormann own Garador outright and the Garador sectional door offering is far more limited than the Hormann complete range.
Overview

Carteck are a German manufacturer of sectional doors offering a unique spring balanced mechanism, arguably one of the safest and easiest to install, and incredibly high quality panels with a large choice of designs, colours, and window options.
Carteck offer standard sizes and bespoke sizes (which are cut down versions of the standard sizes), and so they are not usually on long lead times if the correct panel sizes are in stock. They have some unique woodgrain laminate finishes and some superb high specification window options to choose from, even with built in LED lighting for 2018. Small technical details make this door a door for the connoisseur, a door when detail is important.
A big advantage is when headroom is limited as the Carteck can operate with very small headroom requirements but still deliver the full drive through opening when opened with an electric operator.

---

Hormann are the largest manufacturer in Europe for sectional doors and their range is enormous. Various door panel finishes and designs and many colour options as well as woodgrain laminate finishes. They offer a very wide choice of adaptations in their operating mechanism layouts to enable doors to fit in the most awkward of garages.
They have industry leading developments when it comes to technology and also specifications such as their new LPU67 super insulated garage door, offering great levels of insulation and security. Another great Hormann offering is the sectional door with a built in wicket door, as the Hormann version operates with the smallest threshold of any door at only 10mm deep!
There is a massive standard size range in UK and European sizes to choose from as well as purpose made options on slightly longer delivery times.
A wide range of matching side doors also can be purchased for your garage from our online shop all with the same designs, finishes and colours as the garage doors.

---

SWS have adopted the same principal as their long serving and very successful insulated roller door, a sectional garage door that can be made to measure as standard without affecting delivery times.
The SeceuroGlide is a well specified sectional door with one great advantage in that it can have almost any RAL or BS colour finish. The designs are in line with modern trends and there are three gear types available depending on door size or requirements.

---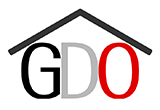 GDO sectional doors are made in the UK, to the highest specification, and made to measure as standard to ensure the perfect fit.

Available as behind fit or for an inbetween instalation with an executive frame kit, the GDO sectional range is available in 7 different designs and 9 colour options to find the perfect style for your home.

---

Garador sectional doors are manufactured in the UK and claim to be the best engineered garage door on the market. They offer the perfect blend of style, quality and security making them the perfect doors whether your garage is used to store a vehicle or as an office, gym or extra room.
Whether you opt for the premium range with 42mm thick insulated steel panels or the single skinned classic range, the sectional doors feature sturdy rubber weather seals on all sides of the door and come with a variety of surface finishes, styles and designs to create an outstanding door.

---