Carteck Sectional Garage Doors

CarTeck Sectional Doors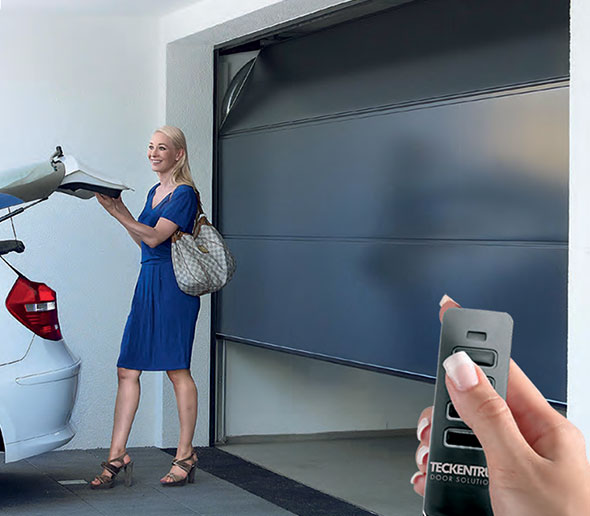 The CarTeck sectional garage door range is manufactured in Germany by Teckentrup, a company that is justifiably proud of the excellent standards of manufacturing they achieve.
The CarTeck Garage Door is built to meet the DIN EN 13241-1 and has been awarded the TUV NORD burglary certification, recognising this sectional door as extremely secure and providing the ultimate in operational safety.
A particularly pleasing factor is the standard delivery times which are speedy and probably the shortest for sectional doors in a wide range of sizes in the UK.
For the wide range of standard intermediate heights, the CarTeck Sectional Door is unbeatable.
One of the unique features of the CarTeck sectional garage door is the lifting spring system allowing installation when there is only 120mm of headroom (140mm for very large widths) making it very versatile, especially when there are so many standard height sizes compared to other manfacturers.
The same price is available for a door with any of the choices of surface finish as another extra feature giving even more flexibility in specifying.
Take a good look at the CarTeck - L range and make comparisons, you may well get more for your money.

Good Reasons
To choose Carteck Sectional Doors

Strong and Secure

Thanks to a high-quality steel core and durable multiple coating, our sectional door panels withstand the toughest conditions.

Transform your Garage

Garages can be dust blown, cold, draughty and damp places. CarTeck Automatic is designed to bring your garage back into your home.

Park Right Up

Vertical opening means CarTeck sectional Doors fits all shapes of garage openings

Smart Technology

The integrated drive and control unit of the CarTeck DRIVE 500 and 600 fits discreetly above the door.

Made to Measure

Whether you're renovating or building anew - Carteck sectional garage doors fit perfectly into every installation situation.

Maximum Safety & Performance

Safe operation of CarTeck Automatic is the overriding priority of every design decision we make.

The Styles

CarTeck Automatic sectional garage doors offer a wide range of design options that will transform the look of your home and the way you use your garage space.

Style Options - Inc. Windows

As harmonious integration or intentional contrast – all elements play a key role in shaping the overall architecture of your house.



A sectional garage door opens vertically and does not go through the garage opening at any point during operation. Available up to nearly 6 metres wide at almost any size and 3 metres high it has the versatility for many openings where traditional up and over doors just won't work – even if the opening is arched. A wider range is also available up to 8000mm wide and 4000mm high using heavier duty torsion springs and operating mechanism.
TREND COLOURS


Flame Red

Moss Green

Fir Green

Anthracite Grey

Window Grey

Sepia Brown

White Aluminium

Cream

Quartz Grey

Jet Black

White

Steel Blue

Umbra Grey

TT9016 Bling white

Ice Crystal

Light Grey

RAL7016 Textured

TT703 Metallic

Slate Grey

Grey Aluminium


TEXTURES AND WOOD EFFECTS


TT703 Metallic

RAL7016 Textured

Ice Crystal

Golden Oak


Rosewood

Night Oak
CarTeck sectional doors feature two point locking as standard (up to 5000mm) and optional bolts on all manually operated doors. Patented, galvanised, wear resistant hinges make the interlocking door sections extra secure, with quadruple folded steel at all hinge fixing points for solid attachment of the hinges to the panel sections 40mm double skinned sectional panel
Each sectional door panel section is incredibly strong by design with double skinned high strength galvanised steel enclosing a rigid layer of environmentally friendly foam in 40mm thick panels. The double skinned design gives the door panel great strength and rigidity at all sizes.
The garage door when closed is held within the frame and tracks at 10 separate points to ensure a solid, tight fit with no obvious gaps for the opportunist thief to attempt to jemmy.
The CarTeck sectional doors are available online in two attractive designs – Georgian panelled and Horizontal ribbed with four variations available in the panel designs for the ribbed design doors only.
A woodgrain textured finish to each panel is standard and is pressed into the galvanised steel panels before final finishing. Smooth, stucco and micrograin surface finishes are now available for the ribbed doors with a superb range of RAL paint colour options to match almost any colour scheme.
CarTeck sectional garage doors are available in a choice of three finishes – polyester powder coated, high grade laminate woodgrain or polymer paint finish, all giving a beautiful low maintenance, durable exterior. You can choose from a limited range of standard colours for a small extra charge or have a door in any RAL colour to choose if required to perfectly match feature on your home.
The CarTeck sectional door is designed for ease of operation at any size, opening vertically with no swing out at all, ideal for short length driveways or shorter internal length garages.
The spring tension system ensures a very smooth and easy operation at any of the sizes, large or small and is neatly contained within a steel box situated high up away from little fingers and other potential intrusions.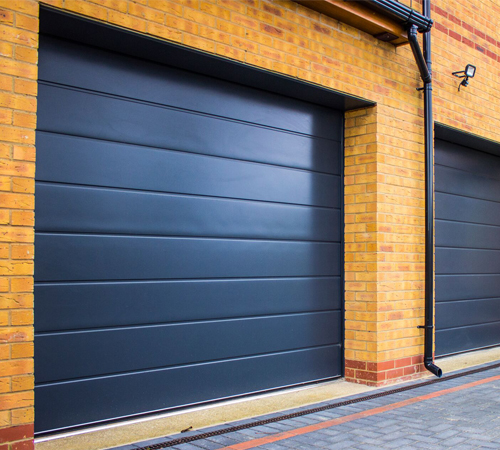 NEW TREND + COLOURS


Agate Grey

Silver Grey

Pebble Grey

Stone Grey

Mouse Grey

Basalt Grey

Graphite Grey
Pure White

Gentian Blue

Pigeon Blue

Chartwell Green

Sage Green

Burgundy

Ruby Red

Terra Brown

Nut Brown

Light Ivory

Polyurethane Windows

Scratch resistant, 20mm double glazed, easy-clean windows in lots of attractive designs to allow natural light into your garage.

Each style is available with clear, frosted or satin glazing.

Window units are fitted with a polyurethane frame that is colour matched or compliment the panel colour of the door.


Vertical Diamond Windows

Vertical Square Windows

Aluminium Light Strip Windows

Horizontal Rectangle Windows x 3

Horizontal Rectangle Windows x 2

Horizontal Slim Rectangle Windows x 2

Horizontal Cross Mullion

Horizontal Multiple Mullion

Horizontal Rhombus Mullion


Aluminium Windows

High-grade Aluminium window designs from the Carteck Bling Range!

The window options are priced per window and can be in alternative window configurations.

LED Lighting also available*
*only with frosted glass.

The option to add LED lights within the units creates a beautiful ambience.

For an "always-on" option, lights must be used in conjunction with a 220 or 300 series Carteck Motor. For up to 10 hours on, lights must be used in conjunction with Carteck Drive.



Bling Versus Windows



Bling Athena Windows


Bling Sigma Windows


Bling Gamma Windows



Bling Zeta Windows


Bling Kappa Windows


Bling Alpha Windows