Delivery
Please read our Update on Deliveries page as there are still some issues on certain brands and door types due to shortages of components.
As the leading UK online garage door supplier, we endeavour to deliver all products as fast as possible. The majority of doors are made to order and this means they are not 'off the shelf'.
As you may appreciate, garage doors are also large and heavy items, with many of the doors completely factory assembled, so specialised handling and delivery is generally required from our carriers.We will make you aware of anticipated delivery dates as early as possible. We will not make promises we cannot keep, but we will keep you informed of the progress of your delivery.
Delivery Requirements
Whilst every reasonable effort will be made to make a requested site delivery, the following requirements must be met:
Full address, postcode, contact name, mobile or land line phone number must be given.
Appropriate assistance required for unloading (one man delivery) and to sign, print and date the proof of delivery.
For the majority of deliveries there needs to be access for a large lorry (18m x 4m x 2.5m) the size of a double-decker bus. Some roads are not 'large vehicle' friendly. Please make us aware of any possible restrictions before placing the order. If there isn't room to park and offload a lorry, other arrangements may have to be made, incurring additional costs. For Carteck deliveries their wagon dimensions are: length 11.94m, width 2.55m and height 4.2m, please contact us to discuss if you have any queries or concerns.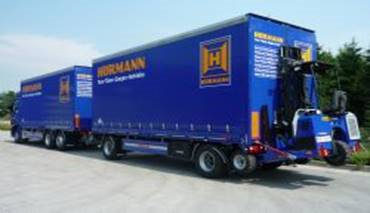 The access is to include the approach roads in the local area, low bridges and width & weight restrictions. Tree canopy height must be taken into account.
It is the customers responsibility to ensure that these conditions are met.
If any of these hazards are encountered the delivery will be aborted.
Should the driver consider the access unsuitable or that there is a risk of damage to the vehicle the delivery will be aborted.
If a delivery postcode is checked and deemed to be unsuitable for the proposed delivery vehicle prior to the door being delivered, you will be contacted to make alternative arrangements for delivery to a more suitable address or alternatively, in some cases, we can make arrangements for delivery to be made via a third party carrier in a smaller vehicle at an additional charge, the cost of which will be confirmed.
Delivery Charges
Delivery is charged on all clearance garage doors, and doors from our online garage door based on your County area and not the door type or size. You can arrange collection from our depot if required and the delivery charge would then be deducted.
Most garage door deliveries are charged at around £35 - £55 and more remote parts of the UK will be more and are on application and likely to change regularly from certain suppliers.
We deliver to the entire UK mainland although prices for delivery to the Highlands on some products are on application.
Arrangements can be made for deliveries to any part of the world if required and price is on application. Extra packaging can be arranged for this service to reduce the chance of any damage during transit.
Please note: We and the carriers endeavour to give as much notice as possible prior to delivery but no specific time frame can be guaranteed. Deliveries will be weekdays up until 6.00pm. Specific delivery days cannot be guaranteed.
If prior notice is given and the carriers are unable to unload due to no-one being on site on the confirmed day/time of delivery a re-delivery fee of £50.00+ will be applicable.
Many of the deliveries will require assistance for offloading when delivered to site.

Deliveries are made by solo drivers, the person accepting delivery must be over the age of 18 and be able to assist the driver with offloading.

The driver will not place your garage door(s) in any location, we offer kerb side delivery only and delivery drivers are only available to help with the initial offload.

All products sold on our online ordering system will require a signature on delivery (unless the item can be posted through your letterbox).

We are unable to ask for the item to be 'left in a safe place'. A signature will always be required.

Please be aware the contact number(s) given when the order is processed will be used to update you regarding delivery dates/times. Please ensure you are contactable on these so deliveries are not aborted.
We MUST be made aware of any delivery restrictions prior to order being placed.
Any damages or shortages MUST be reported in writing within 3 days of receipt.
Delivery lead times for manufacturers are currently as follows*:
*All of the following lead times are approximate and are subject to daily change.
If delivery is urgent and important to you then please speak to us first as we can arrange and influence delivery times where possible to suit.

Please be aware the lead times below are approximate and provided to us by the manufacturers. Manufacturing delays can occur at anytime with some of the more bespoke doors as they have many processes to go through and Garage Doors Online cannot always guarantee an exact delivery date.

We endeavour to provide a specific date for delivery as soon as possible. Delays in manufacturing are out of our control and we will not accept any claims for these delays.