Hormann Up and Over Garage Doors

Hormann up and over garage doors are durable, reliable garage doors which fall into two main categories for the type of mechanism - canopy gear or retractable gear. This is how the garage door panel opens and closes, and both operating mechanisms have their advantages and disadvantages in different applications.
Remember that any up and over garage door always requires a fixing sub frame - either in timber or steel. It will not fit properly to any structure without the sub frame! This frame needs to be fitted inbetween or behind the structure as required by the size or preference.
Continue reading to discover the differences between canopy and retractable up and over doors, as well as their benefits and drawbacks.
Jump to: Sizing // Colour and Finishes // Automation
Hormann Canopy Up & Over Doors
The Hormann canopy garage door is the simplest and easiest type of garage door mechanism for installation, its name deriving from the fully opened garage door panel protruding about a third forward of the sub frame to form a canopy. It gives the maximum drive-through width when open and is the easiest to install. The canopy door is balanced and assisted by torsion springs positioned above the door panel on the head of the fixing frame, and all Hormann canopy doors are manufactured using zinc coated springs of a high quality, resisting rusting and corrosion.
The Hormann canopy door mechanism is only available up to eight feet (2438mm) wide. It is not generally used if the garage door is to be automated, although with the use of a good quality 'bow arm converter' and a good quality, powerful electric operator, this type of door can be automated successfully. The advantages of a canopy door with a bow arm converter are that it gives you the maximum drive through width when open, a factor that is very important on doors at only 7'0" (2134mm) - a width making access very tight indeed for many vehicles.
Hormann Retractable Up & Over Doors
The retractable garage door is fast becoming the more popular type of garage door mechanism used, its name derived from the garage door panel retracting fully into the garage when open. It is the mechanism that will convert easiest and safest into electric operation with the least equipment required.
The drive-through width on a retractable mechanism is reduced as the lifting arms sit in between the sub-frame when the door is opened so be careful when limited for width that you do not restrict access too much, generally a problem on seven feet wide (2134mm) doors or narrower.
The retractable garage door mechanism can take much heavier loads with tension springs at the sides easily increased in size and strength.
A retractable PLUS option is available with Hormann to give better drive through width on narrower sizes by raising the side arm pivot point to higher than most standard car wingmirror heights.
The two diagrams below show the difference between the two up and over mechanism types:
| | |
| --- | --- |
| Hormann Up & Over Canopy Door | Hormann Up & Over Retractable Door |

Installation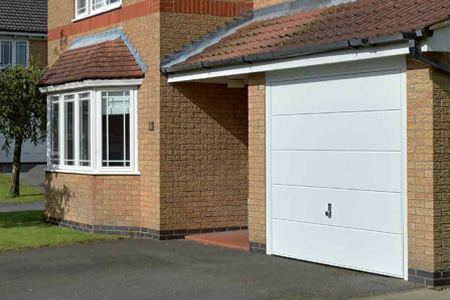 When you order a Hormann canopy garage door, all the necessary parts are factory fitted and ready to install, whether it be to an existing timber frame or delivered with the steel sub frame, factory fitted.
The only part to actually fit to the door panel is the handle set! If you order the steel sub frame, which is always recommended, you will receive a pack with a set of steel brackets to install the frame to the structural opening. If you install all of them, there will be three down each side of the frame, one at the head, and two optional floor fixings.
Once secured to the structural opening (or timber frame), two transport brackets can be removed and the door should operate with the spring tension already factory set. The handle set can be fitted, and after some minor adjustments you should have a smooth, easy to operate canopy garage door.
Just like the canopy door, the retractable Hormann up & over door will be delivered with all of the tracks and parts factory installed and ready to fit. With the steel frame option, the frame is factory fitted (but only on doors up to nine feet wide - larger doors have the steel frame as a separate easily assembled pack). The only difference with a retractable door on installation is hanging securely the horizontal guide rails for the door rollers. These can be hung from the ceiling or garage wall, whichever is closer or more convenient.
Hormann retractable gear is always specified for garage doors over eight feet wide and heavier door panels such as hardwood. All double garage doors have retractable gear only.

General Sizing Information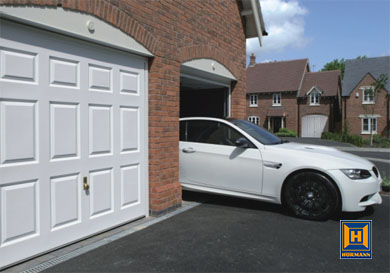 Up and over garage door ordering sizes always refer to the internal sub frame dimensions - this is the frame for fixing the door panel itself to and is either produced in a timber or steel box section. A seven foot by seven foot garage door (2134mm x 2134mm) ordering size refers to the daylight opening size of the sub frame and the garage door panel itself is smaller for operating tolerances.
Sub frame sizes themselves vary depending on the gear and manufacturer required – so beware of overall frame size dimensions! The actual drive through width and height of any one piece up and over garage door will never be the same as the ordering size. The door panel hangs down in the opening and reduces the height depending on the thickness of the panel itself, and the width can be reduced, as mentioned above, when using retractable door gear. The optimum single garage door size is about 8'0" wide (2438mm) to allow easy access of a vehicle, the height depends on other factors such as building restrictions or taller 4 x 4 vehicles.
Many other European metric sizes are available from Hormann as well as purpose made sizes - the N500 and N80 ranges. For information regarding these, please give us a call for details.
References for sizes are explained below for a canopy up and over door, the same applies to a retractable door.

Installation Positions
Hormann up and over garage doors with steel fixing sub frames can be installed either inbetween or behind the structural garage opening, but never in front! The installation position is usually dependant on sizing restrictions or the finish and depth of the garage piers, although aesthetics are quite often is a major factor. A garage door fitted onto the inside face of an opening can be wider and higher than a door fitted inbetween the same size opening. If you are unsure, please call or e-mail us, it could mean the difference between getting your vehicle into the garage or not!
Materials
The up and over garage door is still the most versatile when it comes to materials and designs. The one piece panel structure means that garage doors can be produced from steel, fibreglass, Upvc and most types of timber, although the strength of all Hormann doors comes from the basic steel box section chassis.
In recent years, the maximum available width of most one piece up and over garage doors has been reduced due to stricter safety legislation, and the sectional garage door has come into its place. Steel is the most economical choice of garage door panel.

Colours
Hormann steel garage doors are powdercoat primed in white as standard from the factory, and are now available in optional RAL colours.
The steel design doors are available in a variety of colours from the RAL colour chart including:

Dark Brown
RAL 8028


Light Blue
RAL 5005


Steel Blue
RAL 5011


Green
RAL 6005


Red
RAL 3003


Black
RAL 9005
Door Finishes
The most recen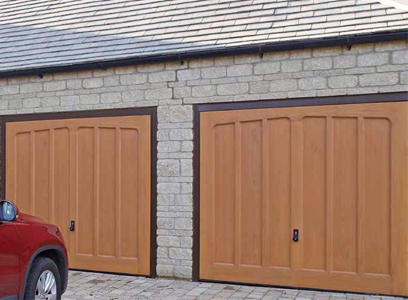 t innovation has to be the Decograin finishes, which are laminate foils applied to the outside face of the door panel to simulate different attractive wood finishes. These effective foils not only offer fantastic aesthetic styles for your garage, but also come with a 10 year guarantee.
Hormann GRP (fibreglass) doors are available in ever-changing finished woodgrain colours and are all hand finished, so never expect quite the same finish as a sample you may obtain! The 'base' solid colour of the door is in the gel pigment used to make the door in the first place and the final front finish is hand applied.
Hormann timber garage doors are increasingly available in fully finished colours using microporous wood treatments. The most popular form of supply however is still base coat stained for final finishing on site in order to coordinate with other timber finished on the property.
Electric Operation
All Hormann up and over garage doors can be remote control electric operated using any of Hormann's top quality remote control electric operators.
Automating a canopy type up and over garage door will require the use of a bow arm converter if it is installed with a traditional boom type operator. A retractable up and over door is always preferable on larger width garage doors if the option is available, as a bow arm is then not necessary.
The range of controls available today are vast, with wall mounted internal and external access controls and a selection of remote control devices to cover all requirements.





Promatic Series 4 Operator

The Promatic has new features:
> 40% faster opening speed* up to 20cm/s
> Convenient garage ventilation
> Up to 2 times* brighter LED lighting
> Networked with Smart Home systems via the standard HCP interface
> Low power consumption in standby below 1 watt

As standard with two 4-button hand transmitters HSE 4 BS, textured surface black with plastic caps.
Supramatic Series 4 Operator

New Features of the Series 4 Operators:
> Energy-efficient LED lighting for bright, even garage illumination
> Low power consumption of less than 1 watt in stand-by mode
> Integrated Bluetooth receiver (can be turned on and off) for controlling the operator using the BlueSecur app on a smartphone (only with Supramatic 4)
> HCP interface to connect accessories or external SmartHome systems
> Up to 75% (Supramatic) faster door opening in comparison to Promatic Series 3
> New 3rd opening height for "Ventilation" setting
> Hand transmitter HSE 4 for Supramatic E/P 4 instead of HS 5

As standard with two 4-button hand transmitters HSE 4 BS, textured surface black with chrome caps.


Matching Side Doors
Hormann produce a range of steel and timber side hinged doors to match the majority of up and over garage doors from the UK and European range.

Front Entrance Doors
Hormann produce a range of very high quality front entrance doors in steel and aluminium, many of which have designs to match or compliment door designs from the N80 and N500 range of European sized up and over garage doors. Designer elements such as stainless steel or glazing contribute towards a very individual feel with many options on colours.

Built-In Pedestrian Doors
You can have a very useful pedestrian (wicket) door built into a limited range of the Hormann up and over door desings in single or double door sizes. These doors are positioned to the far left or right of the door and always open outwards. They are ideal for garages that are used for storage and entered frequently.
For further information on the Hormann range or any other garage door advice, take a look at the links below:
ELEGANT AND DURABLE GRP DOORS | NATURAL BEAUTY OF TIMBER | DESIGN YOUR OWN DOOR | WINDOWS AND HANDLES
ELECTRIC AUTOMATION | SAFETY FEATURES | EASE OF INSTALLATION | TECHNICAL DETAILS | ONLINE PRICES AND ORDERING