Electric Automation
You can operate a Hormann automatic garage door as conveniently as your television. At the simple press of a button, you can drive into your garage, protected from all elements. When it's dark, an electric garage door affords you greater safety and security. It goes without saying that Hormann doors and operators are tested by the TUV (German Technical Inspectorate) as a single safety unit. Good quality electric operators will not only be convenient, they also offer greater levels of security than a manual door, particularly if you use an operator like the Hormann Bi Secur Promatic or Supramatic, both fitted with the very latest technology for code encryption and mechanical latch locking as standard.

Both the Hormann Supramatic and Promatic electric garage door operators are supplied with a five year guarantee and all necessary parts, including two radio transmitters working on the very latest 868 MHZ frequency (please note instructions may be online).
ProMatic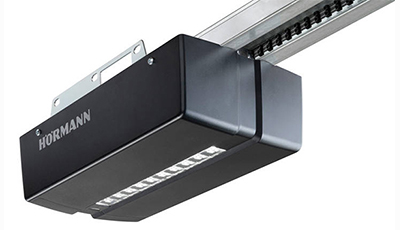 The ProMatic is an inexpensive starter model to the Hormann premium quality, for a maximum of ten door cycles (open/close) per day. Opening speed: 14cm/s.
The new BiSecur hand held transmitters, for opening automatic doors and gates, feature bi-directional FM radio signals that use the same 128 bit encryption that is employed by banks for online security. Not only does this system make the transmitters more secure, but also means that the signal is more reliable and gives extended operating distances. The superb Hormann Promatic E remote control operator is supplied with the standard K boom for operating sectional doors up to 2125mm high, and fully retractable up and over garage doors up to 2250mm high. Two transmitters, full installation instructions and a five year guarantee are included.

SupraMatic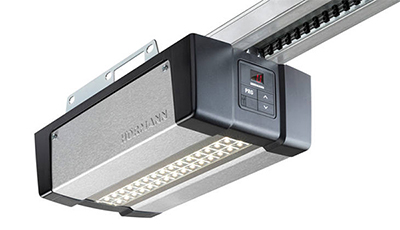 The Hormann SupraMatic features all new, easy-to-use programming where the operator functions can be set simply by entering a two digit code. The halogen/LED lighting can be operated independently via a handset or optional push button switch. There's also an adjustable opening option, allowing you to ventilate the garage without completely opening the door, useful if your vehicle needs to dry.
Both the SupraMatic P and E operators are supplied with the new HS5 transmitter, enabling you to check if the garage door is open or closed at the touch of a button. The new BiSecur handheld transmitters for opening automatic doors/gates features bi-directional FM radio signals, using the same 128 bit encryption employed by banks. This system makes the transmitters more secure and also means that the signal is more reliable with extended operating distances. Another benefit is that it includes a remote status query, only available with a HS5. A push of a button will inform you whether an out of sight door is open or closed. The door can be closed even when out of sight, with LED lighting indicating the progress. In this case it is recommended that an additional photocell is installed for added safety.

Electric garage door with automatic door latching

The door automatically latches on closing, making it impossible to lever it open, providing excellent levels of security against would-be burglars. This unique automatic latching system is a mechanical device, so remains fully functional even in the event of a power failure. This door latching device installed inside the boom is patented design by Hormann.
Further Information:
HORMANN - THE ORIGINAL UP AND OVER | WHAT MAKES A HORMANN DOOR SO SPECIAL? | CLASSIC DESIGNS IN STEEL | ELEGANT AND DURABLE GRP DOORS
NATURAL BEAUTY OF TIMBER | DESIGN YOUR OWN DOOR | WINDOWS AND HANDLES | SAFETY FEATURES | EASE OF INSTALLATION | TECHNICAL DETAILS | ONLINE PRICES