Up and Over Door Brands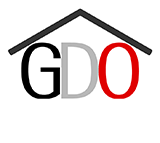 The GDO brand is our own brand of doors derived from over 30 years year's of experience in garage doors. Simple and easy to install with classic UK designs. Manufactured entirely in the UK, these are garage doors we can rely on and are constantly developing new designs, colours and window options specifically for UK style homes. This is a simple one piece up and over door range with panels available in steel and composite GRP. Standard and purpose made sizes available, with or without the optional steel box section sub frame, which we would always recommend using. The Farndish door offers a solution for so many garages where the car isn't kept. An up and over garage door with a pedestrian access door built in. Perfect for regular access in and out… Any of these up and over doors can be automated using a good quality remote control electric operator system.

Hormann are a German company with a long history and great pedigree in manufacturing. Founded in 1935, with the production of the up and over garage door in the 1950s, a basic but heavy duty, high quality one piece up and over was born. This now 4th generation family business offers possibly the very best range of steel garage doors in the world. The UK factory for Hormann was opened in 1979 and since the turn of the century the focus for the up and over doors offered was mainly turned towards UK sizes and requirements.
Hormann offer their Series 2000 up and over garage door range and in that range are many standard sizes, single and double width options. These doors were developed for the UK market and include steel and timber door options
The doors are always best ordered with the steel box section sub frame to provide a better final finish and operation.
Hormann also offer a very wide range of European size steel and timber up and over doors which are not featured in our online shop but available on request. This includes a very heavy duty door system which can be utilized with timber infill to design and create your very own timber garage door with the safety and reliability of a tested mechanical host with all automation also certified and ready to go.

Hormann also offer their N500 style 402 and 902 door, a steel door with a pedestrian access door built in for convenience in so many applications.
The Hormann GRP Up and Over Doors are currently unavailable to order.

Garador are wholly owned by Hormann, this long established brand of garage door was originally a part of Westland Engineers back in 1948. The Garador brand has long been the go to up and over door and has always been manufactured in Yeovil, Somerset. Their latest factory has been a result of massive investment from Hormann and although the doors might look similar to Hormann there are some differences and the doors are manufactured entirely in Yeovil.

Garador offer purpose made sizes for some of their steel up and over range as well as a very wide range of standard sizes. Like the other manufacturers, there is a choice of canopy and retractable operating gear for most of the single door sizes.

The Garador range offers Steel, Timber and Composite GRP models with a wide range of colours, woodgrain finishes and modern special finishes.

Garador offer the very unique Guardian security door which is a security rated, level 1 'Secured by Design' steel up and over specifically manufactured for security and only available as a manual operated door with a steel sub frame. Resinforced in every critical point the door offers proper security for those who have valuable garage contents.
The Garador GRP Up and Over Doors are currently unavailable.

Cedar Doors are a UK specialist joinery manufacturer with over 35 years of experience in creating a wide range of timber doors designed to enhance the style of your home. Skilled craftsmen use traditional jointing and construction methods combined with modern assembly and gluing techniques to produce garage doors panels which are strong, durable and require minimal maintenance. Available in traditional boarded, panelled, side hinged and sectional designs all doors can be made to either standard or purpose made sizes and come with a range of colour, handle, glazing and mechanism options. All Cedar timber is carefully sourced from suppliers that have a PEFC Chain of Custody Certification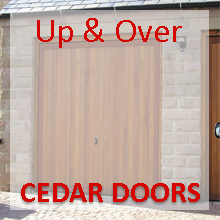 Because the Hormann and Garador basic steel box section chassis is so good and robust, it is also used by other door manufacturers to produce their timber and GRP up and over doors.
The 'Open for Infill' principle offered by Hormann allows you to buy the door with everything ready except from the actual panel design and material infill; this principle is very popular with architects in the circumstance that a unique design is required on a project. There is a weight limit for the infill but where heavier hardwood timbers are required there are other solutions (see below).
Specialist Up and Over Doors
Hormann do have a purpose made range manufactured in Germany – The N80 and N500 range. These doors are great for unusual sizes and incredibly robust build quality. They allow features such as pedestrian doors to be added within the main panel, as well as other unique features that are only possible with such a strong chassis and build method.
There is also a unique up and over door from Hormann, developed from a commercial application for underground car parks and it is the most robust single one piece up and over door available – the Hormann ET500. It can be used for infilling with cladding up to some very heavy weights, so is useful where a unique design of door is required and the door is created by a joiner in timber. The door chassis is set up ready to accept various timber types and ready to go in terms of mechanism, electric operation and steel sub fixing frame.
Price is POA.
Further Information:
UP AND OVER OVERVIEW | UP AND OVER DOOR BRANDS | MEASURING FOR UP AND OVER DOORS | INSTALLATION POSITION
ORDERING SIZES | STANDARD OR PURPOSE MADE | OPERATING MECHANISM | ELECTRIC OPERATION
HORMAN UP AND OVER | GARADOR UP AND OVER | WOODRITE UP AND OVER | CEDAR UP AND OVER