Up and Over Door Brands
In the UK there are really only two mainstream up and over garage door manufacturers – Hormann and Garador. Garador were originally Westland Engineers and are still based in Somerset in a state of the art manufacturing plant since considerable recent investment by their owners – Hormann.
Hormann up and over doors are assembled in Leicester but most components are manufactured in Germany to a very high standard. What is the difference you may ask?
Well to keep it simple there are differences in the visual appearance and designs available and some subtle differences in the way they are put together but the operating mechanism is exactly the same on both doors, whether you chose canopy or retractable gear. Hormann are best for standard sizes doors and Garador best for purpose made sizes as Hormann do not produce purpose made up and over doors in the UK.

Other up and over door manufacturers such as Woodrite and some Cedar Doors all use the Hormann or Garador open chassis system to produce their up and over doors in the UK along with the operating mechanism and locking options.
Garage Doors Online offer the very best and easiest Up and Over doors for customers to be able to purchase and install with the least fuss and the longest lifespan. Most of the doors are factory assembled for easy on site installation.
Below is an overview and shop links to the Brands and the various divisions of doors based upon material choice.

The Hormann GRP Up and Over Doors are currently unavailable to order.

The Garador GRP Up and Over Doors are currently unavailable.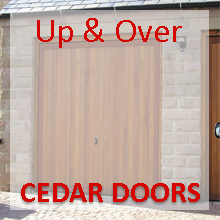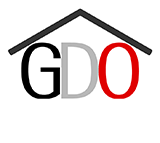 Because the Hormann and Garador basic steel box section chassis is so good and robust, it is also used by other door manufacturers to produce their timber and GRP up and over doors.
The 'Open for Infill' principle offered by Hormann allows you to buy the door with everything ready except from the actual panel design and material infill; this principle is very popular with architects in the circumstance that a unique design is required on a project. There is a weight limit for the infill but where heavier hardwood timbers are required there are other solutions (see below).
Specialist Up and Over Doors
Hormann do have a purpose made range manufactured in Germany – The N80 and N500 range. These doors are great for unusual sizes and incredibly robust build quality. They allow features such as pedestrian doors to be added within the main panel, as well as other unique features that are only possible with such a strong chassis and build method.
There is also a unique up and over door from Hormann, developed from a commercial application for underground car parks and it is the most robust single one piece up and over door available – the Hormann ET500. It can be used for infilling with cladding up to some very heavy weights, so is useful where a unique design of door is required and the door is created by a joiner in timber. The door chassis is set up ready to accept various timber types and ready to go in terms of mechanism, electric operation and steel sub fixing frame.
Price is POA.