Which Garage Door?
If you're looking for a new garage door it can be quite daunting to get your head around all of the information that is required in order to make an informed decision. This quick guide is here to help you understand the different types of garage doors, and why more than one kind exists in the first place.
Each category contains a link to further information on that particular type of door. If you have any further questions that aren't covered here, please contact us by email or telephone (01926 463888).

Up & Over Door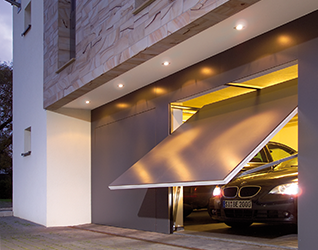 The most recognisable door style in the UK still, this tried and tested one piece panel design does exactly what it suggests; it goes up and over into the garage opening in one piece. Vastly popular for a reason, the Up and Over easily achieves the basic purpose of a Garage Door. It is generally the easiest type of garage door to buy and install.

Benefits
- Generally the easiest to install and delivered ready in one piece
- Suitable to use as a manual or electric operated door
- Reliable, tried and tested design and mechanism
- Provides weatherproofing
- Huge choice of designs, colours and materials, even with a create your own option
- Two choices of opening mechanism - Canopy or Retractable
- Security Rated options now available - LPS1175 SR1 rated
- Some models available with a pedestrian door built into the main door panel for easy access in and out.
---
Sectional Garage Door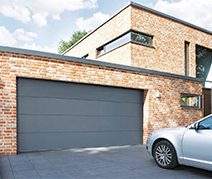 A slightly more complex garage door mechanism, these doors are built in panel sections that open by sliding upwards, and then curve back into the garage on horizontal rails. Perfect for automation, these doors offer a space saving alternative to Up and Overs. Great levels of insulation and security can be achieved with the sectional door not possible with other garage door types.
The sectional door is the door you should always consider when looking at roller garage doors as it performs at far higher levels and is by far the most durable long term garage door.

Benefits
- Fantastic security and strength
- Impressive insulation qualities, stated U values available
- Great for short driveways or garages requiring maximum drive through dimensions
- Stylish and extremely well engineered
- Vertical Opening - Park right up against the door and operate
- Available in very large dimensions for bigger garages - Up to 8m wide!!
- Double glazed window options available.
---
Side Hinged (Swing) Door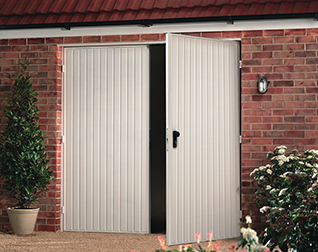 Opening like traditional double swing doors, Side Hinged Doors are a timeless option for a garage door, and are perfect for garages that require regular pedestrian access. With a massive resurgence in this door type in the UK there are now many double skinned insulated options providing a real option for a secure, insulated and easy to operate garage door.
Options now exist to recreate the beauty and styles of period type hinged doors but with all the modern security, insulation and durability. You can also buy very high specification doors with various ratings for security and insulation which may be required on your project.

Benefits
- Allows quick access for pedestrian use - Ideal when you don't use your garage for a car
- Stylish, traditional appearances
- Available in a range of materials - Softwood and hardwood timber, Steel, GRP
- Good insulation available for garages which are used as rooms, stated U values available
- Easily installed generally, especially when delivered as a doorset with the sub frame already fitted
- Low maintenance, easy operation
- Automation optional on all types and sizes
- Security rated specifications available - LPS1175 SR1 and SR2, RC2 and PAS 24
---
Roller Shutter Door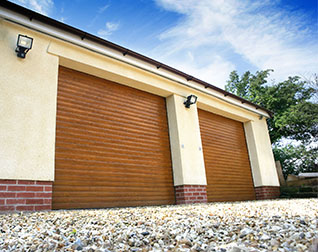 Roller Doors open vertically, but rather than going back into the space like Up and Over or sectionals, these doors curl up into a roll above the opening. Suited for installations with limited headroom, but not sacrificing on security and insulation. The roller door is the most diverse as it can be fitted inside, inbetween and outside the garage opening. It is the most copied type door type in the UK and although a lot might look the same you do need to investigate further and understand the real differences between specifications and components.

Benefits
- Vertical operation
- Easy installation generally for branded models
- Strong security properties when provided with suitable locking mechanisms
- Suitable for automation or manual operation
- Good insulation qualities, only one model has a stated U value however if it is important
- Space saving, perfect for small or obstructed garages
- Security rated options - LPS1175 SR1, Secured by design accreditations

---
Round-the-Corner Garage Door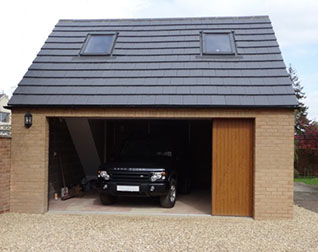 No bonuses for guessing where this door goes! A Round-the-Corner Door acts like a cross between a sectional and a roller, sliding off to one side and along an inside wall. Great for easy pedestrian access and partial opening. Available in wider than average sizes and requires very little headroom.

Benefits
- Horizontal operation
- Perfect when there is limited headroom for any other door type
- Even weight distribution for smooth easy opening
- Partial opening for easy pedestrian access
- Suited to large and very large openings
- Easily maintained