Side Hinged Doors Overview
One of the original garage door types and possibly now once again the most relevant for the 21st century household. Simple is often best and when it comes to side hinged garage doors this is so true. With most garages now being used as another room to the main house rather than for a car you are most likely entering the garage regularly on foot. There is no need to open the door fully and expose everything to the outside world.
You just want to walk in or out the garage to fetch one of the many items you store in there. What better doors for this purpose than a pair of side hinged garage doors?
What isn't understood about side hinged garage doors is the advances in materials and manufacturing processes now mean for most purposes the best side hinged garage doors will be made out of steel. Whether that be single skin pressed steel or the more durable and prestigious double skinned insulated steel side hinged doors, both will have their place depending on your use of your garage...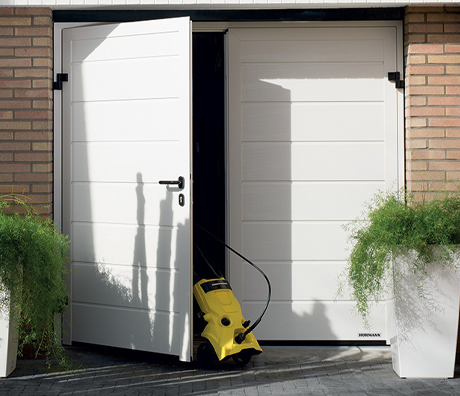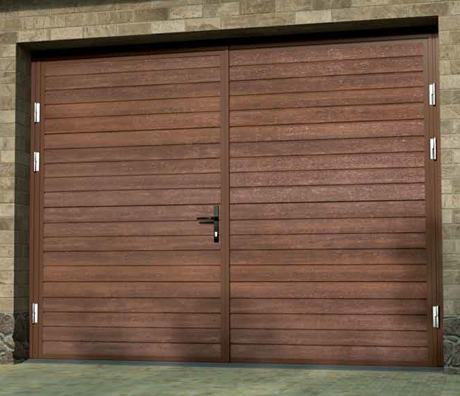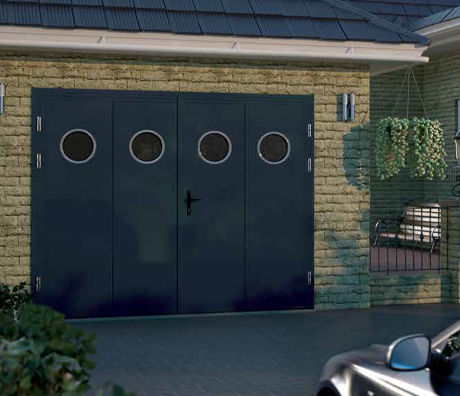 Steel Side Hinged Doors provide:
• Effortless Operation • Quiet Operation • Excellent Stability and Overall, Integrity • Great Security on the double skinned insulated doorsets
• Exceptionally low Maintenance • Easy Installation with preassembled doorsets • Very long guarantees and minimal moving parts for longevity
• Insulated panels offer great sound insulation • Choice of smaller pedestrian door option • Traditional and Modern Designs
• High Quality durable external finish options• Multiple Window Options • High Security Options
In short for a single garage the side hinged doorset offers so many garages the solution to easy, quiet daily access with high performance in terms of the insulation, weather protection and sound deadening so many would appreciate.

Our Range and Recommendations
There is really only one type of side hinged garage door we recommend if the budget allows, bearing in mind these doors will provide insulation so for many will go towards controlling heating bills in the winter if the garage is integral or used as a room. A good set of steel double skinned insulated swing garage doors will be a great investment for your garage and home.

Insulated Side Hinged Garage Doors
Our comprehensive range of double skinned insulated steel doorsets offer the very best in terms of durability, security, quality and performance. We offer doorsets from leading manufacturers Carteck, Hormann and Ryterna with our very own range of GDO hinged doors, developed from the many years of experience we have in selling thousands of steel garage doors. All the doors are made to measure with a limited range of standard sizes for fast deliveries but with no differences on the high quality and specification.

We now offer steel insulated garage doors in either 20mm double skinned panels or with the wider ranges of the 40mm double skinned panels where there are far more options on windows and oother aspects of the doors.
Many of the 40mm models can be manufactured in a straight 50/50 equal split or choose to have an asymmetric split providing a smaller pedestrian door to one side for convenience
The doorset principal is simple enough, the doors are supplied with almost everything factory fitted and assembled including the outset fixing sub frame, making installation on site as easy as possible and removing any chance of fitting incorrectly (subject to understanding minor adjustments in the hinges and levelling).
Take a look at our insulated side hinged garage door range now >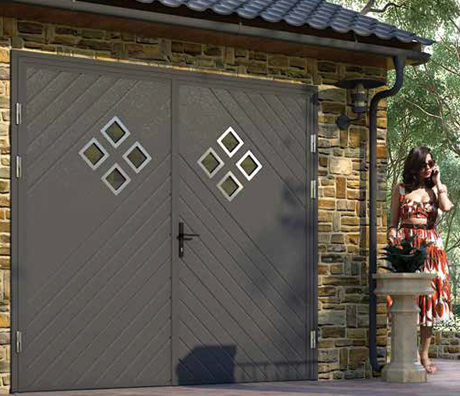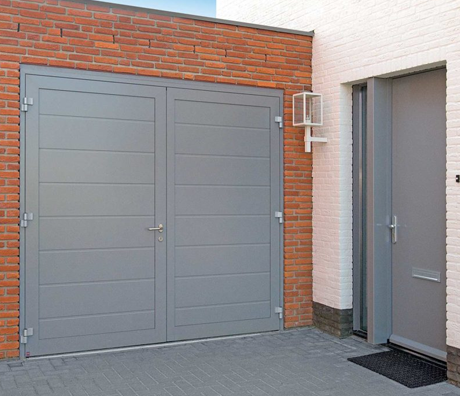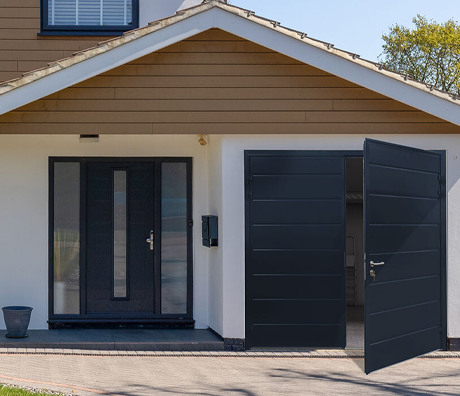 Budget Friendly Steel Hinged Doors
We have a comprehensive range of single skin pressed steel hinged doors, once again factory fitted with the important parts taking the effort out on site. We have our own extensive GDO range of doors along with the Garador range. Both ranges offer the doors with a steel fixing sub frame, which we strongly recommend is always used to reduce tolerances to a minimum for the best performance and durability once fitted.
A whole range of style and colours are on offer in standard or purpose made sizes to suit. Many models are available with a straight 50/50 split or the asymmetric split to offer a smaller pedestrian door on one side for convenience. These doors are ideal if your garage is perhaps detached and there is no requirement for insulation or higher levels of security.
Take a look at our single skin steel side hinged garage door range now >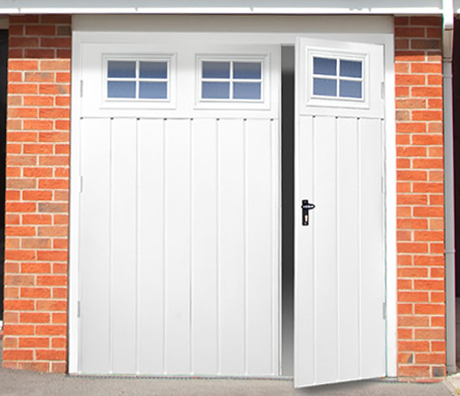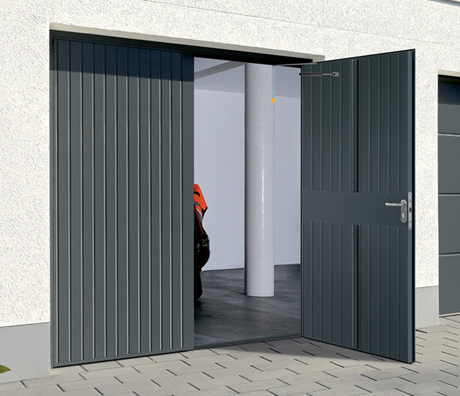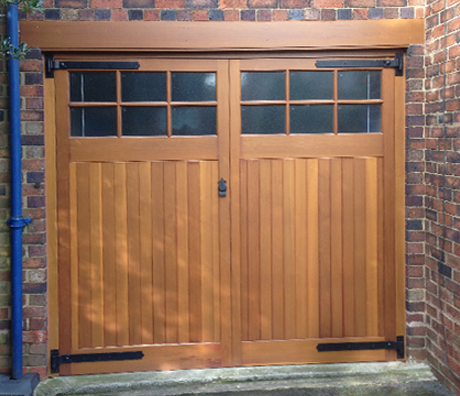 Traditional Timber Hinged Doors
We offer a wide variety of traditional joinery made timber side hinged garage doors but also a range of timber hinged doors built into a steel chassis and sub frame taking away the need for a professional carpenter on site installation.
Some properties just screen out for timber. All the timber side hinged doors we offer are manufactured from Western Red Cedarwood and all are available with a factory finish which is recommended when ordering...
Take a look at our timber side hinged garage door range now >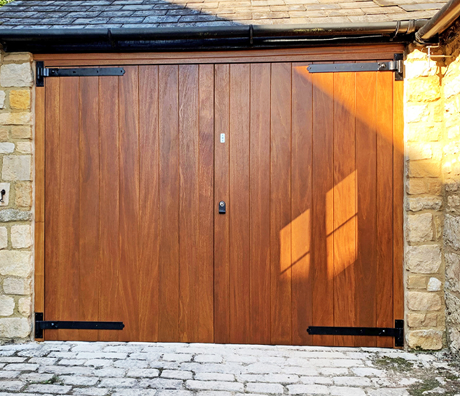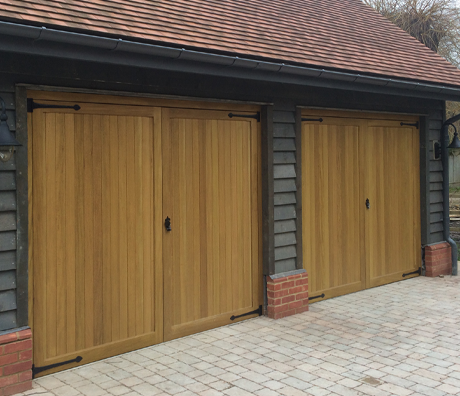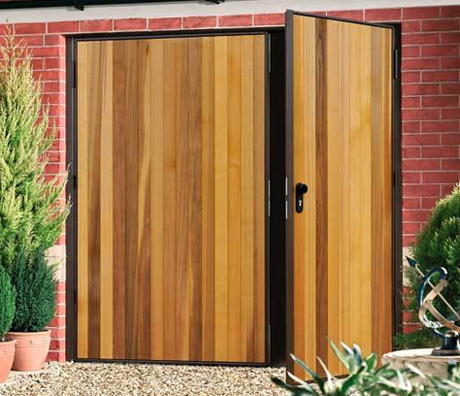 Composite GRP Hinged Doors
For fully finished and traditional wooden garage door designs without the timber take a look at our range of composite GRP hinged garage doors. We offer our own limited range of GDO doors with the Garador GRP hinged door range also on offer. Fully finished and set into a galvanised steel chassis these doors come complete and built ready for installation. Just choose your design, colour and size. All the doors come with a prefitted box section steel sub frame and we have standard and purpose made sizes.
Take a look at our composite GRP side hinged garage door range now >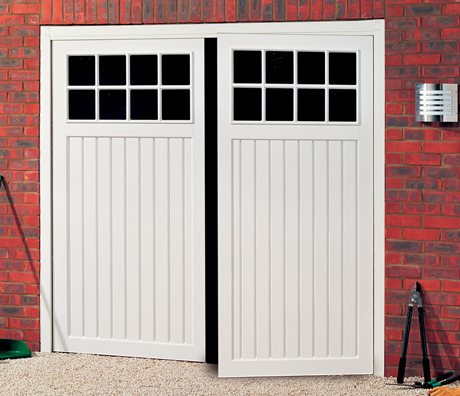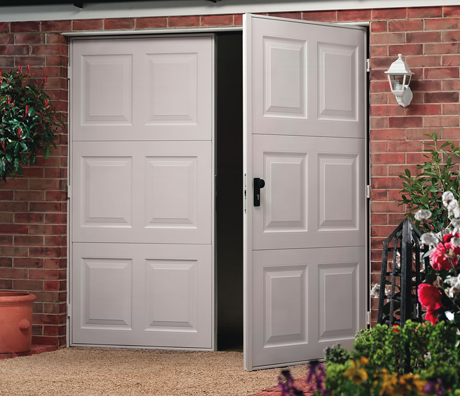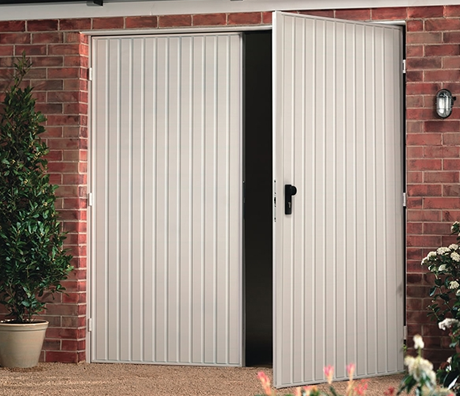 Electric Operation
Most side hinged garage doors can be electrically operated, and we offer various operators with the appropriate kits in our online shop. A special adapter will simply push and pull the door leaves in and out using a normal boom type electric operator as the main system but with steel rod adapters fitted to the door leaves. We recommend emailing or calling us to sort out the best package combination for any electric operated side hinged doors.

Helpful information

Manufacturers