Measuring for a Personnel Door
When measuring for a Personnel Door (or pedestrian doors) we only require 2 simple measurements. The level of required tolerance may vary depending on variations in brickwork, block work or even plaster work within the aperture.
Personnel Doors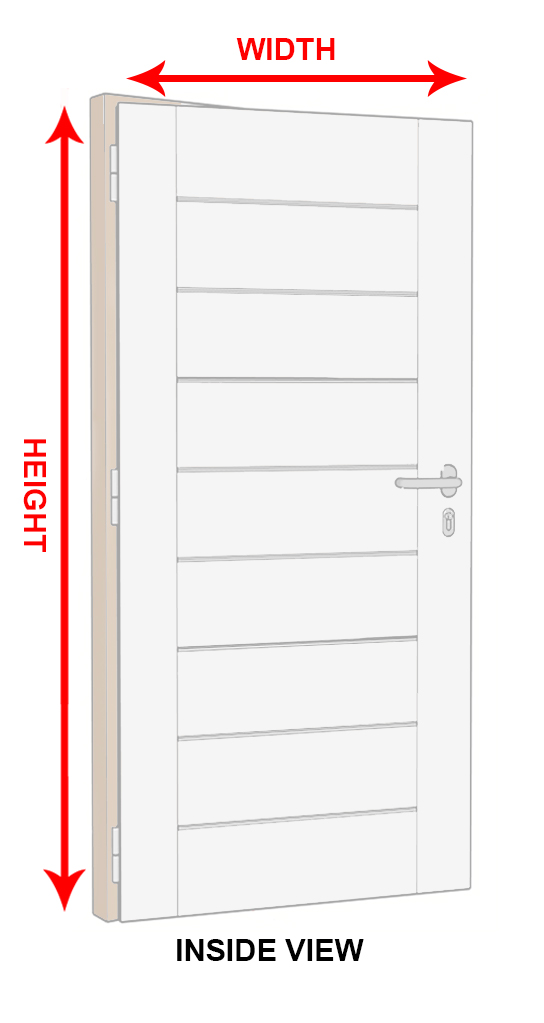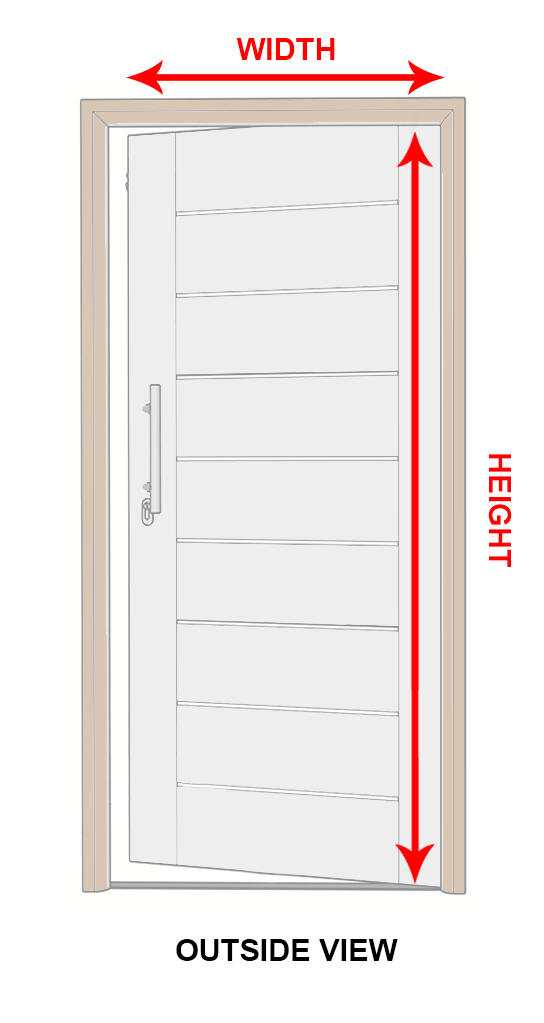 Important: Always check exact specification on your order details. A minimum tolerance is allowed for the structural opening dimension shown. Please check if you are unsure.
---
Measuring Inside
When measuring from the inside for any personnel door in the UK, you are quite often measuring a smaller measurement as it could be the plaster work on the returns you are measuring. Therefore, if an average plaster depth is around 20 - 25mm, your inside measurement can be about 40 - 50mm different from your outside measurements. It is worthwhile checking the inside measurements to see how much of the outer frame may be covered by the plaster work and may interfere with the hinges on the door. In the UK, it is quite common to adopt a 'knock on' or spacer section in order to make the framework on the hinge side slightly wider so as not to interfere with the hinges.
Measure the width of your opening from left and right in several places top to bottom
Measure the height of your opening from the lintel to the floor in several places, ensuring you define the floor level correctly and decide if there is a sill; is it staying?
Please also refer to the 'measuring tab' shown in the online shop when placing an order for these personnel doors.
Take the smallest measurements as the ones to use. If there is a large difference in various places then check this is the same outside and also check the opening is square.
Back to the top Additional information
---
Measuring Outside
Take the smallest measurements as the ones to use always. If there is a large difference in various places you may need to disc cut or be prepared to use infill material to help install and cloak the resulting gaps.
Bear in mind the difference between inside and outside measurements as stated above, and the fact that the outside measurements will quite often be wider than the inside measurements. On a personnel door on a house, this is due to the plaster work depth inside or because of a change from brickwork to block work in the construction. Also be aware the doors we supply DO NOT come with a sill, but do not need one as there is a threshold factory fitted with a built in seal. These thresholds are minimal in height, and if a sill is required for any reason this will have to be separately sourced.
Measure the width of your opening from left and right in several places
Measure the height of your opening from inside of the opening to the floor in several places
Please also refer to the 'measuring tab' shown in the online shop when placing an order
Back to the top Additional information
---


---