Up and Over Door Overview
An up and over one piece garage door is the most recognisable type of garage door and is still one of the most popular types of door in the UK. This fact is mainly due to these garage doors being the simplest and easiest option when replacing an existing up and over door, of which there are many from years and years of new build homes only using this type of door. The operating mechanisms are generally smooth, and the door is secure when closed, offering excellent levels of security through the strength of the design.
For standard size garage doors from stock, Hormann have the best overall offering but we also offer our own GDO up and over doors, simple and basic. For a purpose made steel garage door then the Garador range is best, as they have the most modern techniques for manufacturing made to measure doors in the UK as well as a state of the art powdercoating plane recently insalled in Jan 2020.
When a steel up and over door is ordered with the optional steel sub frame you will have a sound and reliable garage door far better than any older type up and over door. If you need something really bespoke then look at the Hormann N500 or ET500 options where there are some standard designs but also the ability to purchase a fully functioning door chassis, mechanism and fixing frame ready to be infilled with whatever you need to use to fulfill a special finish or material match.
Canopy Mechanism

Canopy Up and Over garage doors have the main garage door panel protruding about a third forward of the sub frame to form a canopy when opened fully, hence the name canopy

The canopy type garage door is the most popular for when a smaller size standard door is required and manually operated (although automation is readily available with the additional use of a bow arm converter). The lack of internal tracking is also useful and desireable to keep a garage interior neat and tidy and to avoid internal obstacles like shelving, pipework or meters.
ANY of the canopy up and over doors we offer online will be supplied with all the mechanism factory fitted and ready for the easiest on site installation. When ordered with the steel box section fixing sub frame this is also fitted ready for installation. It is the simplest and fastest door to install on site by far.

Our tip: Always use a steel sub frame with an up and over garage door and get rid of any timber sub frame which is never as good or as secure.

Retractable Mechanism

Retractable Up and Over garage doors are simply a one-piece garage door panel retracting fully into the garage when open. This is achieved by rolling back on horizontal tracks, with the lifting springs situated at either side of the door at low level. Side arms lift the door panel up and over and the panel ends up nearly completely inside the garage.

The retractable up and over door is ideal for adding a remote control electric operator, and all garage doors over 8 feet wide (2438mm) will be on the retractable operating mechanism as standard. No cables involved, and practically maintenance free. A retractable door is delivered to you with all the mechanism factory fitted ready to go and when the steel sub frame is ordered this is also fitted ready for direct fitting to the garage structure. The only item to fit is the outside handle, delivered seperately to avoid damage.

Our tip: Always use a retractable door if you want electric operation UNLESS the opening width is critical for your car access. Always use a steel fixing sub frame whenever possible as it is stronger, more secure and has tighter tolerances than a timber sub frame option.

Secured by Design

A range of super strong steel Up and Over doors that have been tested and approved with the prestigous 'Secured by Design' accreditation. The already secure Garador Guardian steel garage door has many uprated bracing bars, steel plates at key attack points, and extra locking points to provide a garage door where security is really important. The door is always supplied with a box section steel sub frame as standard for the security modifications to be effective. LPS1175 level 1 accreditation, ideal for many new build homes where far more attention is being given to the design and layout of the home to avoid security issues. This is a very strong steel door indeed if you have valuable items stored in your garage or the garage is attached and has direct access to your home.






Design Your Own

If you cannot find the style of garage door you require anywhere, or need to match a specific architectural feature, then why not design your own?

The 'open for infill' steel up and over garage doors are available in standard or purpose made sizes, and are all factory prepared to have an infill laid into the chassis. This is normally timber, but can be almost any material to provide a blank canvas for you to truly design your own garage door.
please call for details on the weights, sizes and other information about the infill which can be used on these doors as the development is always ongoing and there are other options such as the Hormann ET500 door if your door is to be particularly large or heavy with the infill





Purpose Made

Garage Doors Online offer one of the biggest ranges of high quality doors up and over doors in the UK with purpose made sizes available in steel, GRP and timber. If you do not have a standard size opening you will find a range of up and over doors all available in purpose made sizes to suit your requirements.
Please note that the sizes for ordering purpose made doors will be in millimetres and refer to the overall sub frame dimensions but referemce to the opening size is also preferable for clarity. if you need any help please contact us.
Some of the purpose made doors we offer are NOT in our online shop so please call or email with any special requirements.

---
Additional Information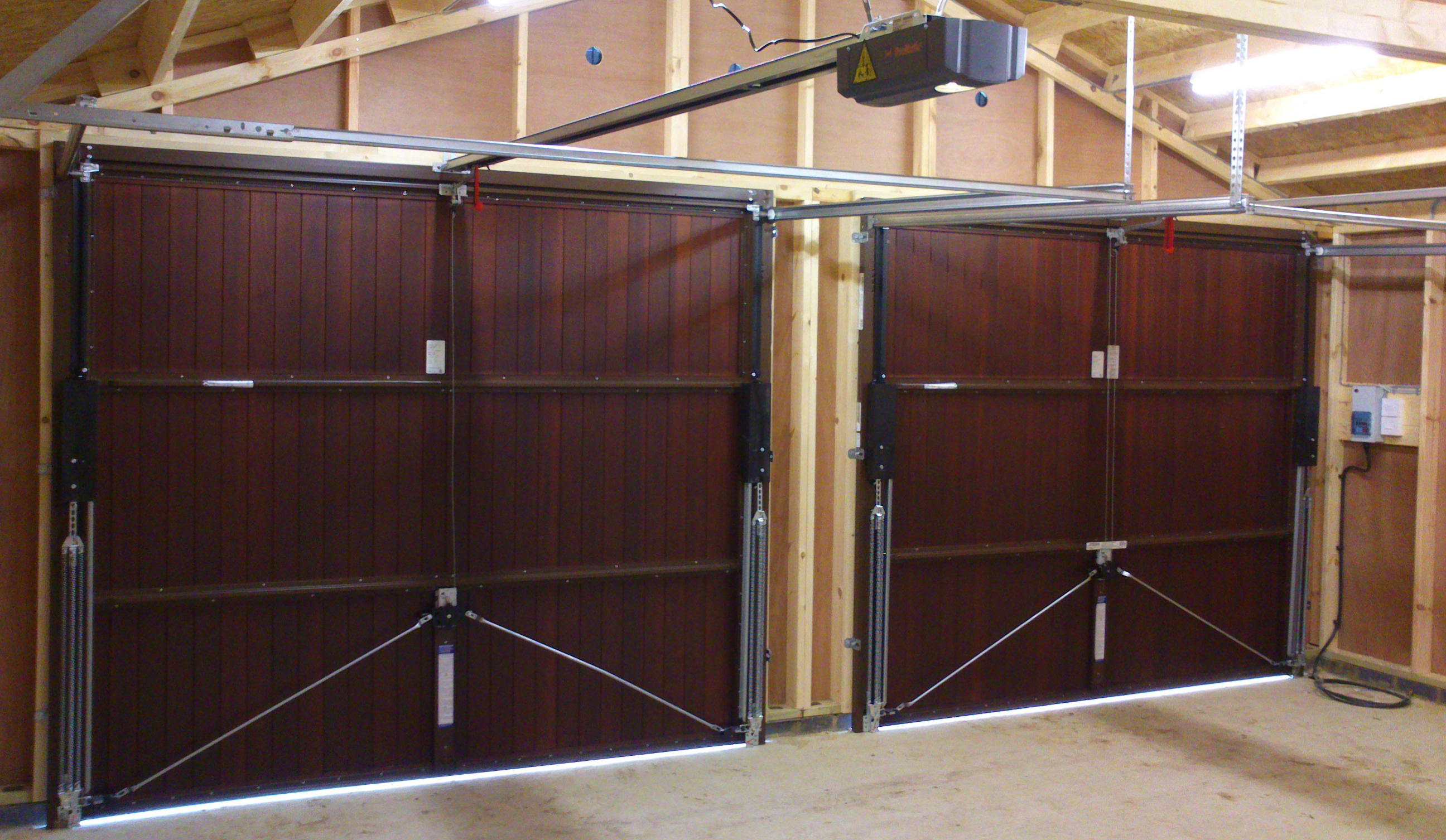 A 10 year guarantee is normal, and provides confidence in all aspects of the doors. Up and Over doors generally are manufactured up to a maximum of 5000mm wide and 3000mm high, however they are available in more limited styles and materials at the slightly larger sizes. The majority of Up and Over doors are only available up to about 4.3m wide and 2.2m high. For larger widths you are generally better looking at sectional doors.
In our online shop you will find a wide range of steel, timber and GRP garage doors, but there are more available in ranges offering more unique designs and larger sizes.
Hormann have their N80 and N500 range of European doors and styles and the superb N80 or N500 door with a pedestrian door inset onto the main panel.
OUR TOP TIP: Try to always order any up and over door with a box section steel fixing sub frame as it gives a much better overall performance with tolerances being tighter between door panel and frame and also security and durability.
For most single doors you also receive the door with the steel frame factory fitted, so installation is far easier and quicker to carry out. Traditional tmber up and over doors are maybe the only exception to this.
Please e-mail us or call for details or pricing on any up and over doors not showing in our online shop.





---
Manufacturers

| | | | |
| --- | --- | --- | --- |
| | | | |
Further Information:
UP AND OVER OVERVIEW | UP AND OVER DOOR BRANDS | MEASURING FOR UP AND OVER DOORS | INSTALLATION POSITION
ORDERING SIZES | STANDARD OR PURPOSE MADE | OPERATING MECHANISM | ELECTRIC OPERATION
HORMAN UP AND OVER | GARADOR UP AND OVER | WOODRITE UP AND OVER | CEDAR UP AND OVER