Side Hinged Garage Doors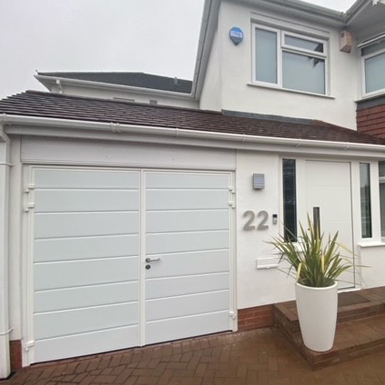 Side hinged Garage Doors (also known as side opening or 'swing' garage doors) are a traditional style of garage door that are exactly what they say they are: garage doors hinged at the sides, nearly always opening outwards. A simple and very effective type of door with the potential to offer great performance in security and insulation and ease of daily use.
Side hinged garage doors are ideal for when the garage is shared between vehicle and pedestrian use, the latter of which requires only one side opening in order to gain easy access without needing to open the entire door. They also provide a viable option to garages with minimal headroom and sideroom which other doors may require. Garage Doors Online offer one of the largest ranges of high quality side hinged doors in the UK, with standard or purpose made sizes available in steel and timber.
The doors are now available in various materials, sizes and door panel split variations to create your ideal garage door. The majority of side hinged garage doors we offer will arrive to you already preassembled for the easiest DIY installation, especially if you have included the factory fitted steel outer fixing frame to replace the need for a timber frame and offer greater levels of weather sealing and security. Most people immediately think of timber side hinged doors as the most traditional type as a material; this is fine as long as you are aware of the enormous differences between low grade redwood and pine softwood timber doors, as well as the more higher quality, stable and garage door industry standard use of 'cedarwood'. Cedarwood is a very stable, lightweight timber with excellent resilience to the torture of our British weather.
Upon first glance, the price differences between 'off the shelf', mass-produced softwood timber doors from some suppliers, and the side hinged doors on our site and others may seem a lot, however, be aware that the garage doors we offer are always supplied with all the correct and necessary ironmongery for installation, and are fully treated with a base coat stain for onsite decoration or you can take the option of a factory applied finished treatment. Fixing sub frames are also offered in either timber or steel, the latter being factory fitted, making installation about 10 times easier on site!
Which Side Hinged Doors are Best?
This question can only be answered once we know what requirements you need.
We can offer side hinged garage doors in Steel (single and insulated double skin), GRP and Timber, with vast price differences between various designs and sizes, as well as depending on the hardware specification, colours and locking.
Steel side hinged garage doors can offer low maintenance, whereas Timber garage doors offer a beautiful finish with natural graining that cannot be recreated in any other material. The Carteck, GDO and Ryterna insulated door range will offer great levels on insulation and security for those garages being used as a room, office, workshop, playroom or other usage. They also offer higher levels of security due to their construction. All the doors come preassembled for the easiest on site installation without any special skillls required (except traditional timber doors requiring carpentry skills).

Shown below are some of the superb hinged or 'swing' garage doors we offer in our Online Shop:
Cedar - Timber-Cedarwood

Traditional Joinery Made Doors with Factory Prefinish Options in a range of Sizes

Garador - Side Hinged

Factory Assembled - DIY Friendly and 3 Different Materials to Choose from

GDO - Single Skin Steel

Budget Single Skin Steel Doors with Factory Fitted Steel Frame, designed for easy installation

GDO - Double Skinned Steel

Double Skinned, Insulated Door Panels and Aluminium Sub Frame

Carteck - Insulated Steel

Security, Insulation and Durability from these Market Leading Insulated Doors

Ryterna - Insulated Steel

Traditional Design - Modern Specification and choose your own Designs

Hormann - Insulated Steel

The NT60 Range of Insulated Steel Doors from Leading brand Hormann

Timber Side Hinged

One of the most flexible options in terms of designs and sizes. Strong and Durable

All the side hinged doors available from us can be in standard or purpose made sizes; always take care to be fully aware of whether the sizes for ordering refer to the 'Overall Frame Width' or the 'Internal Frame Width'. It is always best to state both sizes if possible but, as most side hinged doors are fitted INBETWEEN the garage structural opening, the overall frame size is best with some tolerance taken off for installation, usually about 10mm all round.
Fixing Sub Frames
All side hinged garage doors need a fixing sub frame and for most of the doors we sell, this can be either in a box section galvanised steel or various sizes and types of timber. We strongly recommend the factory fitted steel sub frame option whenever available as it provides the best weathersealing, security and overall durability as well as making the installation far easier on site.
The sizes can vary to suit your needs on site, and the finishes also can be chosen in the majority of cases.
Most of the side hinged garage doors we supply will have the sub frame factory-fitted for the very easiest of on-site installations, with no 'hanging' required for the door panels themselves.
The concept of a fully assembled door is the future as you have guaranteed quality and tolerances every time and it enables the manufacturers to test their doors for performance and then present declarations of performance on the various doors.
Guaranteed quality, guaranteed performance, easy installation and adjustments on site.