Sectional Garage Doors
Choose Garage Doors Online for a choice of high quality sectional garage doors.
We have a wide range of sectional garage doors for customers to choose from in all the sizes you could possibly require. Select your dimensions and choose your colour and design. Pay securely online, then wait to hear from us about your delivery. Because our doors are made to order, we will arrange your delivery with you once you have ordered. We'll make sure it's a quick as possible, and at a time that suits you.
We sell garage doors from top brands to give you value for money and superior quality, including Carteck, Hörmann and Garador.
Want to know more? We will be happy to help. Contact us via our live chat service, call 01926 463 888 or send us a message.
Hormann Sectional

M Ribbed

Garador Sectional

Georgian Panelled

Carteck Sectional

Standard Ribbed

Quality Sectional Garage Doors from a Reliable Retailer
As experienced retailers, we can help you find the right doors for you. A sectional door is an excellent choice for your home or business. Here's why:
• Space-saving
• Value for money
• Efficient closing
• Choice of sizes and colours
See our guide to measuring up – we show you how to order the correct door size for your property. We will be happy to assist if you have any further questions.
For Individuals and Businesses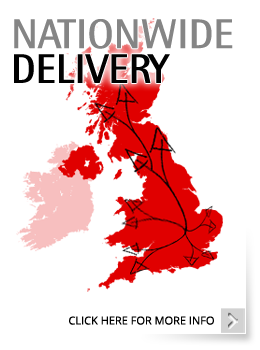 We sell garage doors to individual property owners as well as business people. Just let us know what you need. We can sell doors in all quantities. We can also assist with installation if required – ask for details. We are the perfect retailers for you. Here are some benefits of choosing us:
UK-wide delivery
30 years of industry experience
Low prices and value for money
Friendly staff who are happy to hep
Easy and secure online ordering
Top quality doors from leading, reliable brands

A sectional garage door operates vertically and does not go through the opening at any point during operation. Available up to nearly 6 metres wide at almost any size and 3 metres high it has the versatility for many openings where traditional up and over doors just won't work – even if the opening is arched.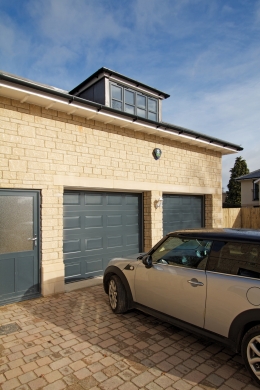 Click here if you need more information for our product range or e-mail our team today.
Benefits
Unlike up and over garage doors, the sectional door rises vertically on tracks within the garage. This opening action completely eliminates swing-out which extends the usable length of the driveway and affords you more space both inside and outside of the garage.
The drive through height and width is increased quite dramatically. Is usually fitted behind the garage opening directly on to the brickwork, the whole of the width of the garage is utilised. Whilst a roller shutter garage door will give many of the above advantages, it will invariably need more headroom than a sectional door.
What happens if needs to be fitted between the opening?
Obviously the maximum drive through heights and widths will not be achieved. Also the track legs will be visible so cover profiles would be recommended to finish the appearance.
Carteck
The Carteck sectional garage door is one of the very latest garage doors for the UK available to buy through Garage Doors Online. Manufactured in Germany to the very highest engineering standards it is a garage door combining security, style and safety.
Are available online in two attractive designs – Georgian panelled and horizontal ribbed. A woodgrain textured finish to each panel is standard, pressed into the steel panels before final finishing.
Click here to view our Carteck range
Hormann Sectional Doors
Hormann have an excellent reputation for quality of product and an absolutely vast – certainly the biggest in the UK - range of styles, patterns, finishes, colours, operating gear, material etc – the list goes on. Click here to view our Hormann Sectional Doors or contact our experience team today.
Garage Doors Online is a leading UK supplier of Sectional Garage doors. We supply a wide range of garage doors and accessories. We provide excellent customer service and competitive prices.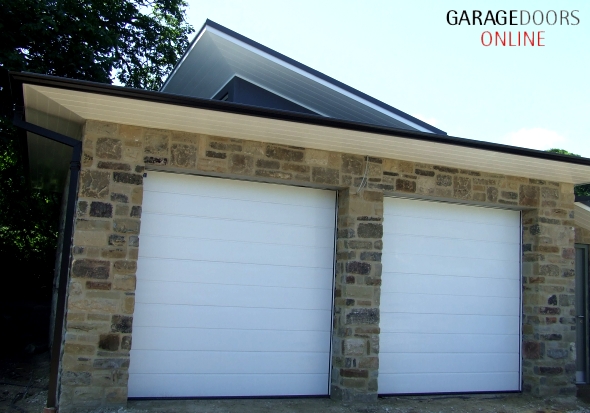 Want to know more? We will be happy to help. Contact us via our live chat service, call 01926 463 888 or send us a message.