Carteck
German engineering at its very best!
Carteck Sectional Doors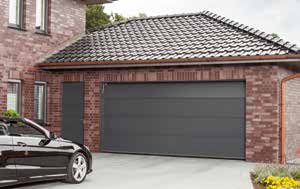 The Carteck GSW40-L insulated sectional garage door range is manufactured in Germany by Teckentrup, a company that is justifiably proud of the excellent standards of manufacturing they achieve. The Carteck Garage Door is built to meet the DIN EN 13241-1 and has been awarded the TUV NORD burglary certification, recognising this sectional door as extremely secure and providing the ultimate in operational safety. A particularly pleasing factor is the standard delivery times which are speedy and probably the shortest for sectional doors in a wide range of sizes in the UK. For the wide range of standard intermediate heights, the Carteck Sectional Door is unbeatable.
One of the unique features of the Carteck sectional garage door is the lifting spring system allowing installation when there is only 120mm of headroom (140mm for very large widths) making it very versatile, especially when there are so many standard height sizes compared to other manfacturers. The same price is available for a door with any of the choices of surface finish as another extra feature giving even more flexibility in specifying.
Take a good look at the Carteck GSW40 - L range and make comparisons, you may well get more for your money.
Insulated Side Hinged Doors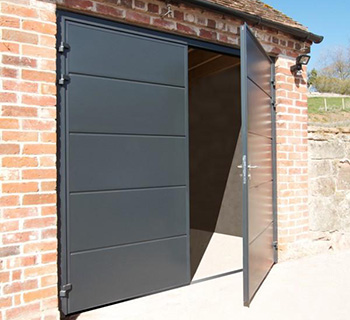 What you may not also know is that alongside their fantastic and world-beating sectional garage doors, Carteck also manufacture a superb range of the highest quality, insulated, double-skinned side hinged garage and pedestrian doors.
All made to order, all factory fitted with an aluminium fixing sub frame and all available in many different styles and colour finishes, the doors are fitted with the very highest quality hardware.
The Carteck side hinged doors are built with 40mm thick interlocking panels that insulate and reduce sound transmission.
Not only are side hinged doors ideal for anyone using their garage frequently due to their easy pedestrian access, but they also offer brilliant security and weather sealing. Their insulating properties also convenience those who use their garage as an additional room to the home.
| | | | |
| --- | --- | --- | --- |
| Centre Ribbed | Georgian | Standard Ribbed | Solid |
High Quality Hinges - Aluminium hinges with secured hinge bolts to make it extremely difficult to lever open the door and are easily adjusted. 2 or 3 hinges are fitted to each leaf dependant on the door size ordered.

Stainless Steel Handle set- High grade stainless steel handles and lock covers are tough and attractive.

Double seals and mitred corners - In addition to the circumferential seal around the door leaf the door fixing sub frame has a three sided seal for excellent draught reduction. Profiles are mitre jointed for a neat finish.

Door stays - Protecting your hinged doors from slam closure on windy days these top grade, spring dampened stays hold the door securley in the open position.

Flush bolt security - The inactive leaf is secured with flush bolts to the top and bottom of the leaf.

Optional 3 point locking - Extra secure locking is available offering two additional dead bolts in the higher and lower section of the door panel.

All the side hinged doors are made to order and generally take approx 4-5 weeks for delivery* to your address. *delivery times may vary.
The inside face of the door panels are very easy to keep clean and have no unsightly bracing bars and locking mechanisms.
The doors are supplied traffic white embossed woodgrain on the outside as standard and grey white embossed woodgrain on the inside (RAL 9002).

Optional colours are available from a standard range:

Woodgrain Colours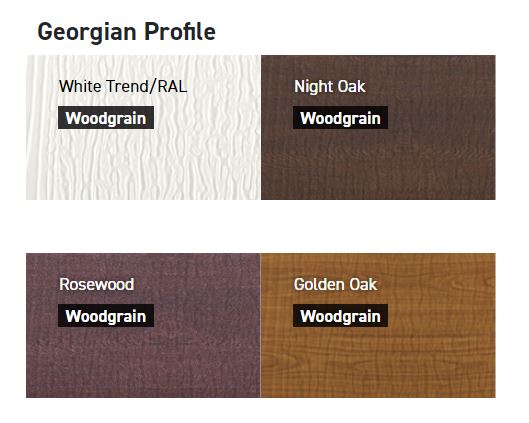 Standard Ribbed, Centre Ribbed and Solid Profile

Special RAL colours are available on request as well as a colour matching service if a suitable sample is provided.
For this service price on application is required, please email or call us.

Carteck Pedestrian Doors
The Carteck Pedestrian Doors are a perfect match to the Side Hinged and Sectional Doors, suitable if you have a free standing garage, or larger garages with additional side access.
The Carteck Pedestrian Doors are available in either horizontal or vertical design just like the side hinged doors.
| | | | |
| --- | --- | --- | --- |
| | | | |
| Centre Ribbed - Horizontal | Centre Ribbed - Vertical | Georgian - Horizontal | Georgian - Vertical |
| Solid - Horizontal | Solid - Vertical | Std Ribbed - Horizontal | Std Ribbed - Vertical |

Colour Matched Frames
The Carteck Pedestrian Doors are pre-framed as standard.
The frame will be finished in the same colour as the door panel chosen and in the case of the laminate woodgrain panels a complimentary RAL colour will be used for the framework.
RAL Colours 9006 & 9007 may not be an exact match!
Window options
Scratch-resistant, 16mm double glazed and easy to clean windows available in the following designs.
Each windows allows natural light to enter your garage.
The styles below are available in either clear, frosted or opaque glazing. The window units are fitted with a polyurethane frame that is coloured to match the panel of the door colour chosen.
| | | | |
| --- | --- | --- | --- |
| Rectangular Type 2** | Rectangular Type 3* | Square Type 2* | Square Type 1* |
| Rectangular Type 1 | Multiple Mullion | Rhombus Mullion | Cross Mullion |