Garador Guardian Up & Over Garage Doors
Garador's Guardian range is the UK's first range of Up & Over garage doors to meet the 'Secured by Design' accreditation. This range of up and over doors have been engineered to offer even greater security to meet STS202. Currently available in the three designs shown below, with either Retractable or Canopy gearing options, there is a choice between seven standard colours to choose from.
Their Level 1 security rating means actual tested resistance to a sustained attack and a performance in this test worthy of the prestigous LPCB rating.
In addition, Garador can also offer a range of steel front entrance doors which are also Secured by Design certified if required.
Carlton

Garador Guardian

Salisbury

Garador Guardian

Horizon

Garador Guardian
Colours
The Garador Guardian range of high security up & over garage doors come in White as standard, but the doors are also available in a choice of six colours as standard.

Lock Body Protection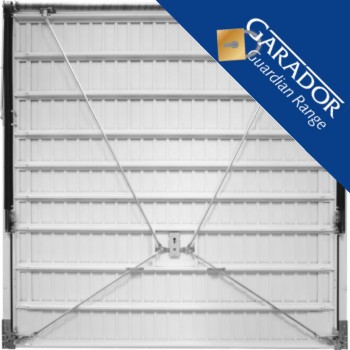 A reinforcing plate is added to the lock body to prevent attack against the locking mechanism. This new steel plate protects both the lock body and the central locking rod anchor points.
Anti-Snap Cylinder
The standard cylinder has been changed for a new anti-snap version which also incorporates a sacrifical front. The new cylinder is designed to prevent entry even after an attack.
High Security Bracing
Braces at the back of the garage door panel have been increased from two as standard to eight braces for extra protection. The number of spot welds has been increased by more than 70, further securing the door skin.
Improved Lock Security
Additional plates added to the base corners protect the bottom locking points of the door, ensuring the bottom latches remain intact even under extreme attack to prevent entry.

Four Point Locking

A four point locking system is standard using steel rods operating steel security latches, all protected behind braced areas and fed back to a high security anti-snap cylinder lock.

This is a very secure garage door, obviously also requiring proper installation with high quality fixings to ensure the best possible anchorage to the structural garage opening.