Carteck Insulated Side Hinged Doors

Side hinged garage doors are great for quick access on foot to the garage space. They remain a hugely popular choice as more and more of us use our garages for a hundred other things than parking a car! CarTeck Side Hinged Garage Doors are the next generation of side hinged garage doors. The range of styles reaches from the traditional top-light designs right up to ultra-contemporary minimalist styles with stunning aluminium windows.
There are, of course, other brands of side hinged garage door available, however here are 10 things that set these CarTeck Side Hinged Garage Doors apart from the crowd.

CarTeck Side Hinged Garage Doors are built to an exacting standard. Put a CarTeck Side Hinged Garage Door beside others and the difference is easily apparent – the finish is definitely superior with high grade coatings onto quality components. These components are beautifully engineered with automated precision and then assembled by hand with a craftsman's touch. Traditional side hinged doors are made from profiled steel sections that just don't compare to the evolutionary jump that is a CarTeck Side Hinged Garage Door.

The doors are light in use, yet close with a reassuringly solid "clunk". The double walled 40mm thick steel panel sections filled with a rigid polymer foam combine with aluminium hollow-section profiles to create a strong and rigid door panel. Most other side hinged doors are just single thickness with lots of flex that close more with a rattle and clang!

The door frame has a bulb seal to the top and sides and each door leaf also has a seal to the top and sides. These seals create a double seal at the top and side of the door, maximising the ability to reduce draft, water and light ingress. The threshold has a bulb seal against which the door leaves close to help with weather protection at the bottom of the door. The threshold also includes a thermal break, reducing heat transfer from inside to outside of the garage space.
The doors are not, however, completely hermetically sealed. There will be some points where light, drafts, strong directional rain or water that is allowed to pool at the bottom of the door may find a way in. With a correctly installed door and threshold into a well-prepared opening such instances should be limited. CarTeck Side Hinged Garage Doors are, most definitely, a significantly more effective barrier to the elements than typical traditional side hinged garage doors, that are characterised by limited sealing and draughty gaps.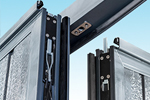 The edge of the inactive leaf has lever-operated shoot bolts at the top and bottom that engage into adjustable keeps in the frame head and threshold. The adjustable keeps ensure the door leaf is held snuggly against the door seals and are easily realigned if the seals compress over time to ensure the leaf doesn't rattle. The shoot bolts are completely concealed and so simple and easy to engage compared to the ugly, difficult to engage spring loaded surface-mounted shoot bolts or unsightly cable operated latches found on other doors.

The hinges are very neat and discretely colour matched to the door and frame. Over time, side hinged doors can often settle. With traditional doors, hinges are fixed with no ability for adjustment resulting in a poor fit over the life of the door. CarTeck Side Hinged Garage Doors' hinges are adjustable in three dimensions ensuring a perfect fit when new and easy realignment over time, should it be required.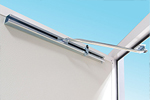 No dangling cords to pull to release the stays or clunky mechanisms, just a clever push out on the door leaf to close the door from the hold-open position. CarTeck Side Hinged Garage Doors' spring-loaded stays are very neat and effortless to use. Don't forget stays should never be used on windy days or doors left unattended with the stays engaged. The door leaf can act as a sail even modest winds, resulting in damage to the door and the stay.

The inside of a CarTeck Side Hinged Garage Door is very tidy – just flat interlocking sections on horizontal design doors and flat interlocking sections with small jointing plates to prevent sections from moving over time on vertical design doors. Compare this to the unsightly multiple bracings and plates that hold a traditional side hinged door together, creating perfect dust and dirt traps!

The stainless-steel hardware is a pleasure to use and, with simple care, keeps its good looks. D handles or lever handles have a quality feel and the high-grade lock cylinder and rose complete the look. Key operated from the outside and the convenience of a thumb turn to the inside. The latch keep is adjustable ensuring a rattle-free door on the day the door is installed and into the future if any realignment is required. No cheap plastic hardware or rattling leaves on CarTeck Side Hinged Garage Doors!

The inherent strength of the aluminium-profile frames and the double steel walled sections makes for a door that is robust and strong. The deadbolt lock and latch combine with the inactive leaf shoot bolts to hold the doors solidly closed. The doors can be further enhanced with a three-point lock option that adds two extending lock pins that engage into the inactive leaf with the deadbolt. The keys supplied with the door are security keys – this means that no locksmith will copy them should you lose a key.
Whilst the door has no official security rating it's inherent strength and locking make it an easy choice over conventional side hinged doors with their lightweight construction.

The combination of great aesthetics, solid build quality and features designed to help keep the elements at bay make CarTeck Side Hinged Garage Doors an all-round class leading performer.
CarTeck Side Hinged Garage Doors and personnel doors have not been tested for thermal performance. The declaration of performance for CarTeck Side Hinged Garage Doors and personnel doors, as part of the requirement of the British Standard for Garage doors (EN13241-1), states, "No Performance Determined". This means we make no claims about the insulating properties of CarTeck Side Hinged Garage Doors, and you must decide, knowing this, if they are suitable for your needs.
To help inform that decision, compare the construction of CarTeck Side Hinged Garage Doors with others on the market. The all-round seals, aluminium hollow-section profiles and double-walled steel panel sections filled with a rigid polymer foam are a significant improvement compared to traditional side hinged doors. CarTeck Side Hinged Garage Door panel sections have been tested for thermal performance but not as a complete door and have a U value of 0.56 W/m²K.

We said ten things, but it's worth sneaking in an eleventh to mention the clever packaging that uses almost no plastic, is easily recycled and keeps the door in great condition for its journey to you.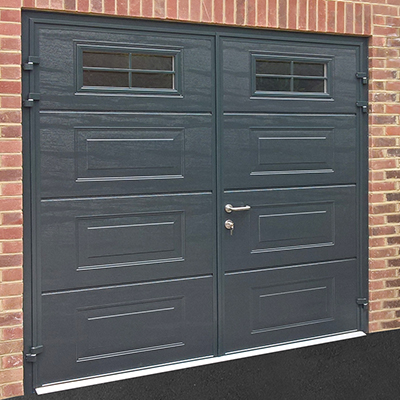 The Carteck double skinned insulated steel side hinged garage doors offer fantastic security and excellent insulation for any garage. They are a double skinned, 40mm thick, steel construction, fully finished and pre fitted into an aluminium sub frame ready for easy on site installation. All the doors are made to order to your exact measurements for the best fit and best use of the garage opening.
If you use your garage for an office, workshop, gym, playroom or simply need to insulate and seal the garage as it is an integral part of the house and losing a lot of heat and also letting in far too much dirt, then these side hinged doors are absolutely ideal. (please note the optional threshold is required for a seal on the bottom and onto a level surface).
Matching Insulated Pedestrian Doors are also available to order,
view in our online shop now >
The door panels are set into an aluminium chassis and then factory fitted to an aluminium fixing sub frame for the very easiest on site installation. Everything is ready to go from delivery!
The 40mm double skinned steel panels are of the highest quality and provide great strength along with insulation against sound, cold and heat.
The outer fixing sub frame is a box section aluminium construction and along with the rebated top and sides of the panels create a great seal against weather whilst providing enhanced security levels. The hinged doors are all made to measure to the millimetre with the ordering size and prices derived from the overall width and height of the doors with the sub frame included in the dimensions.
The doors will be delivered with almost everything already factory fitted for the very easiest onsite installation and removing the need to 'hang' the door leaves separately to the sub frame, often a skill required by a carpenter. The door leaves have already been set up in the factory and all that is required is the sub frame is fixed to the building structure, there are adjustments possible with the outer frame and keep for the lock as well as the bottom keep for the floor bolt.
Carteck Insulated Side Hinged Doors are available in either 50/50 split or Asymmetric split.
| | |
| --- | --- |
| 50/50 split | Asymmetric split |



Carteck Side Hinged Doors are supplied in Traffic White embossed woodgrain on the outside as standard and grey white embossed woodgrain on the inside (RAL 9002).
The inside face of the door panels are very easy to keep clean and have no unsightly bracing bars and locking mechanisms.
The side hinged doors are available in different door texture finishes - woodgrain, smooth, stucco and micro profile. Overview below...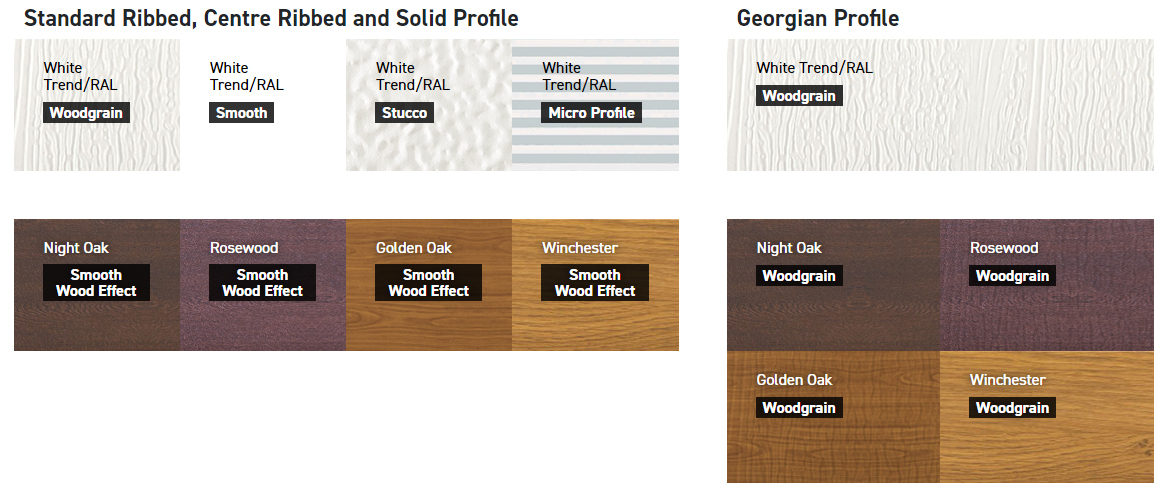 All Carteck side hinged doors are factory fitted with a fully finished aluminium fixing sub frame to make installation easy and precise with tight tolerances where the door hinges and closes.
The doors are all made to order to ensure a perfect fit and maximise the width and height of your garage opening.
The frame is finished in the same colour as the door panel colour chosen.

These doors are supplied as right or left hand leading door leaf (viewed from outside looking in) and you choose this when ordering with us.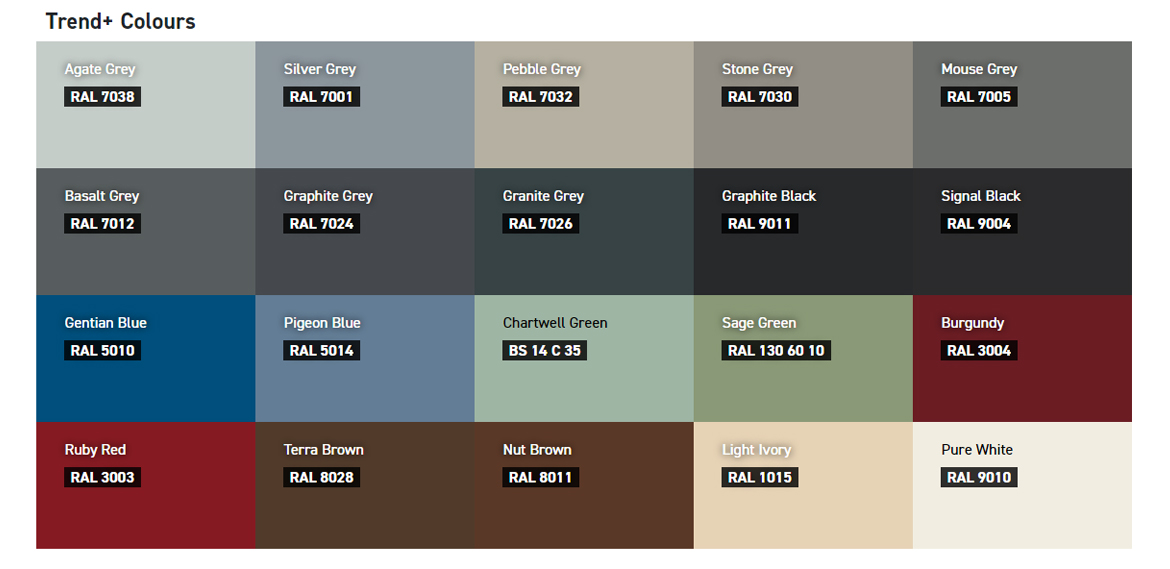 Lipped Threshold - For an improved weather protection a stepped aluminium threshold with a bulb weather strip is available as an optional extra. The door leaves close against the raised weather strip creating an improved barrier to dust and debris. The threshold includes a thermal break reducing heat transfer.

High Quality Hinges - Aluminium hinges with secured hinge bolts to make it extremely difficult to lever open the door and are easily adjusted. 2 or 3 hinges are fitted to each leaf dependant on size.

Stainless Steel Handles - High grade stainless steel handles and lock covers are tough and attractive.

Double seals and mitred corners - In addition to the circumferential seal around the door leaf the door frame has a three sided seal for excellent draught reduction. Profiles are mitre jointed for a neat finish.

Door stays - Protecting your door from slam closure on windy days these top grade, spring dampened stays hold the door securely in the open position.

Flush bolt security - The inactive leaf is secured with flush bolts to the top and bottom of the leaf.

Hardware - DIN standard CE marked European sash lock and a pair of stainless steel round bar lever handles on 50mm diameter roses. A Euro profile cylinder and thumb turn with stainless steel escuthcheons is included as standard (double cylinder, key both sides is available as an option if required). The inactive leaf is fitted with top and bottom recessed lever action flush bolts. A stay is fitted to each leaf to hold the door in the open position.

Security Keys - All Carteck Side Hinged Doors are supplied with 2 security keys per door. The Security Keys add extra security by preventing unauthorised copying. They cannot be cut by anyone other than the issuer of the key - Carteck.





Aluminium Windows - high-grade Aluminium window designs from the Carteck Bling Range!

Decals are also available, please ask for more details.

Optional Extras: Letter boxes, spy holes and code lock can also be purchased.


Polyurethane Windows - scratch resistant, 20mm double glazed, easy-clean windows in lots of attractive designs to allow natural light into your garage.

Each style is available with clear, frosted or satin glazing.

Window units are fitted with a polyurethane frame that is colour matched or compliment the panel colour of the door.




above are some of the window designs available



| | | | |
| --- | --- | --- | --- |
| | | | |
| Centre Ribbed | Georgian | Solid | Standard Ribbed |

Measuring
The ordering and pricing process is simple -

Take the Overall Width and Height INCLUDING the fixing sub frame. (See below:)
| | |
| --- | --- |
| | |
It really is that simple.... The doors are ordered by their Overall dimensions and therefore you should allow whatever tolerance you feel is appropriate to the aperture you are installing into. We would recommend a minimum of 10mm all around is taken off the structural opening sizes to allow the door and frame to be positioned and installed. You may want to be tighter than this depending how square the opening is and whether it is a rough stone or brick opening.
Call or email for further details on this door and other doors we offer if you are not sure.