Sectional Doors Overview
The Sectional garage door is fast becoming the most popular door type in the UK, and for good reason. One of the many benefits of a Sectional door is the vertical opening, such doors do not 'swing out' like Up and Over doors. Another benefit is the effective weather sealing on all sides, due to their construction and operation method, which is useful in rain and snow, weather that is becoming more prevalent these days. Style options are another benefit of Sectionals, with a range of finishes and colours available to suit your requirements. On top of all this, Sectional doors can be manufactured for domestic use up to 8000mm wide by 3000mm high, and even larger for commercial installations, meaning there are a wide variety of applications.
The construction of a Sectional door facilitates operation that places little strain on the components of the door, and as a result these doors come with a long lifespan when compared to other door styles. A Sectional door is a technically sound and ideal garage door that can be purchased in many different styles with many different colours and finishes. Customisation continues with the availability of windows, handles, designer elements and lighting options, all working to give you an individual door that suits your specifications.
Insulated – Double Skin

Insulated Sectional doors are designed to give incredibly low U-value ratings (the scale for measuring heat insulation), and can therefore reduce heating costs to adjacent rooms, particularly in the winter months. These doors also provide a good constant temperature due to this insulation, perfect for car collecters or garages with valuable storage that may suffer from damp conditions.

Purpose Made

Purpose Made Sectional garage doors are ideal for any type of garage that needs to maximise access, especially if you are building a new opening for example. If replacing an existing Up and Over door, a Purpose Made Sectional will give the benefit of having a larger door with a wider drive-through space, allowing increased clearance for larger vehicles.

Security

When it comes to security, sectional garage doors are one of the most secure doors available, given their excellent panel construction and steel guiding, with at least five rollers on each side. This gives a great resistance to attempted forced entry and break-ins. Combining this solid construction with an electric operator further improves the security of the door, making it the most suitable door when security is a priority.


Additional Information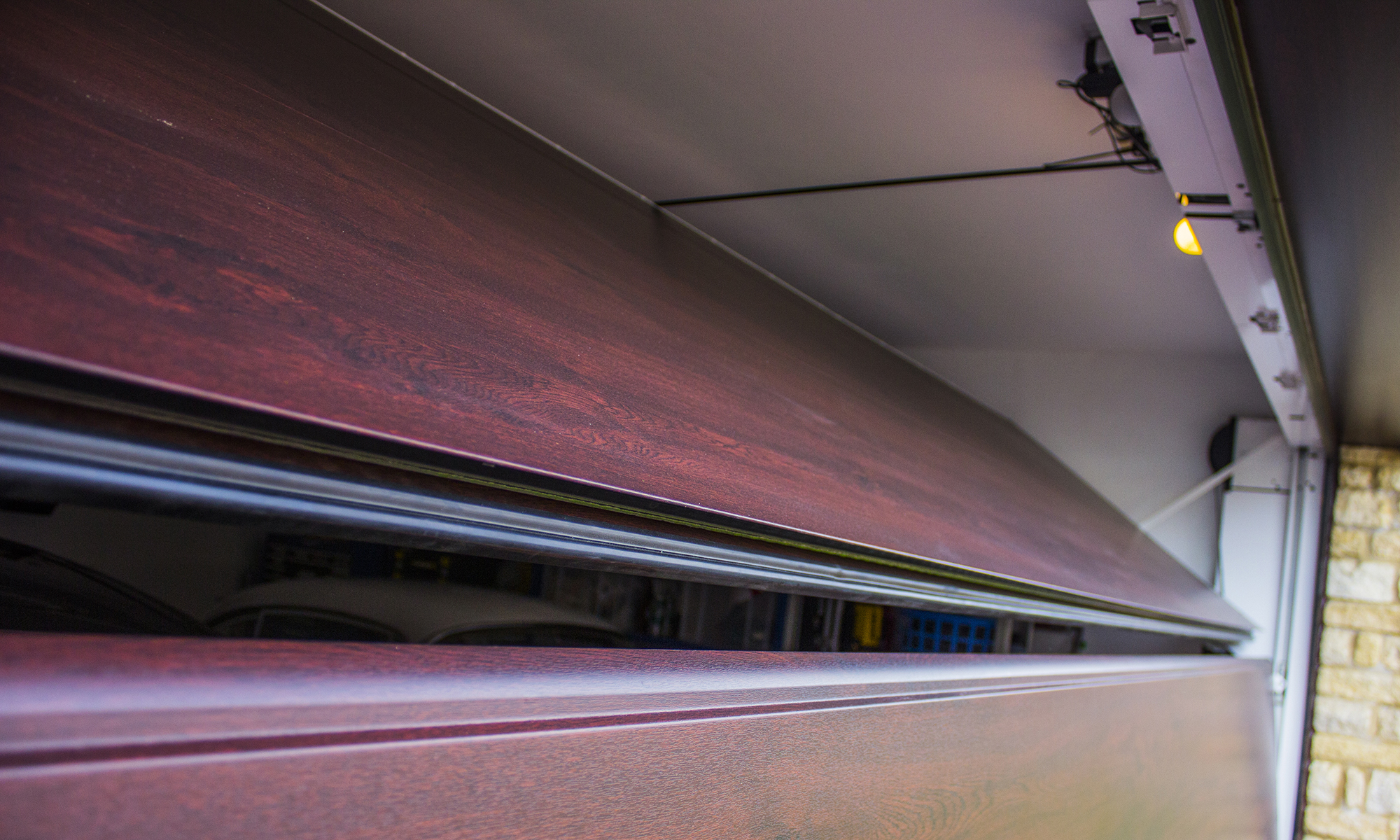 Here at GarageDoorsOnline, we offer the largest range of Sectional garage doors anywhere in the UK via our online shop. With a range of manufacturers (see below), style choices, size options and finishes available, the choice is yours when it comes to selecting the perfect Sectional garage door for you.
In the case of possible internal obstructions, it is always advised that you contact us directly so that we can help find the perfect solution, some of which may not be immediately obvious in the online shop. For example, there are a number of options for the lifting springs mechanisms, and certain headroom requirements from door to door, depending on the dimensions in each case. It is also possible to specify the height of the tracks as they curve into your garage to maximise the headroom available internally. These 'high lift' tracks may need some further discussion with our team to ensure that the door will operate properly, especially if automation is desired.
We can help to choose the right size and specification of Sectional door, including electric operators. Simply email or call us (01926 463888) with your enquiry.