Gliderol

Gliderol Garage Doors manufacture top quality roller doors with exquisite designs - right here in the UK. They specialise in single skin, continuous curtain steel roller garage doors and insulated roller garage doors, operated both manually and electrically.

They are one of the only UK manufacturers to offer a range of insulated aluminium roller doors and uninsulated single skin steel roller doors.

The steel single skin roller garage doors offer the very best in value for money. They are ideal for most garages where a simple roller door is required and if you have the internal space to accomodate the roll of the curtain, usually a minimum height requirement starting at 430mm - 470mm, or 340mm for the mini roll version.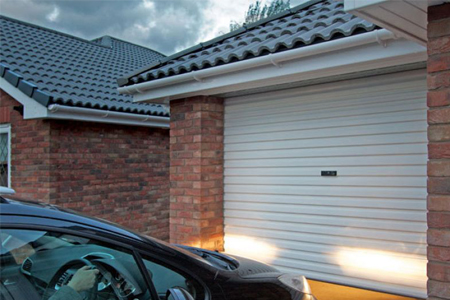 Gliderol Garage Doors pride themselves on their experience, having been a key manufacturer in the garage door industry for well over 30 years. Gliderol realise that quality counts, which is why they offer an excellent range of guarantees on all Gliderol products.
Two year electrical guarantee, six year mechanical guarantee, and a 10 year guarantee on door finish.
Gliderol Roller Garage Doors also assist with space-saving on both the interior and exterior, allowing for more space within the garage, as well as on the driveway. Each Gliderol door is available in an easy to operate manual version with a handle or state of the art, 'touch-of-a-button' electrical automatic operating system, rewarding you with luxury and convenience upon each operation cycle.

What makes automatic operation so desirable? You don't even need to leave the comfort of your car, and the upgrade is minimal!
Gliderol Doors also offer a wide range of finished colours to cater for your needs or to accommodate colour coding with your home.
All Gliderol roller garage doors, sectional garage doors and electrical garage door products are CE tested and approved.
| | | |
| --- | --- | --- |
| Gliderol Single-Skin Roller Doors | Gliderol Insulated Roller Doors | Gliderol Industrial Roller Doors |
Gliderol only manufacture roller and sectional garage doors, so you should expect a high level of innovation and creativity in the design and finishes, coupled with the long trading history and experience gained in over 30 years.
The Gliderol roller and sectional door ranges are all fully CE compliant with latest UK regulations, with particular attention given to the roller door safety systems.
| | |
| --- | --- |
| Gliderol Non-Insulated and Insulated Roller Doors: | Gliderol Series B Industrial Roller Doors: |