Garador Up and Over Doors
Garador manufacture all of their steel side hinged, and the majority of their up and over doors in the Yeovil factory. Their sectional and roller doors are both manufactured by Hormann in Germany.
When choosing a garage door, as with any home improvement product, there will be elements of its appearance and maintenance requirements which will affect your decision. Whilst all Garador one-piece doors are manufactured using high strength reinforcing steel bracing to ensure rigidity and a long life, the material used on the surface face of your door needs to be carefully determined to suit your requirements.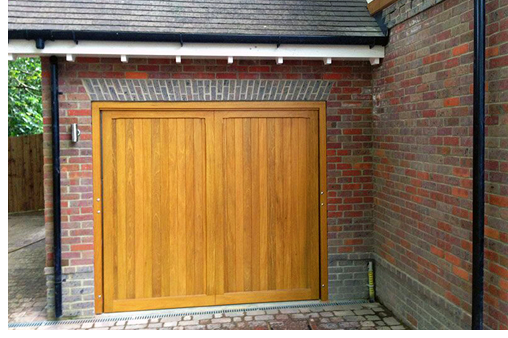 - Steel Garage Doors offer a fantastic combination of strong construction and genuine value for money. They are available in a wide range of attractive styles to suit both modern and traditional homes.
- Timber Garage Doors (see photo, right) complement the warmth and natural beauty of real wood and the supreme skill of Garador garage door engineering. Supplied treated with a microporous neutralising base stain*, Garador timber doors are designed to be stained to suit your requirements, however they do require regular care and attention to maintain their priceless looks. Fully finishing is also available from the factory. *except Cavendish, which is supplied untreated.
- GRP (Glass Reinforced Polyester) garage doors provide the user with a low maintenance finish combined with breathtaking aesthetics. With the choice of gloss white or authentic woodgrain finish in eight colour options, the range of popular designs with crisp, clean detailing will offer that completed look to any house style. GRP garage doors need only the occasional wipe down to retain their quality finish, which makes them ideal for homeowners who are not able to regularly maintain a timber door yet still wish to retain the wooden-look effect.
Then comes the all important question; What size do I need? Garador garage doors are available to fit most garage openings. All styles of door can be ordered in one-car size (typically between 2134mm (7'0") and 2439 (8'0") wide, and 1984 (6'6") and 2136mm (7'0") high), and the majority also come in double size (4269mm (14'0") wide). Additionally, many doors are available purpose-built to suit your requirements, up to 4269mm (14'0") in width and 2439 (8'0") in height.

What operating system do I want?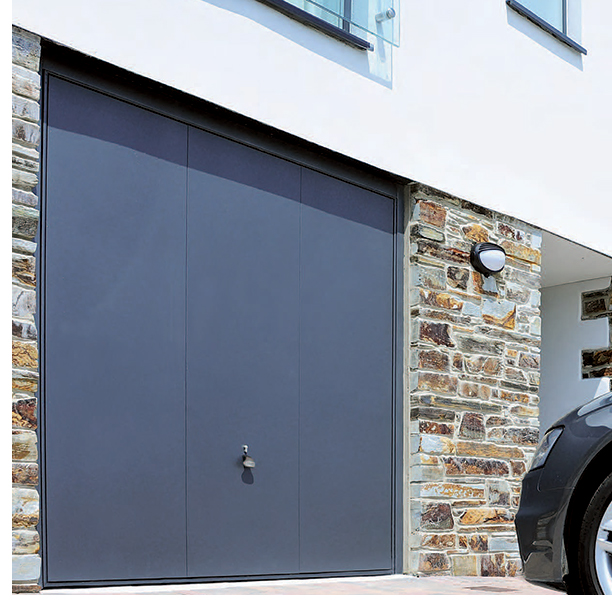 Garador offer two basic types of manual gear operations to choose from, as well as the optional luxury of radio remote-controlled opening. The most extensive range of designs is in the single one-piece up and over door, which is available with canopy or retractable gear with the option of retractable PLUS on some door widths to maximise the opening drive through.
The canopy door mechanism which operates in vertical tracks on the door's side-frame, and when fully opened, forms a canopy with a projection of about one-third of the door's height.
The retractable door mechanism which is guided by horizontal tracks inside the garage, and recedes completely when fully opening.
Double garage doors are also guided by larger horizontal tracks inside the garage, and are designed to ensure that operation is as effortless and smooth as a single door, with no jerks or stiffness. More lifting springs and sturdier side arms are both used to help achieve this.
Radio remote-controlled electric operation - All new Garador up & over and sectional doors are capable of being electrically operated using our range of automatic operators. They are also suitable for retro-fitting to most existing garage door installations. Available with a range of remote control accessories, there is choice to meet any needs.
History of Garador (Westland Engineers)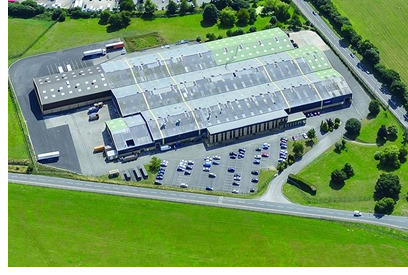 Garador, hailing from the picturesque town of Yeovil, can lay valid claim to being the foremost manufacturer of one-piece garage doors in the UK. However, although they are now specialist garage door manufacturers, Garador's history is rich in engineering glory. In the early 1900s, long before garage doors were even considered, the factory (then known as Westland) started to delve in to the aeronautical industry. Indeed it was during the First World War that Westland developed as a major company in Britain's aircraft industry, manufacturing many of the aircraft used in action during the Great War.
During the peace periods between World War 1 and 2, Westland continued to make enormous inroads in the development of aeronautics, including a brief excursion into rotary winged aircraft in 1936. The onslaught of the Second World War saw the rotorcraft activity discontinued, and as the war developed as did Westland's productivity. By the end of the war 2000 Spitfire/Seafires had been produced in the Westland factories at Yeovil and Ilchester alone, apart from huge numbers of other crafts.
In 1948 Westland formed Westland Engineers Ltd, a strategy to diversify from military applications. Westland Engineers Ltd bought a licence to manufacture one piece garage doors from Canada and during the 1950s was essentially the only UK manufacturer of this type of door. In 1958 the first Garador branded door was manufactured at Yeovil.
The 1980s and 1990s saw a number of changes; ownership, division splits, management buyouts, etc. Eventually in the year 2000 Garador saw the most fundamental and stabilising development that has lead to their current UK position – they were acquired by Hörmann KG, Europe's leading garage and industrial door manufacturing group. The first decade of this century has seen a massive programme of development and investment, putting Garador into a truly leading position in the UK garage door market.

UPVC DOORS | GRP DOORS | TIMBER DOORS | ELECTRIC AUTOMATION
AUTOMATION OPERATOR ACCESSORIES | SAFETY AND SECURITY | SERVICE AND SUPPORT