Many new options are available for the Hormann sectional garage door range to help you get exactly the right size and operating gear type for your garage and operational requirements. If you have a particular size, style, operating mechanism and access control system not seen on our website please email us with your requirements for a detailed quotation.

Hormann Sectional Technical Brochure Download PDF (3.57Mb)
Take a look at our Sectional Measuring Guide >
Read through the Hormann Overview >

The Different Spring Operation Mechanisms in Different Sizes Available

The Z track side mounted tension spring system is used as standard on all Hormann sectional doors up to 3048mm wide (10 feet) generally.
The headroom required is only 115mm with a Hormann electric operator and 90mm each side for the vertical tracks and frame.



PDF download of Z track and ordering dimensions >

The N track front mounted torsion spring system is on all heavier doors over 3048mm wide (10 feet) generally and will require good fixing points for the spring support brackets. It is available as an option on the single doors if required too.
The headroom required is 210mm above the door order height and 90mm each side for the vertical tracks and frame.

The L track rear mounted low headroom torsion spring system is an option on the larger, heavier doors where headroom may be limited but be aware the horizontal track length is longer than the 2 options above.
The headroom required is only 115mm with a Hormann electric operator above the door ordering height and 90mm each side for the vertical tracks and frame.

The H track high lift torsion spring system offers the horizontal tracks and spring at a higher level that can be specified from the factory. This system is rarely used unless you have very high ceilings and want the tracks out the way completely. It requires extra accessories for the electric operation and is generally 20% extra on the normal N track door prices.
Price and technical dimensions are all on application
Shop for Hormann Sectional Doors >

Click here for a Sectional Doors Overview >
All Hormann sectional doors are delivered in 2 packaged parts - the door panels and the gear and tracking operating mechanism.
If you need to know the exact weight for shipping purposes please email us the door design, model and size required and we will get the weight details for you.
A standard Hormann domestic sectional garage door will have all the necessary tracking, spacers, brackets and instructions for installation to a suitably prepared opening.
All you will require are the appropriate fixings to secure the framework and tracking to the structural opening of the garage. Unlike most other sectional doors the panels are factory predrilled for the very easiest on site assembly with a mistake in the assembly almost impossible.

Some consideration must be given to certain accessories if the opening is not exactly the correct size or installation is inbetween the opening: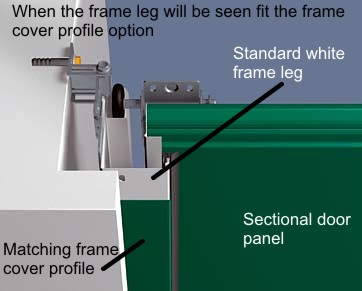 Frame Cover Profiles: Used to cloak the standard frame legs if any of the frame is likely to be seen from the outside. ALL Hormann fixing frame legs are powdercoated white as standard whatevercolour door is ordered and frame cover profiles ordered seperately will match the chosen door panel colour and finish.
They are available in 2 sizes depending how much of the frame is showing - 55mm and 90mm widths. If you are installing in between the opening be aware that the front of the frame legs are predrilled so you will require the 90mm covers to cloak these small holes.

Inbetween Installation Kit: If one or both of the frame legs is going to be installed inbetween the structural opening this kit gives you all the necessary bracketry to secure the frame leg at the 90 degree angle to the pier/wall. The standard legs are designed for installation behind the opening and have holes predrilled for this purpose.

Emergency Manual Release: A device to enable the operation of the standard emergency release of the electric operator from outside the door when there is no other means of access into the garage. There are 2 devices - one that connects to the handle if specified and another that connects via a key barrel in the top door panel when there is no handle option. We will ensure the correct parts are sent when ordered and they are the same price.

Insulated Fascia Sections: Not shown on our site as they are generally purpose made but you can have matching insulated fascia sections to infill above the sectional door if required and various options exist as to where this can be fitted.

See more technical details in larger format >
Track Applications & Fitting Dimensions

Track Application Z
(for doors with tension spring assembly)

With lateral integral double tension springs with 2 cables on each side and fascia panel

Sideroom
90mm
Headroom with operator
115mm
Headroom without operator
100mm
Clear passage height with operator
RM -30mm
Clear passage height without operator
RM -80mm
Distance back without operator
RM +510mm
Distance back with operator ProMatic/SupraMatic:

Door height up to 2125mm (K-boom)

3200m

Door height up to 2375mm (M-boom)

3450mm

Door height up to 2625mm (L-boom)

4125mm


Click to enlarge


---

Track Application N
(for doors with torsion spring assembly)

For normal headroom with torsion spring assembly at the front, with cable drums and approved spring safety device as well as lateral integral cables and fascia panel (except for doors with wicket doors)

Sideroom
90mm
Headroom with operator
210mm
Headroom without operator
100mm
Clear passage height with operator
RM -30mm
Clear passage height without operator
RM -0mm
Distance back without operator
RM +510mm
Distance back with operator ProMatic/SupraMatic:

Door height up to 2250mm (K-boom)

3200m

Door height up to 2500mm (M-boom)

3450mm

Door height up to 3000mm (L-boom)

4125mm


Click to enlarge


---

Track Application L
(for doors with torsion spring assembly)

For normal headroom with torsion spring assembly at the front, with cable drums and approved spring safety device as well as lateral integral cables and fascia panel (except for doors with wicket doors)

Sideroom
90mm
Headroom with operator
115mm
Headroom without operator
210mm
Clear passage height with operator:
RM -30mm
RM -80mm
Clear passage height without operator
RM -100mm
Distance back without operator
RM +750mm
Distance back with operator ProMatic/SupraMatic:

Door height up to 2250mm (K-boom)

3200m

Door height up to 2500mm (M-boom)

3450mm

Door height up to 3000mm (L-boom)

4125mm


Click to enlarge

Shop for Hormann Sectional Doors >

Click here for a Sectional Doors Overview >