Cedar Doors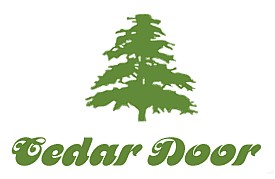 Cedar Garage Doors are a specialist joinery company manufacturing timber garage doors. The side hinged, up and over and sectional garage doors are manufactured primarily from cedarwood although many other timber species can be used if required.

Different construction techniques are used depending on individual requirements. Traditional joinery made doors are produced enabling unique designs and made to measure sizes as well as many different glazing options.



Cedar Garage Doors - Timber Specialists In The UK
Garagedoorsonline supplies timber up and over and timber side hinged doors from 4 main manufacturers, Hormann, Garador, Woodrite and Cedar Garage Doors.
All 4 manufacturers have a large range of standard cedarwood garage doors available up to 16 feet wide and 8 feet high as standard however larger sizes can be looked at on a one off basis depending mainly on the design and therefore the weight of the finished construction. The side hinged doors are manufactured up to 9 feet (2743mm) wide only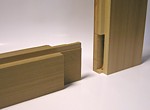 Traditionally constructed timber garage doors are made with solid cedar stiles and rails, with panels of either plywood or solid cedar, all joints are morticed and tenoned, glued and wedged which is the strongest joint method in timber door construction. This is a method offered by Cedar Doors and Woodrite only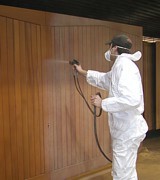 Once the door panel is built a base coat Sikkens preservative woodstain is applied either by spraying the door both sides or immersing the whole garage door panel in a tank.

Fully finished colours are now offered from a wide range of Sikkens microporous woodstain systems. This ensures total protection from the day of installation with minimal ongoing maintenance.

There are a good range of sympathetic colours to choose from as standard and new colours are developed all the time so if you do not see your requirement in the standard list please ask for a price.



Many people find the benefits of traditional side hinged garage doors enormous, particularly if you are using the garage frequently as access is made easy not having to open the garage door fully like other sectional or up and over types.


Security is good as standard and can obviously be upgraded to whatever level you require with almost infinite locking arrangements inside and out.

Many diferent hinges and furniture options are available as well as sliding bolts for inside, door stays to hold the door panel open, foot bolts, yale locks and even electric or mechnical coded keypads.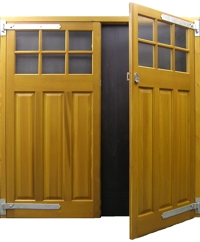 As well as the obvious 50/50 split for the majority of door designs you can also have a 1/3rd and 2/3rd door panel split on request, especially useful if the garage door opening is quite wide. This offers you a normal pedestrian sized door for easy access and a large door leaf secured unless required for full width access.

Doors shown to the right have the traditional hook and band externally fixed hinges in a galvanised steel finish. The door is a cedar panelled design with toughened safety glass windows and a timber window bar splitting the glazing into 6 panes per leaf.



Timber sectional Garage Doors

Cedar garage doors also manufacture a range of timber sectional doors with very traditional designs in standard or purpose made sizes..
The benefits of the sectional garage door are of course vertical opening, excellent sealing properties, security, large sizes with minimal panel sag and ease of operation as the garage door is split into 4 sections on a standard height and balanced by a large torsion spring internally.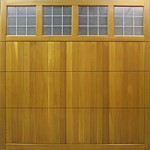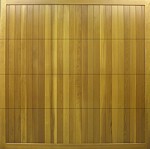 Just 2 examples of Cedar sectional doors available from GarageDoorsOnline, please call or email your requirements for the very latest prices and specifications.