Hormann Overview
Hormann Sectional Garage Doors
Sizes
Hormann sectional garage doors are available from 2000mm wide up to 6500 mm wide in most of the different panel designs, more size restrictions apply to the LTE40 single skin doors as they do not have the ultimate panel strength of the double skinned LPU40 doors. Heights are available up to 3000mm. If you have a very wide garage Hormann can also offer a 'Combi door' which in essence is a commercial door specification for the mechanical operating mechanism but uses domestic design insulated steel panels, this sectional garage door is available up to a massive 7.5 metres wide!!
The Hormann sectional garage doors sold through our current online system are the domestic UK sized doors only, if you require larger doors, European sizes or different panel designs then please call or e-mail us with your requirements as there are so many variations.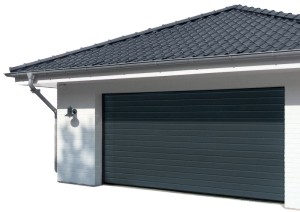 Hormann sectional garage doors are all ordered using the internal frame opening size but the imperial order references for UK sized doors are to the nearest feet and inches size to the exact metric size. Eg. A 7'0" x 7'0" order size Hormann sectional in metric is actually a 2134mm wide x 2125mm high inbetween the steel fixing frame. The overall width and height with the fixing frame is always bigger than the order size, and every Hormann sectional door will be supplied with a steel fascia 90mm in depth matching the door colour or finish chosen to help finish installations where the height is a little higher than the ordering size.
Go to our DIY guide section for more information on sizing. Remember - sectional garage doors do not go through the opening during opening and closing and can be installed on smaller or larger garage openings than the actual order size, you may not need a made to measure size!
The designs available may at first seem limited as it appears to be either a Horizontal ribbed design or a 'Georgian' panelled design. It is true that sectional door designs in steel are restricted due to the operating mechanism of the door i.e. split panels rising vertically - however look closer and you will see variations in each design creating a very different classic visual appearance. There is also a complete range of 'designer doors' in the LPU40 range with artistic design stainless steel and glazing elements incorporated into the door panels. These doors have a range of matching front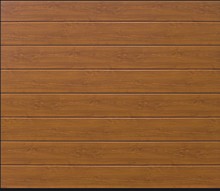 entrance doors as well to create a perfect co-ordinated appearance.
The timber sectional door range offered by Hormann again has 2 basic designs - the classic horizontal boarded design and the 'V panel' raised and fielded panel design - however the clever use of computer factory routing in either Nordic pine or Hemlock timber means you can create your own sectional garage door design - a service offered by Hormann from their factory in Germany. Some standard designs are also readily available, a good example being the design 405, recreating a double leaf barn door effect with optional false hinges to finish the overall effect.
The designs below are the most popular and versatile steel sectional doors available from our website.

Hormann steel sectional doors are finished as standard in white paint finish - a finish which if you wish can be lightly rubbed down and painted. Most people don't bother to do this as Hormann offer a comprehensive RAL colour range as an optional finish to the exterior - over 400 colours to choose from! A limited range of RAL colours are also available at special prices with faster delivery times from Hormann - some 15 colours to choose, all offered through our online quoting system.

New for Autumn 2014: Titan Metallic CH 703.

RAL 7040
Window Grey

RAL 7030
Stone Grey

RAL 7035
Light Grey

RAL 1015
Light Ivory

RAL 5014
Pigeon Blue


RAL 5011
Steel Blue


RAL 9006
White Aluminium


RAL 8003
Clay Brown

RAL 8001
Ochre Brown


RAL 8028
Terra Brown


RAL 3003
Ruby Red


CH703
Anthracite (Extra Cost)


RAL 6009
Fir Tree Green

RAL 6005
Moss Green

RAL 7016
Anthracite
The sectional door panels also have subtle differences in that many of the door designs are available as a woodgrain or silkgrain finish, woodgrain being as it describes - with a robust, woodgrain structured surface and silkgrain a smooth elegant surface with extra reinforcement in the exterior face of this option. Recently introduced is the new micrograin finish, only available on the L or M Ribbed door panel.

The new Sandgrain finish is available in Traffic White and 3 coil coated colours - Anthracite Grey RAL 7016, White Aluminium RAL 9006 and Terra Brown RAL 8028.
| | | | | |
| --- | --- | --- | --- | --- |
| | | | | |
| Woodgrain | Silkgrain | Decograin | Micrograin | *Sandgrain |
More recently the laminated Decograin finish has been introduced - five beautiful woodgrain laminate finishes with unique embossed graining offering either Golden Oak, Winchester Oak, Night Oak, Rosewood or Dark Oak as a tough, fully finished surface with a 10 year guarantee - a perfect match to many Upvc windows and external timber features.
| | | |
| --- | --- | --- |
| Golden Oak | Rosewood | Dark Oak |
| Winchester Oak | Night Oak | |
Titan metallic is another option available in a synthetic foil coating offering a subtle metallic effect on the already popular anthracite finish (similar to CH703) - these colours are available only on the LPU40 double skinned range of sectional doors.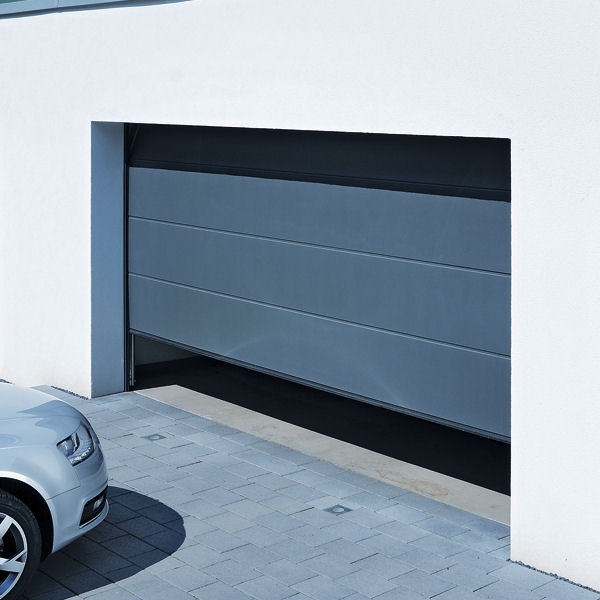 Hormann offer two basic operating mechanism types - tension springs (Z track) in the side channels for doors up to 3048mm wide and overhead tension springs (N track) for doors over 3048mm wide.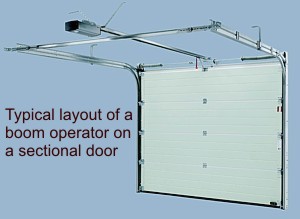 Side sprung or 'Z track' sectional doors only require 100mm of headroom clearance as the curve in the tracking is tighter than the double doors and the springs are situated in the side channels.
Torsion sprung or 'N track' doors require 210 mm of headroom clearance as the spring mechanism is directly above the top door panel and the track curve is not as tight.
Combi doors with the commercial torsion spring system will require 390mm (more on higher doors) as standard as the torsion spring is a lot bigger to assist the weight of the larger doors.
All the sectional garage door systems wider than 3048mm can have an optional low headroom (L Track) mechanism supplied where the torsion spring is relocated from the front to the rear of the horizontal guide tracks and the headroom requirement reduced to as little as 115mm. Final drivethrough heights are usually comprimised slightly with reduced headroom options as the bottom door panel cannot be pulled fully clear of the opening - it is however always higher than an equivalent height up and over door type.
Click here for a PDF download of ALL the gear types >

Hormann sectional garage doors will give you the following - as standard: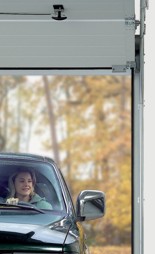 When you consider all the benefits a Hormann sectional garage door can offer it is hard to even consider any other type of garage door. The sectional door is also excellent value for money compared to any garage door the same size especially when you consider all the standard features not available on other doors.
Fully sealed perimeter - with rubber seals and close fitting to steel framework. The large bottom rubber seal on a level floor will prevent leaves and dust, etc.
Vertical operation - meaning you can park your vehicle right up to the door inside or out and still open and close it.
Excellent security - provided by five encapsulated rollers in steel hinges either side of a standard door and a rotary latch locking mechanism with europrofile cylinder locking as standard - of course the double skinned doors are very strong against physical attacks.
Easy operation - due to the spring mechanisms assisting the door during most of the operation, unlike an up and over type, the doors are surprisingly easy to operate.
Anti-finger-trap protection - patented Hormann design in the door panel sections preventing entrapment of fingers during operation, inside and out.
Powdercoat finishes - standard on all doors inside and out with the bright white (RAL9016) finish externally and off white (RAL 9002) internally - no need to paint.
Quality components - all hinges, rollers, tracks, springs, etc. are all zinc or galvanised plated as standard to ensure longevity.
Remote control ready - due to the retractable tracking mechanism of a sectional door they are ready to have any standard boom operator fitted with no further adaptions.
Full drive-through - no reduction in the drivethrough width - a 2286mm wide door gives you 2286mm when open. With the N track mechanism you get the full height and only lose approx. 50mm on the Z track mechanism when fully open.
10 year guarantee - on the entire garage door from an established, worldwide renowned company
LPU40 Sectional Door Information page >

The Hormann sectional garage door range offers the very latest in design, safety, technology and innovation from a company established throughout the world and known for unparalleled quality and choice. Garage Doors Online offer the entire range.
The Hormann range is by far the largest available in the U.K. and offers high quality sectional garage doors in a wide range of steel and timber designs and finishes. The table below shows the majority of the sectional door designs available by panel finish, door design and panel thickness available i.e single or double skinned. The individual garage door design range in the timber is available to recreate almost any design required by computer controlled routing into composite timber panels.
Hormann Domestic Sectional Door Models Explained
| | |
| --- | --- |
| LTE40 | Single skin galvanised steel panels |
| EPU40 | 20mm double skin insulated steel panels |
| LPU40 | 42mm double skin insulated steel panels |
| LTH40 | Timber handmade door panels |
| Combidoor | Larger 42mm domestic sectional door using commercial operating mechanism. |
| SPU40 | 42mm commercial specification insulated door (up to 8000mm wide!!) |
The Choice of Standard Sectional Panels
Hormann Steel Door Panels

LTE 40 Single Skin Steel Panel Range
Model
Door Design
Panel finishes available
Max. width
Max. Height
LTE40
S Ribbed
Woodgrain
5000
3000
LTE40
M Ribbed
Woodgrain
5500
3000
LTE40
S Panelled
Woodgrain
3000
3000
EPU 40 20mm Insulated Steel Panel Range Discontinued 2014
EPU40
M Ribbed
Woodgrain
5000
3000
EPU40
S Panelled
Woodgrain
5000
3000
LPU 40 42mm Insulated Steel Panel Range
LPU40
S Ribbed
Woodgrain
6500
3000
LPU40
M Ribbed
Woodgrain, Silkgrain, Micrograin
6500
3000
LPU40
L Ribbed
Decograin, Silkgrain, Micrograin
6500
3000
LPU40
M Ribbed
Decograin
5500
3000
LPU40
S Panelled
Decograin
5500
3000
LPU40
Design Line
Special order
Silkgrain
5500
3000
LPU40
S Panelled
Woodgrain
5500
3000
SPU40
Combi Door
Special order
Stucco
7000
5000
Hormann Timber Door Panels
LTH40
S Boarded
Special order
Nordic Pine
5000
3000
LTH40
V Panelled
Special order
Nordic Pine
5000
3000
LTH40
S Boarded
Special order
Hemlock
5000
3000
LTH40
V Panelled
Special order
Hemlock
5000
3000
LTH40
Design 405
Special order
Nordic Pine
5000
3000
LTH40
Design 405
Special order
Hemlock
5000
3000
Other timber sectional door designs are available using the design your own facilities from the factory.
'Designer' steel sectional doors are available with various stainless steel and glazing elements inset into limited LPU40 door panels to create a unique and very contemporary door design with modern, trendy colour finishes also available.
Call us on (01926) 463888 for further information and prices.