Hormann LPU42 Sectional Garage Doors
Jump to: Sectional Advantages // Colour and Finishes // Optional Extras // Automation

The Hormann LPU42 (formerly known as LPU40) is a 42mm thick insulated double skinned steel sectional garage door of the highest quality construction and is the flagship sectional garage door in the Hormann range of domestic garage doors.
The Hormann LPU 42 insulated sectional garage door range offers the very highest levels of security, insulation, safety and style. The range of superb styles are all available in a multitude of finishes and colours in either manual or remote control electric operation.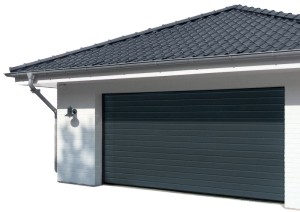 Standard door sizes range from 2000mm wide up to 6000mm wide with specially adapted versions up to 8000mm wide.
Heights are available up to 3000mm high. The LPU 42 sectional door is truly an engineering masterpiece and incredible value for money compared to almost any other garage door type.
The LPU 42 insulated sectional door is excellent for garages attached directly to your home or used for hobbies, office, playroom, gym and other activities other than storing a vehicle. Not only does the door have excellent functionality it also has one of the most versatile design capabilities in that it is offered in several panel finishes: woodgrain, silkgrain, decograin, sandgrain and the new duragrain finish.
Each door panel finish has its own range of further design and colour options to give the option for you to truly personalise your door.
Hormann LPU42 Sectional Garage Door Designs
At first the door designs may seem limited, horizontal lines or Georgian squares but look again. Hormann have one of the largest door design ranges available in their LPU42 model. The variations of ribbed design doors, Silkgrain flat designs with or without stainless steel design elements and panelled designs with or without many window options all combined with variations in surface finish and a vast range of colours gives a door range capable of being specified to suit your home perfectly.
The designs below are the most popular and versatile steel sectional doors available from our website.
| | | |
| --- | --- | --- |
| Small 'S' Ribbed | Medium 'M' Ribbed | Large 'L' Ribbed |
| | New "D" Ribbed | New "T" Ribbed |

Advantages of any Sectional Garage Door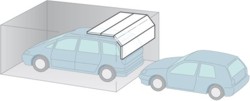 Sectional garage doors fit almost anywhere and save precious space. A Hormann sectional door always fits perfectly and leaves you with a lot of free space in front and immediately behind the door panels.
There are many distinct details which distinguish sectional garage doors from other garage door types. You will appreciate the practical advantages and high levels of security every day, the reassuring click when the lock engages and the whole door feels totally solid in the aperture.
You can conveniently drive into your garage and have more space inside and in front of the garage with the vertical opening.
Treat yourself to this comfort and convenience whilst getting better weathersealing and security.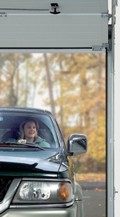 Wider passage The additional passage width makes driving in and out of the garage a simplistic task. There is often a matter of millimetres with older up-and-over doors, however a Hormann sectional door can offer up to 140mm of extra drive through space making it easier to park and a whole lot more if you move an exisitig door from inbetween and fit the new sectional door on the inside face. This is a decisive advantage for larger cars, vans and off-road vehicles.
Space-saving Sectional garage doors open vertically and are suspended under the ceiling to sustain additional space. This constructional principle means you can take full advantage of the space inside and in front of the garage for parking and manouvering. The internal tracks also run higher than up and over doors, so are out of the way in most garages and not obtrusive.
Sealed all-round Flexible and weather-resistant seals on all four sides of Hormann's sectional doors protect it against both the wind and rain. The bottom seal can easily accommodate slight irregularities in the floor thanks to its large-sized profile lip.
Variable fitting The shape of the garage opening is not of significant importance. Whether the shape is square or angled with segmental or full centred arch, a Hormann sectional garage door can always give a perfect fit as it does not have to travel through the garage aperture at any point when fitted behind the opening.

Hormann LPU42 Size Ranges
The LPU 42 sectional door range is available up to 6500mm wide and 3000mm high in the domestic range. This is often enough to accommodate for the majority of residential garage door needs however our sizes can extend up to 8000mm wide in our commercially specified range.

The UK Series 2000 range has a wide range of standard sizes generally offered in 6" increments on the widths from 6'10" right up to 16'0" and a factory cut down service is offered in order to reduce the width or height where space may be constrained internally or to get an exact in between structural opening fit.
Please ask about the cut down service and prices as it may give you a far better and easier installation by thinking more about the best size for your garage.
Hormann LPU42 Finishes & Colours
Standard Colours
All LPU42 standard steel sectional garage doors come in the standard colour of Traffic White (RAL9016). The LPU42 is also additionally available in 15 inexpensive optional factory colours and around a further 200 colours from the widely recognised RAL chart.

RAL 7040
Window Grey


RAL 7030
Stone Grey

RAL 7035
Light Grey

RAL 1015
Light Ivory

RAL 7012
Basalt Grey

RAL 7015
Slate Grey

RAL 7039
Quartz Grey

RAL 9007
Grey Aluminium

CH703
Anthracite Metallic

RAL 9005
Jet Black

RAL 8028
Terra Brown


RAL 9006
White Aluminium


RAL 6009
Fir Green

RAL 6005
Moss Green

RAL 7016
Anthracite Grey




Decograin Finishes
The Hormann LPU 42 is also available in five charming shades of Decograin surface finishes. With a true-to-detail natural timber look combined with all of the advantages of a steel door, the charm of the Decograin surface finish is available in the original stylish decors. Golden Oak, Rosewood, Dark Oak, Winchester Oak, Night Oak and the new metallic effect Titan Metallic CH703. The interiors of the doors are generally finished in grey white (RAL9002). The Decograin is one of the most impressive woodgrain effect finishes for any garage door on the market today.
Golden Oak

Rosewood

Dark Oak

Winchester Oak

Night Oak

Titan Metallic

CH703
Surface Finishes
For the LPU42 insulated steel sectional doors you have a choice of four impressive, weather-proof outer surface finishes: Woodgrain, Silkgrain, Decograin, Sandgrain and the new Duragrain surface finish.
The surfaces are flawlessly protected against rust and rigorously tested to ensure the toughest, longest lasting surface finish.

Silkgrain (smooth finish) is still available on the LPU42 Range. Sandgrain is a textured finish in either Traffic White or 3 coil coated colours - Anthracite Grey RAL 7016, White Aluminium RAL 9006 or Terra Brown RAL 8028.
| | | | | |
| --- | --- | --- | --- | --- |
| Woodgrain | Silkgrain | Decograin | Duragrain (new) | Sandgrain |
Hormann steel sectional doors with side doors with woodgrain and silkgrain surface finishes are available as standard in inexpensive traffic white (RAL 9016), in 16 preferred colours at the same price, in 200 RAL based colours. All can be matched to Hormann's high-qualiy entrance door designs.

New Duragrain Surface Finish
Duragrain is a highly scratch-resistant and UV-resistant decor. Available in 24 decors which are detailed, natural and colourfast.
The inside of the door is generally supplied in Grey White RAL 9002. When the door is opened, a thin Grey white stripe can be seen between the sections on the outside
| | | | | | |
| --- | --- | --- | --- | --- | --- |
| Concrete | Beige | Mocca | Grigio | Grigio Scuro | Rusty Steel |
| Bamboo | Burned Oak | Cherry | Natural Oak | Pine | Rusty Oak |
| Noce Sorrento Balsamico | Noce Sorrento, plain | Sapele | Sheffield | Teak | Weathered Look |
| Terra Walnut | Colonial Walnut | White Brushed | White Oak | White Oiled Oak | Whitewashed Oak |
Hormann LPU 42 Handles
Horman offer a selection of handles for manually and electronically operated doors. When choosing a door handle, it is worth remembering that not only does it need to look good but it must also feel good too. Locks in these doors can also be mastered with other locks within your home.
Whether manually operated or automatic, Hormann sectional doors open reliably and easily. With this handle, developed by designers and tested by safety experts, you hold a quality in your hand that in this form only Hormann can produce. Select the handle of your choice from seven shapely variants to match your door and entrance and add it to your door order. We will be more than happy to fit it for you. Remember, a door handle not only needs to look good, but it needs to give good grip too.
Black

Cast Aluminium

White

Cast Aluminium

Brown

Polished
no longer available
Stainless Steel

Brushed

Stainless Steel
Hormann LPU42 Remote Control Electric Operation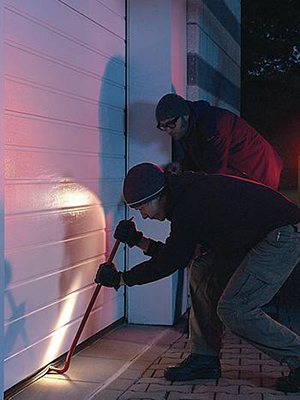 Electric automation offers you a more convenient way to open your garage door. Be it at night, on a windy day or in the rain, a Hormann electric operator can help make life that little bit easier.
Comforting Security
Unwanted visitors do not have a chance with Hormann's automatic sectional doors. Once the garage door has been securely closed, the door security kit automatically engages in the guide boom's stop, locking it immediately and making the door resistant to burglars. This door latching operates solely as a mechanical function and, in contrast to many other operators, continues to offer security to the door even when there is a loss of power.
Into your garage faster
With up to a 50% increase on opening speed, a Hormann sectional door combined with a SupraMatic Bi Secur Series 3 garage door operator reduces the risk of accidents on high-traffic streets and helps you maintain your nerves.
Individual operating convenience
To ensure that you can easily and conveniently operate your automatic sectional door at any time, Hormann also offers high-quality mobile and stationary accessories for all types of fitting situations. Micro and transmitters, code switches, finger-scanners and even special solutions such as emergency batteries.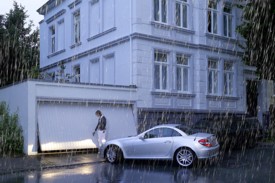 Make Life Easy and Secure

Garage doors and electric operators from Hormann are automatically more convenient. You will experience it the first time you drive during the night or in extremely bad weather into your garage without having to get out to open the door and saving yourself from the rain. The decision for more convenience and safety was exactly right. Experience this and many other advantages such as automatic door latching. Only from Hormann.
ProMatic Series 3
Bi Secur Electric Operator

SupraMatic Series 3
Bi Secur Electric Operator

The good-value starter model as an introduction to Hormann's premium quality.
Opening Speed: max. 14cm/s
The super-fast operator with an array of additional functions.
Opening speed: max. 22cm/s

ProMatic
For doors up to 5000mm wide
(max. 10 m² door leaf area)
Peak force: 750 N

SupraMatic E
For doors upto 5500mm wide.
Peak force: 800 N

ProMatic P
For doors up to 5500mm wide
Peak force: 800 N

Supramatic P (as standard incl. photocell)
For doors upto 5500mm wide, heavy timber doors and sectional doors with wicket doors.
Peak force: 1000 N
ProMatic Akku
For garages not connected to the mains supply and doors upto 3000mm wide.
(max. 8 m² door leaf area)
Peak force: 400 N
Supramatic H
For collective and underground garages.
We will be pleased to assist

you

.
Accessories
There are various accessories available to personalise and improve your daily garage door use.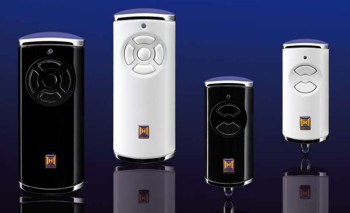 The standard operation is using the high quality radio hand transmitters supplied with each operator and for the Hormann range these are now 'Bi Secur' and offer a whole new host of features and benefits such as 2 way communication so you can tell the position of your door from your transmitters and the use of 128 bit encryption now for the signals transmitted ensuring a secure and quality signal for perfect operation every time.
We offer an emergency release locking system for doors with no handle or secondary garage entry point. This lock allows the garage door to be unlocked and opened in the event of a mechanical fault or a power cut.
A selection of wireless hand-held remote control operators are also available to offer you an easy to use system which can be operated by slender components in designer models.
All Hormann LPU42 accessories including remote control handsets are available to view in our shop >
Hormann LPU 42 Sectional Doors with Wicket Door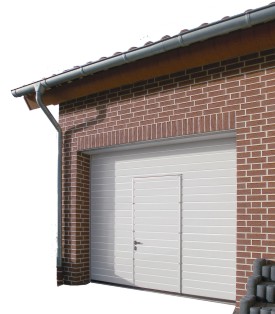 A wicket door is simply a pedestrian access door within a main garage door. Wicket doors are extremely practical in a busy household. The wicket (or pedestrian door) allows the garage door to remain closed during use however everything can still be put in the garage such as bicycles, gardening equipment, wheelibins etc.
The Hormann LPU42 door is so strong in construction this very clever piece of engineering gives you a wide and tall practical entrance door into your garage without ever having to open the main door unless required.
Hormann offer this wicket door with a trip-free bottom threshold so heavy items do not need to be lifted over the threshold. It also reduces the risk of tripping and causing injury. The threshold is only 10mm deep and is stainless steel for the best strength and finish.