Optional Extras
The standard package for the Carteck sectional garage door consists of the following:
- 42mm double skinned galvanised steel insulated panels in chosen design of Georgian panelled or four Ribbed designs.
- Hardware, tracks and springs for installation to suitable structural opening.
- Galvanised steel fixing frame in either white or dark brown powdercoat finish. This is for installation behind the structural opening as standard (an inbetween fitting kit is required if installing inbetween structural opening).
- Installation booklet and fixing pack (does not include fixing screws for frame as this depends what structure you are installing to).
- Rubber weatherseals for top, sides and bottom of panels. An 85mm powdercoated steel fascia with weatherseal to take up any gaps above the top door panel. This enables you to order a door height less than the lintel height and still get a good installation finish and seal.
The standard package will include everything except the optional handle for a manual door - the high specification suits most peoples needs. The optional extras available are set out below. As the options available are constantly updated if you have a particular requirement you do not see available then simply Email us and we will return with a solution.
Carteck Sectional Door Accessories
Various windows are available in the top section and also fitted down the sides of any of the Carteck sectional doors. These are always double glazed units available in either clear or opaque glazing options. (Opaque lets the light in but you cannot see through, it is like a frosted effect window in a bathroom).
The Upvc framing for the glazing is finished white as standard but can be finished in any RAL colour to match or contrast the door panel colour. They are not available as a laminate woodgrain finish, if this option is ordered for the main door itself the window framing will be a complimentary RAL colour finish.
Standard window framing options available, click here to view > These options are all available in the Georgian or the Ribbed design doors.
Other window options are available including double glazed stainless steel models.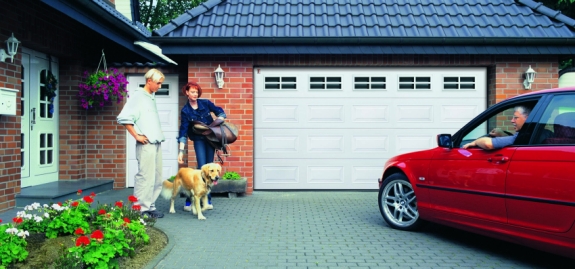 CarTeck sectional doors are supplied as standard without a handle.
A black nylon handle with euro cylinder locking, positioned centrally in the bottom third of the door is available as an optional extra if your door is to be manually operated, the hole is predrilled for the handle at the factory.
A handle is not required on an automated door.
Two point latching internally is provided with the handle locking to ensure a very good level of security.
To view the handle options available, please click here brass, stainless steel look >
Carteck Remote Control Operators
With chain or toothed drive-belt system. Maintenance-free and stable.
In addition, the toothed drive-belt system works extremely quiet. With the reinforced ball bearing boom, 1.2 mm thick, it is perfect for situations with particularly heavy loading, such as in underground garages with frequent traffic.
Benefits of Carteck Operators:
- All the components perfectly match the door
- High-level safety for the whole family
- Permanent electronic monitoring of the door
- Reliable automatic cut-off
- Burglar resistant push-open security device
- Tamper-proof remote control
- Material-friendly soft start-up/soft stop control
- Integrated lighting
- Easy and clean assembly
- The operator head can be turned through 90° to the left or right. It can therefore adapt flexibly to suit all configurations on site and the operator unit lighting can also be used to illuminate specific areas as required.
Easy Programming:
- Control garage door function in a flash.
- All functions of the CarTeck garage door drives can be easily and individually programmed via the display at the drive head. The desired control commands are then triggered by pressing the buttons on the handheld transmitter.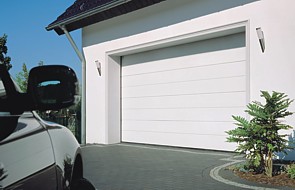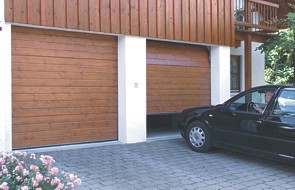 You will need to select a rail length for operator:
SZ11 - for doors up to 2175mm high
SZ12 - for doors up to 2500mm high
SZ13 - for doors up to 3000mm high

Boom Length Movement stroke
Short 3080 mm 2475 mm
Medium 3330 mm 2725 mm
Long 4090 mm 3485 mm
Additional Remote Controls: