Thermaglide Insulated Roller Door
The clean lines of the Cardale Thermaglide roller door are attractive on most garages.
The colourful choice of powdercoat finishes can provide either an accent or a compliment to existing colour schemes on a property. The Thermaglide is a high performance insulated roller door designed to give thermal and acoustic insulating properties much higher than the average roller garage door. Included as standard are a variety of features and functions that put this door at the very top of its technology.
Insulated Roller Doors from £527 plus VAT!
The Thermaglide door with its insulated aluminium lath design is vertically opening – allowing vehicles to be parked right up to the outside or inside of the door and with just 270mm headroom requirement (300mm for larger doors), the roller door is compact when open and gives superior headroom and increased overhead storage space.
A remote control motor which includes an ear piercing 90dB forced lift alarm is fitted as standard, and along with many other security and safety features, makes the Thermaglide roller garage door the ultimate choice.

The Cardale Thermaglide insulated roller door is manufactured as standard with:


Remote control electric motor operation

2

Remote radio control handse

ts

Control unit with internal open/close button
Built-in alarm system
Safety edge bottom seal sensor
Internal manual operation for emergency use
Bulkhead light in control panel

Several optional extras are available when ordering:

Colour matched side guides
Colour matched fascia
Full hood canopy enclosure
Additional handse

ts

Two channel handse

ts

External electric key switch
Glazing sections
Exterior emergency release kit
Where internal garage headroom is especially tight the Thermaglide 55 is the other option with all the features of Thermaglide but requiring only 205mm of internal or external headroom for the complete roll and hood cover.
The Thermaglide 55 roller door can easily be fitted to the exterior front face of the garage opening, the ideal solution for flat roof garages with little or no internal headroom. Better still the lath has horizontal profiling detail to both concave and convex faces so doors fitted externally have the same attractive detailing as those fitted internally.
Style and Design
Cardale's Thermaglide 55 roller doors feature a simple and practical horizontal lath design for the 'curtain'. Each lath is formed from double skinned aluminium with a foam filling and has a 55mm profile. This helps insulate your garage from noise and heat loss – particularly important if it's built into your house. The slimmer lath profile results in a smaller coil then the standard thermaglide, when the door is opened and is ideal for fitting in a garage with restricted headroom.
Thermaglide 55 doors offer a choice of three colours and one woodgrain finish. The timeless horizontal design and choice of finishes means Thermaglide roller doors blend with most house styles. They can also accommodate different shapes of garage opening like curves and arches - as they are designed for mounting behind the garage opening.
Operating Gear
Automated as standard, Thermaglide 55 doors are ideal for when the opening access is at a premium. The curtain operates vertically into the headroom above the door to form a compact roll. This action does not kick out and is ideal for short driveways or cars parked close to the opening, in or out of the garage.
The 55 model is now available as a a manually operated door if you prefer not to have remote control

Materials and Finish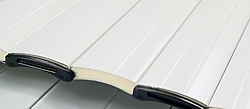 Cardale Thermaglide 55 garage doors are manufactured from interlinked sections of double skinned aluminium. Each section or lath is filled with insulating foam to help insulate against heat loss and noise. The Thermaglide 55 has a 55mm lath. The result is a tough, durable and corrosion resistant garage door with enhanced insulating properties. The aluminium receives several pre-treatments and is finished in durable and low maintenance polyester power coating or Decograin finish. The powder coating colours are: Bright white, Mocca, or British Racing Green. Decograin Golden Oak and Mahogany.
Automation
Thermaglide 55 roller doors are automated as standard. Supplied with two hand transmitters, a safe edge "stop and reverse" obstruction detector and an integral 90db alarm system should anyone attempt to force up the door.
Sizes
Thermaglide 55 roller doors are all supplied made to measure with a guide height up to 2438mm (8'0") high and with a maximum overguide width to 3000mm (9'10"). The headroom required is 205mm.