Up and Over Size and Price Guide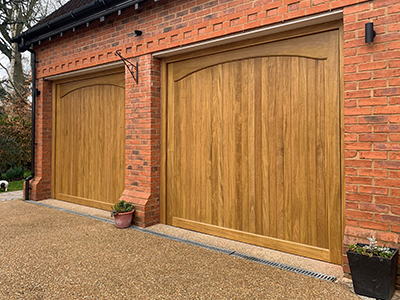 Up and Over garage doors are ordered and priced by the width and height of the internal dimensions of the fixing sub frame which carries all the operating gear, springs, seals and the main door panel itself. The main door panel itself has to be slightly smaller so it can operate through this sub frame when opening and closing. There is one exception which is the Garador range. When ordering a Garador purpose made up and over door with a factory fitted frame the overall dimensions become the ordering sizes.
IMPORTANT!!
It is important to realise, even in these modern days of millimetres, many up and over garage door manufacturers still use imperial measurements for sizes and pricing AND under closer scrutiny most garage doors will not be exactly as the imperial width or height ordering sizes describe. For example - If you order a standard 7'0" x 7'0" steel up and over door from Hormann, then the 7'0" width (which is 2134mm) is not the panel size or the steel sub frame internal width size, it is the nearest rounded up imperial size dimension and the same applies to the height.
A lot of this is historical in the UK like some other building product size references.

The upshot is to understand that if you are installing the door INBETWEEN your structural opening (Reveal Fitting), then the critical sizes to note are in fact the door panel and the fixing sub frame combined - the Overall Width and Overall Height.
REPEAT - IMPORTANT!!
ALL purpose made up and over garage doors will be ordered using metric millimetre references. Take time to understand the frame dimensions especially if you are fitting the door BEHIND the garage opening and make sure your clearances are understood. Overall dimensions can vary depending on the steel sub frame size chosen. Most steel sub frames are between 50mm and 75mm wide so please check individual manufacturers for exact details.



Click on the images below to enlarge
Replacing an Existing Door
If you are replacing an up and over door and leaving the existing timber sub frame in place then you should measure inbetween the timber frame legs and from floor to the underside of the timber head and these will become your ordering sizes. Most people replacing any garage door will replace the sub frame however, so we recommend and most people do use a steel sub frame because it is less money and also more secure. Garage doors supplied with steel sub frames will have tighter tolerances between the door panel and frame so offer better security and better weather sealing generally. Also, they are nearly always factory prefinished in a choice of powder coat or laminate finishes saving time and money in finishing your installation.
Exceptions to Sizing References
Specialised doors like the Hormann N80, N500 and ET500 have a formula for the ordering sizes which doesn't actually give you the internal frame dimensions and these doors are best discussed in detail with the overall sizes also included when ordering for clarity. The sub frames can be considerably larger than a normal up and over door. We also advocate the use of the overall dimensions when ordering purpose made up and over doors from Garador to provide clarity all round even though the prices are actually determined from the internal frame size again like other doors. Again this is only relevant if you are having a steel sub frame included with the door, if it is an existing timber frame then the internal dimensions are the ordering sizes and a tolerance is allowed when ordered.
It can be confusing and we are happy to discuss at any time if you need guidance on sizes and how they affect pricing.