Get a quote - online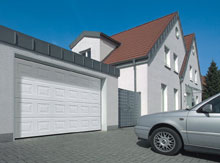 Follow the options below to specify and price your new Carteck sectional garage door. If you have any queries please Email us and we will respond within 48 hours or call on (01926) 463888.
Standard sectional doors (stock sizes only) are usually despatched in 2 weeks and purpose made doors generally 4-6 weeks.
There are many standard door sizes to choose from or bespoke sizes if required. Please note the purpose made widths have a choice of 15 standard heights and an infill steel fascia of 90mm.

High Quality Insulated Sectional Garage Doors
The 'ordering sizes' refer to the inside dimensions of the steel fixing frame. Add a minimum of 85mm each side for the legs and 115mm for the headroom on doors up to 5182mm wide.