Innovative, 21st Century Doors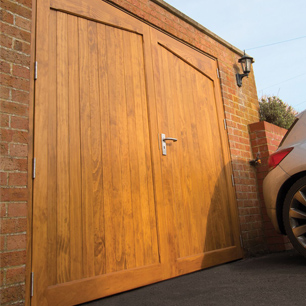 The sustainable timber doors...
At first glance, Woodrite's Thetford range may simply appear to be just another range of beautiful timber garage doors. They are however, manufactured from Accoya®, which is timber that is specially modified, making the properties of Accoya® entirely unique.
What makes Accoya® wood special?
Accoya® is environmentally friendly, sustainable and, most importantly for garage door users, extremely durable due to the process it endures. The sustainable wood undergoes a process called acetylation, a relatively new discovery, modifying it using non-toxic methods to form a wood far exceeding the durability of typical timbers. Whilst providing timber with such advanced technologies, the wood itself comes from forests that are sustainably managed and from species that are readily available.
Appearance
Accoya® is the perfect wood for coating, which is another reason why Woodrite's Thetford range is an excellent choice – not only does this timber offer excellent durability, but fantastic aesthetics also. Woodrite offer a number of traditional and flattering door designs that are able to complement a great number of properties, with opportunities to coat the door with various finishes.
Who are Woodrite?
Woodrite specialise in timber garage doors, and offer various species of timbers as both side hinged and up and over doors. Their doors ensure great quality, even turning the entirety of them upside down to ensure they are completely coated in the special treatment.

Back