Remote Control? - Why bother when other options are available?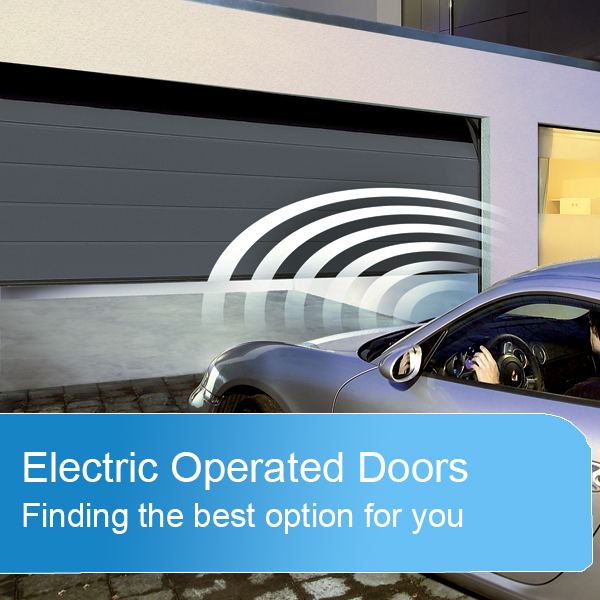 In today's world, most modern garage doors are fitted with electric motors, making the task of opening, and closing them effortless. It is fascinating to witness how remote control has become the default feature for electric-operated garage doors and after 37 years of experience we want to ensure our customers get the very best doors with features that perfectly match their lifestyle and how they use their garage door. However, it is important to note that remote control is not the only option available. In this article, we will take a closer look at the different access control alternatives for garage doors. We will explore why these options are worth considering and how they can enhance your overall experience with your garage door.
What are the remote controls?

To provide some context, the term "remote controlled" can encompass various access control products. However, it may be more accurate to describe them as "wireless" since they do not rely on physical cables to connect to the garage door motor drive. Most people find one or two remote control handsets for their electric garage doors to be sufficient.
However, it raises the question: why would you need a handset to control an electric garage door if you do not park a vehicle inside? And where do you keep these handsets? While some models offer wall-mounted plastic holders, most handsets have small and intricate buttons, especially if they are multi-button transmitters.
Another aspect of having remote controls is the need for compliant and relevant obstacle safety system on the electric door itself. This is simply a detection system to stop the garage door if an obstacle is met and because the door is remote control operated with a roving handset, UK laws dictate you must have this safety system. Why? Because the garage door can be operated when not in your view. The remote radio handsets work through walls and floors, so the garage door could be opened or closed by anyone who has access to the handset(s) and this could be whilst a person or object is in the direct path of the door travel.
So what are the alternatives?
We are witnessing an increasing trend where customers are utilizing their garages for purposes other than parking their cars. Many individuals are transforming their garages into additional rooms for their homes, such as storage spaces, offices, workshops, gyms, playrooms, and more. If you are currently using your garage as an extra room or if your garage is detached from your house, requiring you to walk to it every time, we recommend considering alternative control options that have always been available. Here are a few alternatives we suggest for your situation:
Internal wall mounted rocker switch – The simplest solution
The simplest and least complicated option for most electric garage doors for control would be an internal wall mounted rocker switch with a simple push and hold to open and then push and hold a second button to close. As the rocker switch would be mounted in full view of the garage door you do not need any safety systems at all. Save money and more complex electronics with this simple method of operation and control, perfect if you don't open your garage door very often or always open and close on foot.
​External wall mounted key switch control - The next level
Take it to the next level and have an internal wall mounted control panel with up and down buttons on it and then also an external wall mounted key switch control. This way you can open and close the garage door from inside or outside the garage with security for the outside.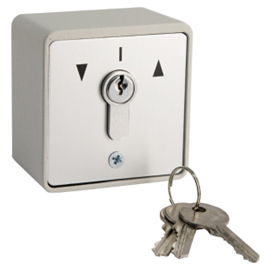 Again, this is not what is called 'impulse control', it is a 'hold to run' system, so you press and hold the button, or turn and hold the key outside for opening or closing cycles to complete. Some systems will allow for an impulse for the opening cycle only without safety systems required still. Again, there is no complex electronics or maintenance required on safety systems in the future here. Simple, logical control by physical methods.
Wireless Keypads – More complexity, more convenience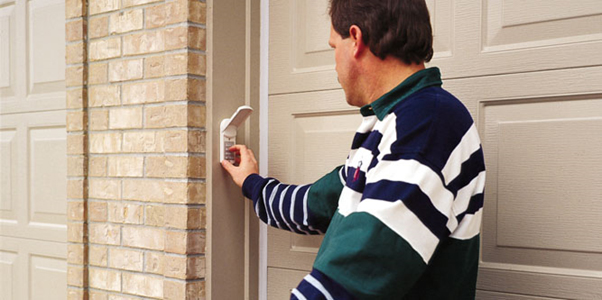 Next level from the above control methods must involve safety detection systems. Take a good quality external mounted digital keypad and you have control via a simple 4- or 6-digit code. This impulse control, put the code in and an impulse signal is sent to take the door either up or down depending on its current position. As this means you can walk away from the door during the closing cycle then safety detection systems are required. However, you don't carry any handset or key around with you to control the door externally. Inside your garage you would have a wall mounted control panel with up and down buttons on the panel and this panel is always necessary to provide the electronics and software for various external and other internal controls.
Aside from digital keypads it is also possible to use small keyring attached card reader systems where you hold the small card or fob next to an external reader and this sends the impulse to operate the door. You can have finger reader systems which do exactly the same, but your chosen finger(s) is the coded impulse to operate the door.
Smartphone Apps: Garage Control at Your Fingertips
Of course, nowadays taking control of as many things as possible from your smartphone is a desirable process. The 'smart controlled electric garage door' can be very useful, particularly for parcel delivery drivers requiring somewhere to leave larger parcels. You can allow this access via a simple app and maybe adding in a simple camera or timing process to make sure the door closes securely after access is allowed. You can also use a system which gives the delivery driver a one-off code to use on your external keypad and this code lets the garage door open a partial amount, allowing the parcel to be delivered and then it will close afterwards. All this is carried out with safety detection devices included on the main door itself.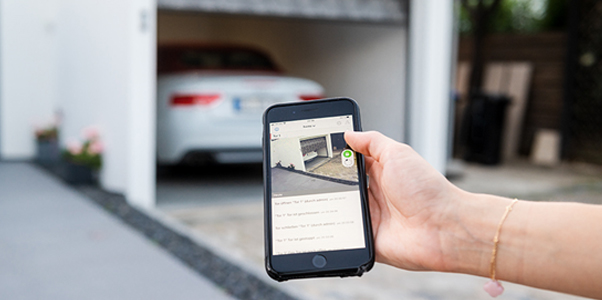 Conclusion
Whatever your reason is for having an electric garage door, we strongly urge you to think about the actual control methods, because we see that lazy buying and selling over the years and lack of awareness has led to this default thought that 2 remote handsets is OK and fine when buying a new electric door. In most cases it really is not the best method of control and probably only really useful to the people who drive their car in and out their garage every day religiously.
To find out more about these options, feel free to contact us at (01926) 463888 or email to: enquiries@garagedoorsonline.co.uk
Back