Sectional Garage doors: Add style & security to your home with a Sectional Garage Door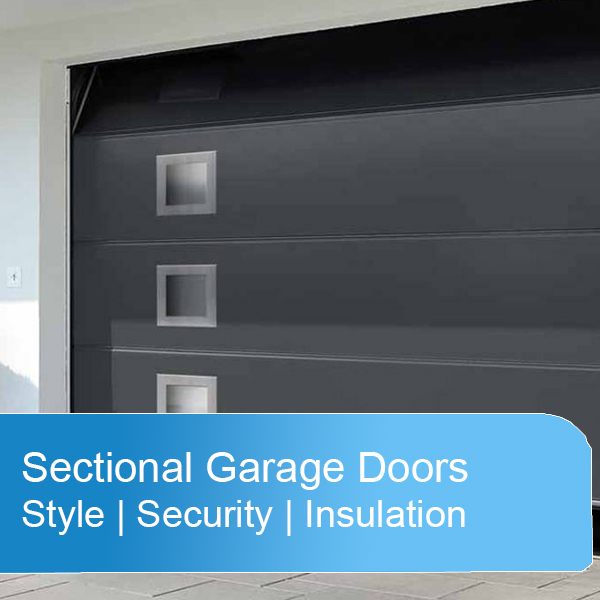 With a variety of styles and colours, you can give your garage a modern, insulated and secure makeover. So, if you're seeking a door that provides style, security and convenience, a sectional garage door is the way to go.
The Sectional garage door is quickly outperforming all other door types in the UK with good reason. A key advantage of sectional garage doors is vertical opening, these doors do not 'swing out' like Side Hinged or even Up and Over doors. The fact that they are built and operated in a way that provides effective weather sealing on all sides makes them handy in the rain and snow.
When upgrading your garage door, your home deserves the best of choice for style, and Garage Doors Online offers multiple styles of sectional garage doors and colours. Here are some examples of Sectional choices from Garage Door Online:
Insulated – Double Skin Sectional Garage Door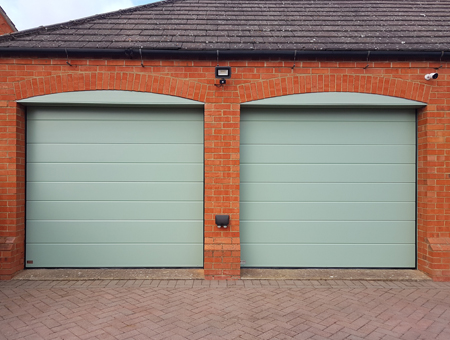 Feature: Seceuroglide Sectional Centre Ribbed Design in Chartwell Green colour.
Insulated Sectional Doors can lower heating expenses in adjacent rooms, especially during the winter, because they are made to have extremely low U-value ratings (the scale for evaluating heat insulation). Due to this insulation, these doors also offer a stable temperature, creating a better environment to protect any tools and equipment you are storing in the garage.
Double Sectional Garage Doors.
If you own more than one vehicle, double sectional garage doors are a smart choice! Firstly, they are extremely secure, due to their multi-point locking system and sturdy construction. Secondly, they are aesthetically pleasing, as they come in a range of colours and styles to suit any home. Thirdly, they are easy to use, with intuitive controls and a smooth opening and closing action. Finally, they can be energy efficient, potentially saving you money on your energy bills.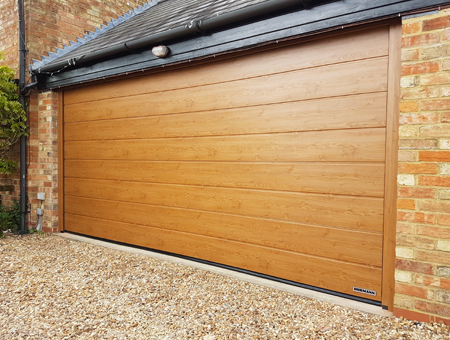 Feature: Double Hormann Sectional Door in Golden Oak
Purpose Made Sectional Garage Doors
For any kind of garage that needs to maximise opening width, especially if you are installing a new opening, purpose made sectional garage doors are essential. A Purpose Made Sectional garage door will provide the benefit of having a bigger door with a wider drive through space, giving improved clearance for larger vehicles.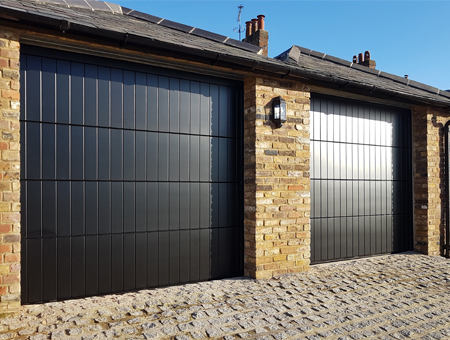 Feature: Seceuroglide Sectional Vertical Rib design – Purpose Made
Security Focused Sectional Garage Doors
In terms of security, sectional garage doors are known as the most secure doors on the market, given their excellent panel construction and steel guiding, with at least five rollers on each side. This helps to prevent any break in entrance attempts. The door becomes even more secure when this robust structure is paired with an electric operator, making it the best choice when security is a top priority. One of the factors you could check is whether your door is a 'secured by design' product.

'Secured by Design' is the official UK Police flagship initiative supporting the principles of 'designing out crime' through innovation and testing of security products in the marketplace. Research has indicated that Secure By Design product usage can reduce burglary by up to 50% and criminal damage by 25%. It is also important to note that 95% of products tested by the LPCB fail!
Garagedoorsonline supply, Hormann LPU42 Insulated Sectional Garage Door with Secured By Design recognition, this is one of the most advanced and secure sectional doors available in the UK offering the highest available security level without compromise.

Feature: Hormann LPU42 Insulated Sectional Garage Door
We are currently offering extra 10% OFF Hormann LPU42 Sectional Garage Door for any order before 31st March 2023. Simply use the code LPU42SPRING at the checkout and enjoy your benefit.
For more offers in this Spring, check out this page here.
Back