Technical Details

SECEUROGLIDE are a range of leading edge, high quality, aluminium insulated electric and manual roller garage doors all constructed from double skinned aluminium foam filled slats for strength and insulation. These were one of the very first roller garage doors of this type in the UK and have been tried, tested, improved and innovated over many years now.
Compliant with the latest European product directives and standards including BSEN 13241-1 applicable from 1st May 2005 and more recently the changes on 1st July 2013.
Perfect for any garage, an insulated roller door from the SeceuroGlide range adds style and value to your home. Even garages with arched doorways, minimal headroom, or opening onto a short driveway are suitable for a garage door from the SeceuroGlide standard or Compact range.
Every roller door is made-to-measure in accordance with ISO 9001 : 2000 to fit your garage perfectly. Manufactured from strong corrosion-resistant aluminium with an insulating core these doors will provide good levels of weather protection. Electric operation adds an essential luxury touch and added security.
Low maintenance finishes combined with a comprehensive 5 year guarantee on all manufactured parts and 7 years on the electric motor give total peace of mind.
All electric operated SeceuroGlide and SeceuroGlide Compact doors are equipped with a safety device fully compliant to all the relevent safety standards. If the safety device is activated the door will stop, reverse momentarily to release an obstruction and then stop once again. In the event of power loss, a standard manual override facility ensures that all doors can be raised from inside the garage, with an option for an external manual override at extra cost.
Compliance with the latest safety standards is vitally important as many roller garage doors are still being manufactured in the UK without adhering to the most basic safety requirements - please make sure you check before purchasing any roller door for any purpose.
Security and resistance to high winds
SeceuroGlide roller doors offer excellent security against intruders, combining a patented locking system, rolling code remote control technology and tough aluminium construction, independently tested to a minimum Class 2 wind resistance classification, which is equivalent to 59mph winds (Force 10 Storm).
SeceuroGlide compliance with the latest CE standards
The SeceuroGlide is fully compliant with the latest European product directives and standards including BSEN 13241-1 applicable from the 1st May 2005.
SeceuroGlide peace-of-mind warranties
SeceuroGlide products are guaranteed against defect of material or workmanship by SWS UK, subject to correct installation, maintenance and operation, for a period of 5 years
from date of purchase. In addition, Mahogany, Rosewood and Golden Oak Textured Woodgrain finishes carry a limited 10 year guaranteed.
Please note darker coloured double doors that are exposed to significant direct sunlight may be susceptible to expansion which may interfere with the operation of the door.
All SeceuroGlide products are guaranteed against defect of material or workmanship by SWS UK with a parts only warranty, subject to correct installation, maintenance and operation, for a period of 5 years from the date of purchase.



Specification Sheet
Standard Seceuroglide Insulated Roller Garage Doors
SeceuroGlide remote control insulated roller garage doors are manufactured from foam-filled aluminium slats and operated by key fob transmitters as standard. They are designed to require minimal headroom above the opening and are fully CE compliant and safety tested.
DOOR DIMENSIONS:
Maximum width: 5400mm
Maximum height: 3500mm (At this height the maximum width is restricted to 3000mm)
Headroom required: 300mm (Doors up to 2500mm opening height)
350mm (Doors up to 3500mm opening height)

SLATS
Description: CD77 twin-walled aluminium slat, insulated with CFC-free foam to reduce heat loss and sound transmission.

Dimensions: Nominally 78.5mm high x 17mm thick
Assembly: Slats are held in place with high performance nylon webbing, this makes the door operation extremely quiet compared to any other door using endlocks to hold the curtain together. For additional strength SeceuroGlide features a 77mm extruded aluminium bottom slat which incorporates a 25mm rubber seal to help prevent water ingress and draughts.
Standard colours: White, Brown, Heritage Green, Fir Green, Light Beige, Light Grey, Ivory, Metallic Silver, Anthracite, Burgundy, Navy Blue, Black, Graphite, Duck Egg Blue, Chartwell Green, Walnut - painted woodgrain, Natural Oak - painted woodgrain
Textured woodgrain surcharge colours: Rosewood, Mahogany, Golden Oak, White Woodgrain and Black Woodgrain - Other woodgrain finishes are now available on request from a range of over 40 Renolit laminate foil coatings to offer a full range and the possibility to match doors and windows in these newer finishes.
Vision option: Optional polycarbonate glazed vision slats are available to allow natural light into the garage. Vision slats do not contain insulation.
AXLE ASSEMBLY
Construction: 100mm galvanised steel fluted axle.
A locking collar and bolt are incorporated into the axle. As SeceuroGlide closes, the bolt engages with the end plate's lock comb to secure the door.
Motor: Somfy tubular motor.
End plates: 3mm galvanised steel. Designed to fit into the top of the guide rail for easy location during installation. Feature integral comb lock for security mechanism.
GUIDE RAILS
Description: Extruded aluminium with dense brush strip insert for improved insulation.
Dimensions: Doors up to 4600mm wide supplied with 75mm wide x 27mm deep as standard.
Doors over 4600mm wide supplied with 90mm wide x 34mm deep as standard.
Standard colours: Powder coated guide rails supplied as standard.
CONTROL
Remote unit: SeceuroSense remote receiver unit with integral courtesy light and two key fob transmitters with rolling code technology.
Safety: All SeceuroSense receiver units supplied with a bottom slat safety edge pressure sensitive device as standard.
SHUTTER BOX (OPTIONAL)
Construction: Roll formed aluminium in either one or two sections (90° facia and 45° lid).
Standard colours: White or Brown as standard (Available in any of the other plain colour finishes at a surcharge)
INSTALLATION OPTIONS
SeceuroGlide Roller Doors are extremely versatile and can accommodate curved or non-standard openings.
They may be fitted in any of the following ways:
Face Fix – Internal
Installed inside the opening. Here the inside edge of the guide rails line up with the brick opening.
Ideal where headroom inside the garage isn't seriously restricted. Internal reveal fixing may be used to great effect in arched openings.
Face Fix – External
Installed outside the opening. Ideal where headroom is particularly restricted. Requires full box cover option for weatherproofing.
Reveal Fix (Fixing inbetween)
Installed within the opening itself. Maximises internal space in the garage whilst not obscuring the exterior of the garage. Requires good reveal headroom. Reveal fixing the roller door also reduces the drive through width of the door when open by the width of the guide rails chosen.
For further information on Seceuroglide roller doors and assistance please do not hesistate to contact us or telephone on (01926) 463888.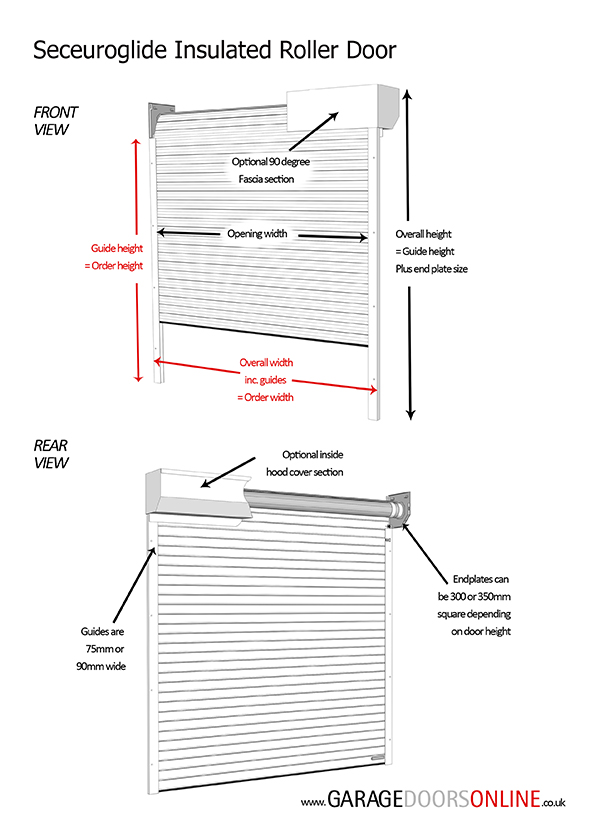 SeceuroGlide insulated roller garage doors fitted with 75mm guide rails up to 3000mm wide and with 90mm up to 4800mm wide will have a Class 3 wind resistance classification - equivalent to 73mph winds (Force 11 Violent Storm). The 90mm guides are fitted as standard on any roller door over 5200mm wide ordered.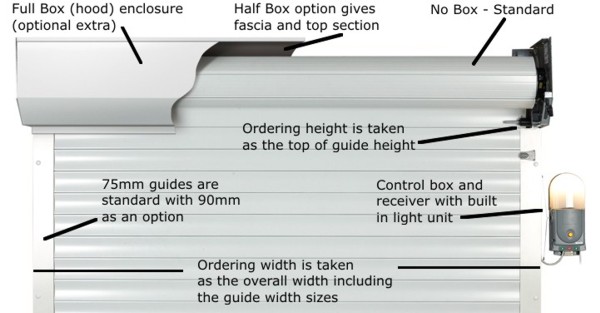 Picture below showing SeceuroGlide roller door with the surrounding structure removed to give a basic overview of the tracks, guides, endplates and roll curtain. The view is from inside the garage looking outwards without the optional hood fitted.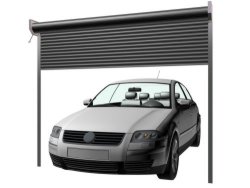 Download the SeceuroGlide Installation Manual >

Download The Compact Installation Manual >