Seceuroglide Overview

The SeceuroGlide aluminium roller garage door is an elegantly simple, well-proven design, with robust, reliable and very secure design features, offering excellent protection for your car and home. It has been the U.K.'s leading roller garage door product for over a decade now - a product other roller door manufacturers can only aspire to.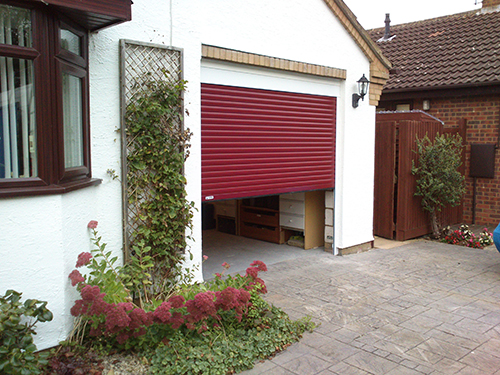 If you undertake any amount of research on insulated aluminium roller doors, you will find the SeceuroGlide roller door offers all the key features required of a high quality, insulated aluminium roller door as standard, where other manufacturers have these features as options to a basic package, pretending to do the same job at a lower price.

Security, quality, safety and style are the leading features of this excellent roller door, and one of the most sought-after features has to be the unique locking device incorporated into the design, making the SeceuroGlide one of the most secure roller doors in the UK with a further upgrade to Level 1 - 'Secured by Design', available in the Excel version (specialist installation required).

The SWS SeceuroGlide was the original insulated roller garage door manufactured in the U.K. and has continued to be developed over the years with fine tweaks and improvements, as well as always complying with the very latest CE marking and safety requirements.

It offers the very best value for money as well as lasting durability through high quality components with long genuine guarantees. Beware of cheap insulated roller doors as they may not be compliant with UK regulations!
The insulated roller garage door is constructed from individual, double-skinned foam filled aluminium slats all sliding in extruded aluminium side guides with absolute minimum noise and virtually no maintenance required.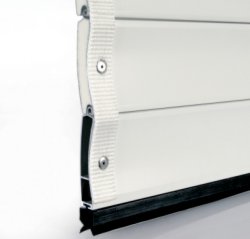 Seceuroglide doors use a continuous strip of high quality tough nylon webbing to secure the slats together rather than plastic endlocks which are noisy and can deteriate over time and then jam up. The webbing is a dry running system never requiring greasing or oiling ever and provides almost totally silent movement and also ensures there is no rattling when it is windy unlike all other roller doors of this kind.
Every SeceuroGlide roller door is individually manufactured to your exact sizes to maximise your garage opening. The roller door is remote control electrically operated as standard using the SeceuroDrive motor complete with a comprehensive 7 year warranty.

When purchasing a Seceuroglide door you can now choose the two hand held remotes you would like to control your garage door! You get two hand held radio transmitters as standard but can order as many as you like in addition, or maybe a wall switch, or a key switch?
| | |
| --- | --- |
| | |

SeceuroGlide garage doors now come with a SeceuroDrive motor as standard, and a 7 year warranty on the motor. The SeceuroSense receiver now comes with a 7 year warranty.

The Transmitters available are shown below.

Two transmitters are supplied as standard and you can decide which two you have in the ordering process to suit your garage and home layout the best. i.e. small transmitter for the car and a larger wall mounted one for inside the house fixed onto the wall as an example.
The Plus, Black Smooth, White Smooth, Chrome and Chrome Eclipse remotes are not available for the SeceuroGlide LT, and the Bi-Directional remotes are available at an extra fee.
| | | |
| --- | --- | --- |
| | | |
| Plus | Black Smooth - 4 channel | White Smooth - 2 channel |
| | | |
| Black Deluxe - 2 channel | Black Deluxe - 4 channel | Chrome Deluxe - 2 channel |
| | | |
| Chrome Deluxe - 4 channel | Chrome | Chrome Ellipse |
The built in courtesy light on the internal control box and internal manual override are also a standard feature. Other useful accessories include keyswitches, wireless digital keypads for incorporating electric gates, etc. Alarms, battery back up systems and other accessories are also readily available for the Seceuroglide electric roller doors.
Optional feature available is the control of your Seceuroglide using your smartphone and a router, providing you have wireless broadband available. Please ask for details and prices as there are many options.
Safety Features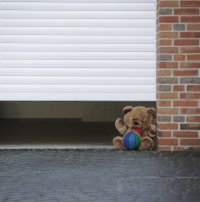 Safety is a key feature on a Seceuroglide with a bottom slat sensor fitted as standard on all garage doors and anti drop devices on doors of certain sizes, safety photo cells can be added if extra protection is required, i.e. if your garage is near to a public area or pathway. The door only needs the slightest resistance when closing and it will reverse to avoid cruching or damaging the obstruction.
Before 2007 it was perfectly acceptable to have an infra red beam as the only form of safety in terms of obstacle detection but since then far stricter regulations have been introduced and the standard requirement is now a bottom edge detection system in order to get full protection during the complete closing cycle of the roller door. The door must be able to detect an obstruction at any point during closing and stop immediately and reverse back. An infra red beam only gives protection in one specific area and is not an adequate protection system, this includes some companies who are using a 'light wall' which in effect is just more infra red beams. Not only is this still not sufficient protection but they can cause a nightmare in bad weather when the beams can be easily affected by the beam lenses fogging up as well as being affected if they get knocked out of alignment. See this extract for the basic details of compliancy with a safety edge detection system:
EN 12453 - For Remote Control Roller Doors fitted with a single phase tubular motor, the Standard (BS EN 12453 - Safety in use Power Operated Doors) calls for a Type 'C' pressure sensitive protective device "safety edge" that complies with specific force limitations.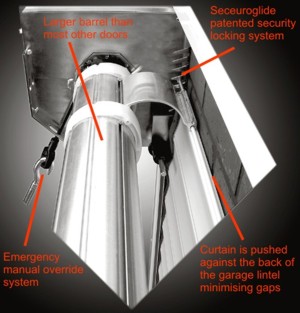 Security is also a standard and most important key feature in the design of the Seceuroglide roller door itself. The innovative comb locking mechanism secures the garage door automatically every time it closes.
A locking collar and bolt are incorporated into the axle and as the Seceuroglide closes, these engage with the lock comb to secure the door. The aluminium slats lock together firmly, resisting any attempts to lift the door by force from the bottom. Other roller shutter doors can be lifted a few inches at least, enabling further leverage attempts with tools, etc and some can be lifted with a good tug all the way open far too easily!
The whole roller barrel is held firm by the Somfy tube motor as well as some very strong extruded aluminium sections effectively 'double locking' the whole door curtain. The Seceurolglide barrel is also larger and stronger than most other roller garage doors.
The high performance patented weatherstripping in the guides ensures a good level of sealing and when closed the door has excellent acoustic and thermal properties. The curtain slides in aluminium guides with no oil or grease required for smooth operation. The whole operation is very quiet unlike roller shutters using noisier plastic or metal endlocks
A large bottom rubber seal helps to ensure a good barrier to dust, leaves, mice, etc as well as acting as the leading edge safety sensor device for total safety during closing. If an obstruction is met the door automatically reverses back up.
Infra red safety beams can also be fitted for extra protection if required but are not required to comply with latest CE regulations. The infra red beams should never be the only form of safety protection, only an additional precaution.
A key feature is the vertical opening - maximising space on the drive and inside the garage. Park right up to the door either side and you can still open or close it, no problem. The internal space requirements are also minimal enabling maximum use of your roof space inside the garage whilst mainataining a very neat internal mechanism unlike other garage doors with tracking. Vertical opening also means you can install behind any shaped structural garage opening as the door does not go through the opening at any point during operation.

17 powdercoat finishes or 7 woodgrain laminate finishes offers you every opportunity to match your home exterior with powder coated guides to match or compliment your chosen curtain finish. Matching guides are provided especially relevant if your roller door is installed externally. We can also offer a further range of Renolit woodgrain finishes, around 40 in total if you have a specific requirement for matching.

Overall, the Seceuroglide roller garage door offers the very latest technology available combined with a very sleek, stylish, practical range of durable curtain colours to give an excellent value for money roller garage door package. The Seceuroglide roller door is offered by Garagedoorsonline with considerable savings off the recommended retail price.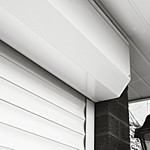 Seceuroglide Roller Doors Online >
Limited in headroom? You may also be interested in our range of Compact Rollers...
The Compact version of the Seceuroglide has been designed for situations where headroom is limited or non existent. The bottom slat of a SeceuroGlide door takes up 60mm of headroom with the door fully open. The Compact utilises an insulated aluminium slat that is significantly narrower than the standard Seceuroglide. This allows a tighter, smaller curtain coil requiring only 8" (205mm) of headroom for the roll and hood area. Limited sizes and colours are available but overall the standard package is the same as the standard Seceuroglide door.

Buy Compact Roller Doors Online >
Download the New PDF Brochure for the SWS SeceuroGlide below.