Technical Details



The Carteck sectional door, like most of the very latest sectional garage doors on the market, can be installed behind or inbetween the structural opening of the garage. The images below show the basic differences (click for larger picture).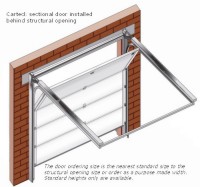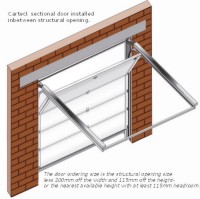 Behind opening installation Inbetween opening installation
Whether you install your Carteck sectional door behind or inbetween depends on several different criteria and restrictions with your garage design internally may be the real deciding factor. Consider the following:
Behind Garage Opening Installation
Benefits
Maximises the drive through width and height of garage opening available.
Easier to install without the inbetween installation kit and cladding to legs and possibly head of frame.
More secure as attack and lever points are fitted behind the structural opening and not exposed.
Keeps the installation as insulated as possible as the side and head frame are only single skin steel.
Drawbacks
Could make garage slightly shorter for vehicle if replacing a garage door currently fitted inbetween the garage brick opening.
Can expose rough brickwork, stonework or blockwork previously covered by a timber frame.
Can look odd if your brickwork returns are very deep. Also beware of twin garages where the central pier is not the same depth as the corner piers!
Inbetween Garage Opening Installation
Benefits
Can be installed even when there is no pier with reveal, i.e. when your garage is built directly on the side of your house wall without a pier.
Maximises overall length available in the garage.
Covers old brick or stonework when the old frame is removed although you can also install behind existing timber frames if required.
Drawbacks
Slightly more difficult to install and will require the exposed frame legs and possibly the frame head to be clad using the Carteck frame leg and head dressing kits, timber or Upvc material if it is not to be installed behind a timber sub frame. The legs and head frame will be a white finish powdercoat regardless of the door panel colour chosen.
Quite often reduces your available drive-through width if your existing garage door is operating on an existing 60 or 70mm steel or timber sub frame. A 100mm allowance is made each side for a Carteck frame when installing inetween.
Not such good overall insulation when closed as the steel framework is only single skin.
There are situations where the sectional door is installed between the piers but behind the lintel if the lintel is not the same depth as the brick pier returns. This is quite acceptable as an installation method and avoids a soffit being required
Information on Ordering size References and Technical Data