Winter Collection
Doors with Insulation, Security and Lighting included….
What properties and features make a garage door extra special when your garage is a little more to you than just a garage space? Insulation? Security? LED Lighting with intelligent control? Smart Control by app?
We have all those properties in several garage doors, all available right now to give you the convenience, security and performance you want.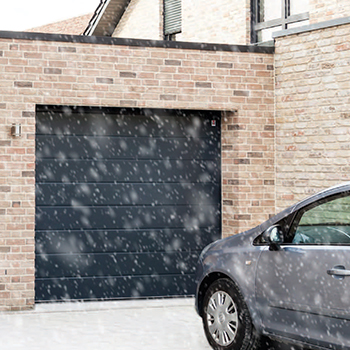 Insulation is a huge topic right now, especially with the rising costs of heating your home.
If your garage is heated or integral to your home then an insulated garage door could make a massive difference indeed. Many doors use the prefix 'insulated', but how many actually offer defined and tested insulation 'U' values? The U value is a measure of just how effective the insulation properties are and measure the thermal transfer rate. (Example: An uninsulated solid brick wall with a thickness of 225mm value will have a U-value of 2.70 W/m2k, the lower the U value the better the insulation provided).
Check some basics facts when buying an insulated door of any kind and if it does have a tested U value as a complete door then that is a good sign because the door was put forward for testing and was obviously manufactured for the purpose of insulation in the first place.
SECTIONAL GARAGE DOORS

The best insulated garage door you can buy in the UK today is a sectional garage door.
A sectional garage door is so often overlooked in favour of the roller type door, but pound for pound the sectional door will offer far more value for your money.
For starters most sectional doors will beat the example for the wall insulation value and some doors offer a thicker sandwich core to provide U values around the 1 mark or lower, based only on installing the door behind the garage opening and not inbetween. These are highly insulated doors as standard with further options to make them even more insulated.
Take a look at these industry leading brands and models for the best in insulation
​
INSULATED ROLLER GARAGE DOORS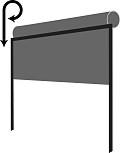 You will have seen so many references to 'insulated' roller garage doors, but just be aware that no domestic roller garage door will have a stated and tested U value. Some commercial roller doors will have, but only a few.
A domestic roller garage door cannot be tested as a whole door because of the number of tiny gaps between each slat and around the side guides. The individual slats themselves may have a tested U value, but again this is only really for the best 77mm and specialist 100mm slats available.
The 55mm roller curtains have minimal value and some companies even try to offer smaller size slats, which certainly isn't suitable for a garage door anyway.
If you want an insulated electric roller garage door to provide you with more comfort inside your garage then always make sure you get a full hood cover as well to give the best protection against wind blowing through the top section.
Currently the best models we have on offer are:
SIDE HINGED GARAGE DOORS

Another great product for providing some insulation in your garage is the steel double skin side hinged doors using double skinned foam filled door leaves.
A lot of them actually are built from the same panels as the insulated sectional garage doors so apart from a non insulated outer frame section they can offer great levels of insulation.
However, DO NOT expect most of these side hinged doors to be like your front door, unless you go into further detail about the floor, cill and weatherseal details. You will see some light ingress on certain models and they are never going to be hermetically sealed.
Many of these insulated side hinged doors are again not tested with a U value rating but some are and have varying values depending on how they are fitted into the opening.

Security is perhaps the biggest single consideration for most garage doors and it should be.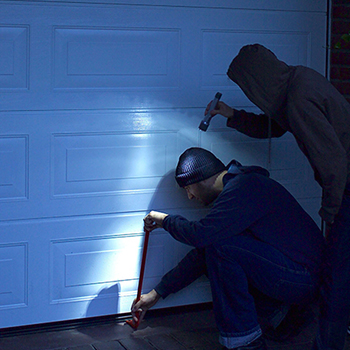 With more and more people using their garage as another room these days, storing a lot more value than they think and a lot of the content also being easily lifted and taken away, unlike a car, security should be a priority.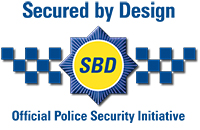 Security is an overused word, more than insulated really. So many doors are loosely stated as a 'security' door for your home, but there are actually several main stream accreditations to define levels of security and they are all based on the time taken to break through a door using various tools, depending on the level of security being tested for. These tests are carried out by 3rd party specialist companies to provide certification on a door and it is worth looking for doors with these ratings if you have any concerns at all about security.
UP AND OVER GARAGE DOORS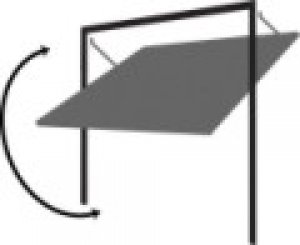 There is currently only one up and over garage door on the UK market which has the right to be called a security garage door. The Guardian range from Garador is a simple one piece up andover steel door range where the overall strength for the panel has been upgraded along with key attack points and the locking zones.
Achieving the coveted 'Secured by Design' accreditation this door offers genuine security but is only available as a manually operated door in Canopy or Retractable type mechanism.
SIDE HINGED GARAGE DOORS

Many side hinged garage doors are fairly secure by their very design but we do offer a superb range of steel double skinned hinged doors which also offer insulation as discussed above.
If you order the doors with their additional locking upgrade you will have a pair of hinged doors with great levels of security.
In 2023 we will be offering hinged doors with various certified ratings and also PAS24 - watch this space.. They are available now by request, so please enquire if you need a security rating.
SECTIONAL GARAGE DOORS

Once again the basic build and standard features of this overlooked door type will offer great levels of security in its basic form. Order a sectional garage door with an electric operator and you will have a 40mm double skinned steel wall with no handle externally and each panel secured behind a heavy guage steel channel. In standard form this door is exceptionally hard to force open on any of the sides.
Make a little extra effort with a specific electric motor designed with the door or ordered with some optional security features added on and you have a superb security package.

Which doors for Lighting?
Lighting perhaps isn't something associated with garage doors normally however there is far more technology now in the average electric garage door opener and some of this is aimed at controlling not only the lights on the motor head unit but also additional lighting in and around the garage. This way you can use your remote handset to control LED lighting in your garage and also outside if you choose. The control can also be via an app on your smartphone or tablet or even PC and using modern Smart home integration you have control of your garage door and the lighting around it.
ANY remote control electric garage door will have some form of light built into either the motor head unit or the control panel to light up the inside of the garage when the door is operated.
We do have garage doors with light systems as part of the specification now bringing light into your garage when opened and staying on for a set time before auto switching off. They are also available with sensors to switch on regardless of the door position and simply to provide light and security in your garage.
Lights coming on in the middle of the night has always been a favourite way of scaring off a potential intruder so internal and external lights with motion sensors are a great way to protect your home and garage.
Lighting under the soffit is a common request and we have several options for this from leading brand manufacturers.