Shop / Up and over / Garador Beaumont Steel Up and Over (single width - standard sizes)
If you know the manufacturer, model or material, you can use our search below
Additional Images

Beaumont (White)

Steel Up and over

Up and over

Steel

GEAR TYPE


Canopy, Retractable


Need help? Contact Us 01926 463 888
General Description
A Garador single canopy door mechanism is contained within the door frame with no horizontal tracks protruding into the garage space. When opened, the door forms a 'canopy' with roughly one third of the door outside the garage. Ideal for a simple manual door.

Single retractable doors open along the horizontal tracks inside the garage and travel back into the garage space when opened. Retractable garage doors are ideal for automation.

Optional Retractable Plus Gear - available on 1931mm, 1981mm and 2136mm high doors and up to 2284mm wide.
Retractable Plus Gear is an optional extra for garages that have narrow openings, they have specially designed lifting arms and bottom spring brackets to allow for maximum use of the clear passage.

Retractable Plus Gear is not available for doors over 7'6" wide

Garador steel up and over doors use a high quality powder or foil coated finish in RAL 9016 White.

White (RAL 9016) doors are supplied unwrapped as standard.

For further information on the Garador Steel Up and Over Doors, please click here >
Specification
The Garador Up and Over Doors are fitted as standard with secure 2-point locking to prevent unauthorised entry.
Optional 4-point locking kit is provided (with a surcharge) for extra peace of mind:
Additional security kit comprising steel locking bar rods and slam-shut latches to increase the number of locking points from two to four.

De-Latch Security Locking Kit
When an electric operator is fitted the garage door only locks on the operator – the door is not locked on the locking catches fitted to the door. A delatch kit will engage the locking catches on the garage door as well providing a further level of security
Anti-drop device:
To prevent the door from crashing down in the event of a spring or cable failure.
Zinc-coated torsion spring:
For durability and a clean, finished look.
Cast alloy cable drum.

Canopy Gear - The canopy gear allows the door to travel in vertical tracks and is counterbalanced by an overhead torsion spring.
The nominal drive through clearance is 40mm less than the opening width and 130mm less than the opening height.
In the open position, the door projects approximately one third of the door height, forming a canopy.

Single canopy doors come complete with:
> Anti drop device to prevent the door from crashing down in the event of a spring or cable failure.
> Zinc coated torsion spring for durability and a clean finished look.
> Cast alloy drum
> 2-Point Locking to prevent unauthorised entry.
> Design handle for safe door operation.

Garador Canopy Doors Measuring Information, please click here >

Retractable Gear - The retractable gear allows the door to be retracted inside the garage when open by means of horizontal overhead tracks supported by wall or ceiling mounted suspension brackets. This gear is available as an option for single doors and comes as standard with double garage doors.
The nominal drive through clearance is 105mm less than the opening width and 110mm less than the opening height for single doors and 140mm less than the opening height for double doors.

Single retractable doors come complete with:
> Multiple spring cassette and pivot arm cover providing trap protection to reduce the risk of injuries.
> Secure parking position to prevent the door from uncontrolled closing.
> Design handle for safe door operation.
> Secure locking to prevent from forced entry.

Garador Retractable Doors Measuring Information, please click here >

To view or download the electric garage door operators pdf file, please click on the following:
Garador Garage Door Operators >
Warranty
Garage Doors: 10-year Warranty.
Replacement Parts: 6 months

The Warranty does not cover damage caused through:
> Normal wear and tear
> Improper installation
> Negligent care and maintenance
> Improper initial and subsequent operation
> Negligent or wanton destruction
> External influences such as fire, water, salts, alkaline solutions, acids, abnormal environmental influences
> Mechanical damage through improper transport and fitting
> Priming and other surface protection treatments
> Repair by non-qualified persons
> Using non-Garador parts without the approval of the Manufacturer
> Remove of the product number or making it unidentifiable
Measuring
Size Code
Internal Frame Size
On-Site Timber Frame
Width x Height
(mm x mm)
Pre-framed Canopy Door
Overall Frame Sizes Shown*
Width x Height
(mm x mm)
Pre-framed Retractable Door
Overall Frame Sizes Shown*
Width x Height
(mm x mm)
6660
1984 x 1830
2094 x 1888
2124 x 1888
6664
1984 x 1931
2094 x 1989
2124 x 1989
6666
1984 x 1981
2094 x 2039
2124 x 2039
6670
1984 x 2136
2094 x 2194
2124 x 2194
61064
2084 x 1931
2194 x 1989
2224 x 1989
61066
2084 x 1981
2194 x 2039
2224 x 2039
61070
2084 x 2136
2194 x 2194
2224 x 2194
7060
2134 x 1830
2244 x 1888
2274 x 1888
7063
2134 x 1905
2244 x 1963
2274 x 1963
7064
2134 x 1931
2244 x 1989
2274 x 1989
7066
2134 x 1981
2244 x 2039
2274 x 2039
7070
2134 x 2136
2244 x 2194
2274 x 2194
7076
2134 x 2286
-
2274 x 2344
7164
2170 x 1931
2280 x 1989
2310 x 1989
7166
2170 x 1981
2280 x 2039
2310 x 2039
7170
2170 x 2136
2280 x 2194
2310 x 2194
7176
2170 x 2286
-
2310 x 2344
7364
2224 x 1931
2334 x 1989
2364 x 1989
7366
2224 x 1981
2334 x 2039
2364 x 2039
7370
2224 x 2136
2334 x 2194
2364 x 2194
7564
2259 x 1931
2369 x 1989
2399 x 1989
7566
2259 x 1981
2369 x 2039
2399 x 2039
7570
2259 x 2136
2369 x 2194
2399 x 2194
7576
2259 x 2286
-
2399 x 2344
7664
2286 x 1931
2394 x 1989
2424 x 1989
7666
2286 x 1981
2394 x 2039
2424 x 2039
7670
2286 x 2136
2394 x 2194
2424 x 2194
7676
2286 x 2286
-
2424 x 2344
8064
2439 x 1931
2549 x 1989
2579 x 1989
8066
2439 x 1981
2549 x 2039
2579 x 2039
8070
2439 x 2136
2549 x 2194
2579 x 2194
8076
2439 x 2286
-
2579 x 2344
8666
2590 x 1981
-
2730 x 2039
8670
2590 x 2136
-
2730 x 2194
8676
2590 x 2286
-
2730 x 2344
9066
2744 x 1981
-
2884 x 2039
9070
2744 x 2136
-
2884 x 2194
9076
2744 x 2286
-
2884 x 2344
1066
3049 x 1981
-
3189 x 2039
1070
3049 x 2136
-
3189 x 2194
*No fitting clearance allowed. If door is fitted between the brickwork a minimum of 10mm clearance over the width and 5mm over the height should be added to the overall frame size when selecting the door.

Canopy Gear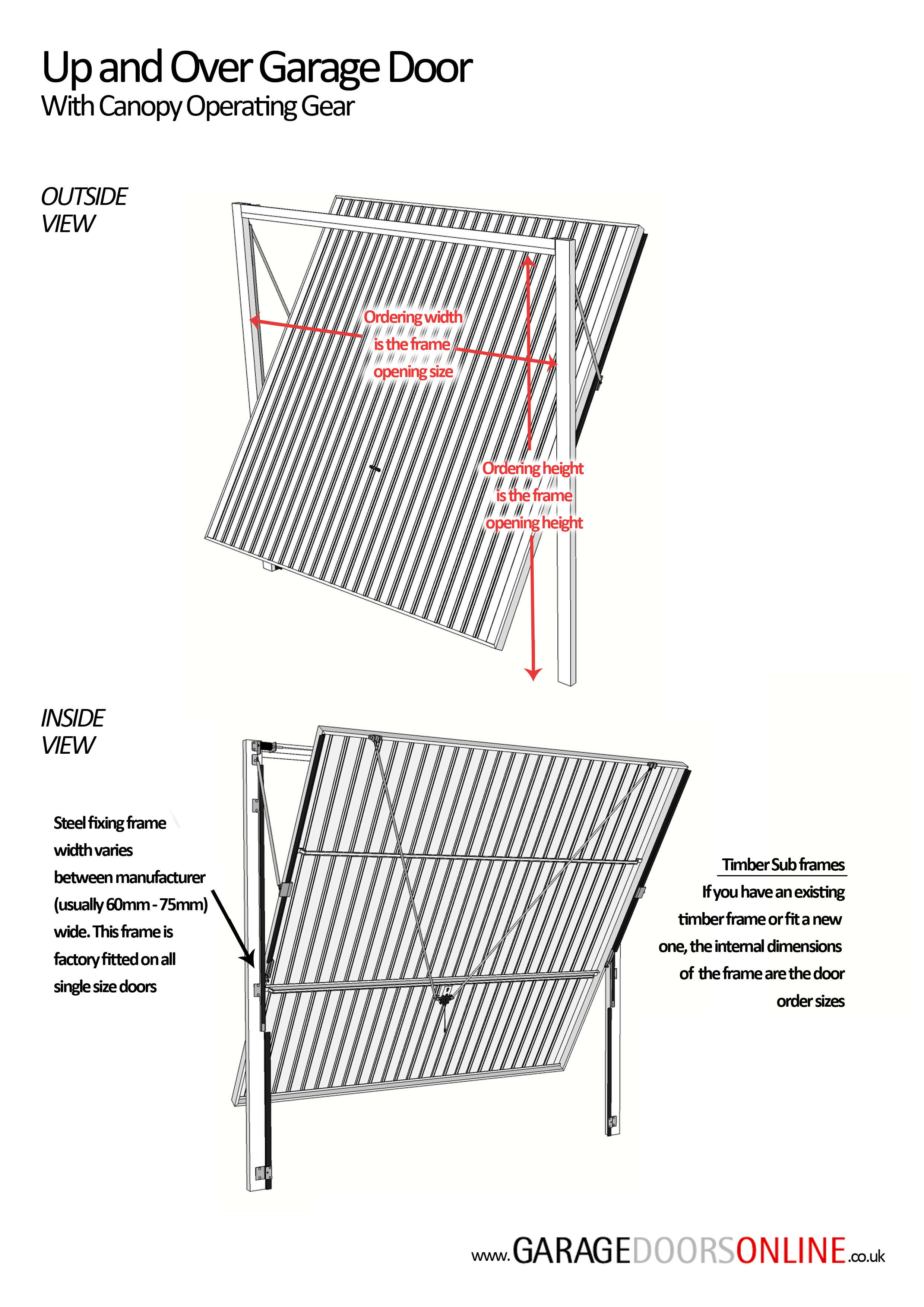 Retractable Gear