Hormann - The Original Up and Over Door
Every Hormann up-and-over door is the result of more than 50 years experience in the manufacturing of garage doors. Quality, safety, aesthetics, character, convenience and of course engineering excellence; this is why Hormann is the number 1 manufacturer in Europe for up-and-over garage doors. The vast variety of designs and styles means you're sure to find the perfect door to complement your home and give it that completed look. Everything speaks in favour of the original.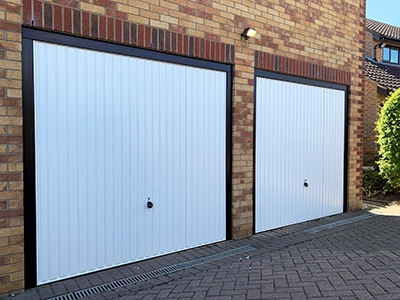 Hormann (Series 2000) garage doors are manufactured at the new Hormann factory in Leicestershire from components sourced from both the continent and the United Kingdom. All Hormann garage doors are manufactured in compliance to the Quality Management System DIN ISO 9001 and meet all the requirements of the European Standard 13241-1.
The Hormann European range of up and over doors, N80 and N500 models, are manufactured in Germany and offer a very wide range of metric sizes and unique designs in steel and timber. There are a wide range of unique designer type doors in both materials.
Certified brand quality with long-term guarentee

It goes without saying that Hormann garage doors and electric operators are precisely matched and for your safety are tested by the TUV (German Technical Inspectorate) and for compliance with the relevant latest standards.
When you buy a Hormann garage door you are buying a high quality, tested and fully compliant product that will offer years of trouble free operation. You are purchasing 'Quality without Comprimise'.
WHAT MAKES A HORMANN DOOR SO SPECIAL? | CLASSIC DESIGNS IN STEEL | NATURAL BEAUTY OF TIMBER | ELEGANT AND DURABLE GRP DOORS
DESIGN YOUR OWN DOOR | WINDOWS AND HANDLES | ELECTRIC AUTOMATION | SAFETY FEATURES | EASE OF INSTALLATION | TECHNICAL DETAILS | ONLINE PRICES>