Garador Steel Side Hinged Doors
Jump to: Designs and Colours // Handles and Windows // Ordering Sizes // Size Chart

Garador Steel Side Hinged Garage Doors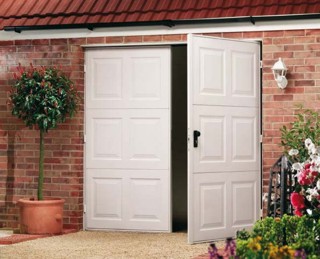 Garador produce a range of galvanised steel side hinged garage doors complete with factory fitted steel fixing sub frame at very competitive prices for such a high quality product.
The side hinged steel door range consists of 4 designs and one design available with optional windows. Each door is split in a 50/50 configuration and the leading door is always the right hand leaf as viewed from outside but you can change this if required for a small extra charge. A 2/3rd and 1/3rd split is also available on some door designs.
The doors are factory powdercoated white as standard but can be ordered in a range of optional standard colour finishes as shown below on an extended delivery time, usually about 4 weeks from order but please check if time is critical.
The doors are also available in standard or purpose made sizes as required and are always supplied with a factory fitted steel sub frame already fitted and ready to install.
The main advantage with these side hinged doors is they are delivered with the steel fixing frame and all the hinges and locks factory fitted ready for easy on site installation. Hanging a pair of side hinged doors has traditionally been a skilled carpentry job and these doors remove a lot of the time and skills required in installation, saving money and problems with hanging.

GET A PRICE NOW
Garador traditional side-hinged doors provide robust and consistently reliable performance with easy personal access. For security purposes, these doors are fitted with a lever on the outside as standard, however upgrade options are available for other lever & knob handles for ease of use, which means you always require a key to open the door.
Side-hinged doors are produced with equal sized leaves with the right hand leaf the leading leaf as standard. Different leaf configurations and/or left hand leading doors are available on request. There are 4 variations of designs for the Garador Steel Side Hinged range available in a selection of different colours from the RAL chart.
Door Designs
Georgian
RAL 9016

Beaumont
RAL 8028

Cathedral
RAL 6005

Carlton
RAL 5005
Side Hinged Door Colour Choices
Garador Steel Side Hinged Doors are available in a range of Colours, Handles and Windows. These are shown below: This range of colours are taken from the RAL colour chart to allow you to individualise your door. The standard factory finish is white RAL9016; other colours available for an additional charge and may increase delivery time.
Green
(based on RAL 6005)
Red
(based on RAL 3003)
Blue
(based on RAL 5005)
Black
(based on RAL 9005)
Brown
(based on RAL 8028)
Dark Blue
(based on RAL 5011)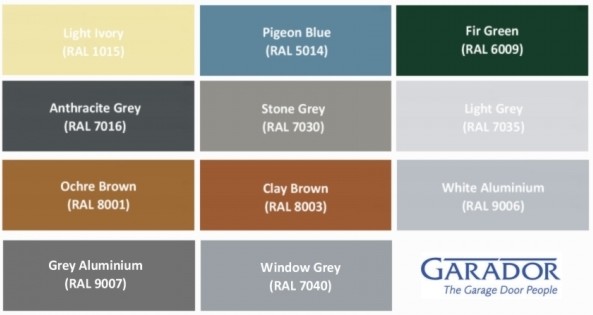 Side Hinged Door Handles
There are also 2 optional choices of lever handle options available at a surcharge. Black lever handle comes as standard. For added security, the option of an outside knob is available.

| | | |
| --- | --- | --- |
| | | |
| Chrome Handle | White Handle | Outside Knob Handle |
Windows
Windows are becoming increasingly more popular in both the British and European garage doors. This is because during the summer months when the sun is out longer, you don't need to waste money on electricity to light your garage when the natural glow from the sun does it for free!
These window options below are only available on the Beaumont style door and the actual glazing is either clear or crystal polycarbonate.

Ordering Sizes

The Garador steel side hinged doors STANDARD SIZE DOORS are ordered using the internal imperial frame size as the order size. The overall door and frame size is always bigger of course. A chart at the bottom of this page shows the exact sizes using imperial measurements for ordering the doors and the metric exact sizes of the overall width and height including the steel sub frame.

For PURPOSE MADE DOOR SIZES the overall door and steel sub frame dimensions are used, so beware when ordering!
Always allow for a fitting tolerance when fitting inbetween a structural garage opening as you cannot reduce a steel frame like you can a timber frame, we would recommend about 10mm either side and on the height too. Garador produce the door and the sub fixing frame together and everything is preassembled before delivery reducing dramatically the time for installation on site.
The sub frame also has built in weather seals to further enhance the protective properties when closed.

REMEMBER: we can also supply purpose made door sizes when required for a perfect fit, they are all available to order in our online shop.
This traditional door set up offers convenience and added privacy over an Up & Over door where full width access is not generally required. Built onto its own steel frame, these doors open outwards providing clear and unrestricted space within the garage with no internal mechanism required.
| | | |
| --- | --- | --- |
| | | |
| High Security Lock with fixed knob ensuring security every time the door is closed. (Optional extra - the lever handle is supplied as standard externally) | Internal handle providing easy operation. | Steel Hinges securely fixed to each frame and door leaf ensuring reliable function. |
| | |
| --- | --- |
| | |
| Centre Style overlap steel section with built in rubber weatherseal providing a seal between the door leaves and prevents forced entry to the locking system whilst providing the best weather protection. | Weatherstrips around 3 sides of the door to help prevent draughts and rain ingress |
Size chart showing all necessary information for the Garador side hinged steel doors. The steel fixing sub frame is always factory fitted and delivered fully installed to the door panels and ready for installation directly to the structural opening.
Order Size
Code
Internal Frame Size
(Width x Height)
Overall Door & Frame Size
(Width and Height)
6060
1810 x 1830
1930 x 1890
6660
1964 x 1830
2084 x 1890
6664
1964 x 1931
2084 x 1991
6666
1964 x 1981
2084 x 2041
6670
1964 x 2136
2084 x 2196
7060
2114 x 1830
2234 x 1890
7064
2114 x 1931
2234 x 1991
7066
2114 x 1981
2234 x 2041
7070
2114 x 2136
2234 x 2196
7564
2239 x 1931
2359 x 1991
7566
2239 x 1981
2359 x 2041
7570
2239 x 2136
2359 x 2196
7664
2264 x 1931
2384 x 1991
7666
2264 x 1981
2384 x 2041
7670
2264 x 2136
2384 x 2196
8064
2419 x 1931
2539 x 1991
8066
2419 x 1981
2539 x 2041
8070
2419 x 2136
2539 x 2196