Concealed Hinges Update- CarTeck Side Hinged Garage Doors!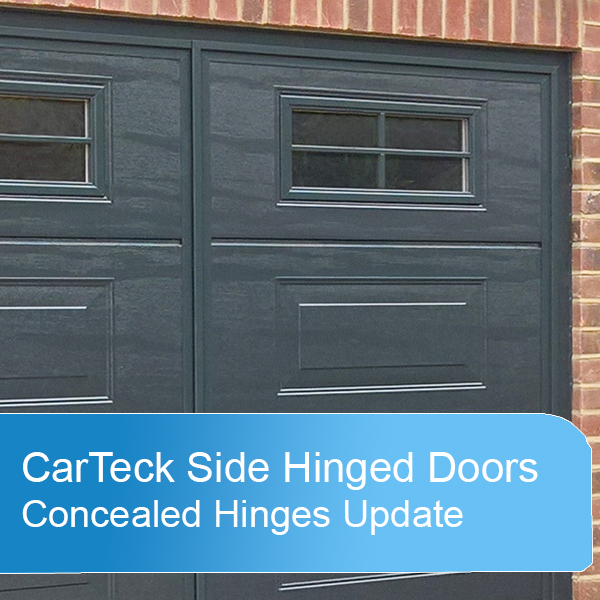 Starting from the 1st August 2023, all CarTeck Side Hinged Garage doors will be manufactured with concealed hinges as standard. For recent orders, placed just before this date, you will receive confirmation of which type of hinges your door will be fitted with.
This update brings several advantages for both installers and users:
1.
Easy trimming: With no hinges at the edge of the frame, adjusting and trimming the opening becomes a straightforward process.
2.
Simplified Adjustment: The new concealed design only requires two hinges per leaf, making the adjustment quick and simple.
3.
Sleek Aesthetics: The elimination of visible hinges creates a super sleek and modern look for the garage door.
4.
Improved Security: By eliminating hinges on the outside of the door, a common point of attack is removed, making it more difficult for unauthorized access or attempted forced entry.
5.
Increased Drive Through Width: The concealed hinges allow for an improved drive through width of up to 80mm compared to surface mounted hinges.
On top of all these benefits, as concealed hinges are standard offering, there is no additional cost to customers for this upgrade. You will receive it for FREE!! If you prefer the surface mounted hinges, please select from the drop-down options during the ordering process.
The new concealed hinges are very easy to adjust, see for yourself:
Alternatively, you could find the adjustment video here.
If you have any questions about the new upgrade product, feel free to contact our expert team at 01926 463888 or email to: enquiries@garagedoorsonline.co.uk
Back