Samson Suparolla Roller Shutter Garage Doors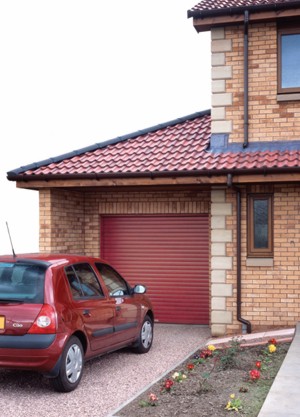 Combining space-saving vertical operation, the benefits of an insulated profile and the convenience of electric automatic operation, the Samson SupaRolla provides a purpose-built solution at excellent value for money.
The neat design of the Samson SupaRolla and hand-finished feel makes this door the ideal choice for home improvements when replacing an existing door or for a new build project. Finished to the highest quality possible, the Samson SupaRolla will add lasting value to your property as well as visual perfection. The Samson SupaRolla is available in 14 colour finishes making it a great choice, not only for any style of home, but for any visual style required either.
The superb door that comes fully automated!
The Samson SupaRolla is automated as standard which makes it easy, straightforward and convenient to use. The electric motor is covered by a five year warranty, ensuring you get optimum use and performance from it. The door is operated via a remote control and includes a large headlight which provides interior garage vision and two transmitters, allowing you to operate your garage door in the car, in the kitchen, in the garden, in the garage - anywhere within range!
The Samson SupaRolla makes it possible to make the most of your garage space and your budget. A combination of vertical opening, only 300mm headroom requird for the roll and only 75mm for each side widthways enables you to maximise the space at your disposal.
Made to measure for the perfect fit! The Samson SupaRolla is manufactured to measure to the nearest millimetre. The door has a minimum overall size of 2000mm wide x 2050mm high. It has a maximum overall size of 4800mm wide x 2500mm high.
The Samson SupaRolla is guaranteed against defect of material due to workmanship (subject to correct installation, maintenance and operation) for a period of two years from the date of purchase. The motor is covered by a five year warranty and the remote control handset and receiver by a two year warranty. The remainder of the warranty details are available on request.
The Samson SupaRolla is available in 14 standard RAL finishes and one wood effect finish. Guide rails are available in mill white or brown finish; end plates are mill white finish only. Please note: the colour of the bottom slat may vary slightly from the rest of the door.
| | | | |
| --- | --- | --- | --- |
| White RAL 9010 | Brown RAL 8014 | Fir Green RAL 6009 | Black RAL 9005 |
| Light Grey RAL 7038 | Silver RAL 9006 | Anthracite RAL 7016 | Light Beige BS 08B17 |
| Burgundy RAL 3004 | Heritage Green | Navy Blue RAL 5011 | Ivory |
| Medium Oak | Teak | | |
The Samson Suparolla is available in three Textured Woodgrain Finishes: -
| | | |
| --- | --- | --- |
| Golden Oak | Rosewood | Mahogany |

Technical Specifications
Curtain: CD77 slat in White, Teak, Light Grey, Black, Burgundy, Brown, Fir Green, Metallic Silver, Anthracite Grey, Light Beige, Medium Oak, Ivory, Heritage Green, or Navy Blue.
Golden Oak, Rosewood or Mahogany woodgrain finish (not laminated).
Please note: The colour of the bottom slat may vary slightly from the rest of the door as it is an extruded aluminium with a flatter, stronger surface incorporating the bottom edge rubber safety sensor.
Guides: 75mm in mill finish, white or brown. Guide rails are available in white or brown finish, the end plates are mill finish only.
End Plates: Cast aluminium in mill finish.
Locking: 70mm axle with aluminium locking springs.
Operation: NRG motor with five year warranty. PDT remote control with bulk head light and two transmitters. Safety edge included as standard.
How to measure (click on the image below):