Seceuroguard 1001 Insurance Approved
The Seceuroguard 1001 is an insurance approved version of the Seceuroguard 1000 with a slightly higher specification and testing certification to comply with the stringent test requirements of the LPCB to offer a Level 1 rating.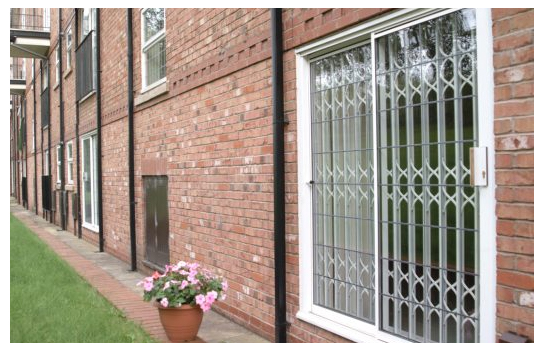 The SeceuroGuard 1001 Retractable Security Gate offers an outstanding mix of security with the elegance of the lattice style design. The SeceuroGuard 1001 is SWS's Insurance Approved design. Approval has been gained as a result of independent testing to Loss Prevention Standard (LPS) 1175 Security Rating Classification 1. The remainder of this section covers the background to what this approval and rating means in practical terms.

REMOVING THE GUESSWORK FROM PRODUCT EVALUATION AND SELECTION
How can you know which products are truly resistant to physical attack?
Appearance may suggest security, but can you be sure that a device does not contain a design flaw that will allow rapid access to the ingenious burglar? Specifiers, end-users, the police and insurers are increasingly demanding physical security products that carry an independent stamp of compliance and quality assurance.

TESTED AND APPROVED TO LPS 1175
The Loss Prevention Certification Board (LPCB), the UK's leading independent certification body for fire and security products, operates an approval scheme to LPS 1175. Approval and certification is based on the testing of a product's performance and the manufacturer's quality management systems being in accordance with ISO 9002. Installation procedures are also defined to a high standard, ensuring the product performance is not compromised by sub-standard installation. These specialist products should only be attached to structurally sound openings such as masonry, brick, steel or timber, moreover the type and frequency of fixings required is very precise. LPS 1175 is the only meaningful benchmark for gauging actual resistance in the face of a determined attack.
Passing the test regime is a tough and lengthy process that has been successfully completed by the SeceuroGuard 1001. Under the stringent conditions of a comprehensive test regime, SeceuroGuard 1001 is subjected to a variety of assaults from equipment commonly used for vandalism and breaking and entering, in order to ascertain its burglary resistance to physical attack.
LPCB approval and certification gives assurance of the SeceuroGuard 1001's construction and consistent performance to an internationally recognised standard.
Take the guesswork out of product selection - use tested and approved products from SWS.
THE POLICE PREFERRED SPECIFICATION
As a further reinforcement of the products performance, the SeceuroGuard 1001 retractable security gate has successfully undergone Secured by Design evaluation and is able to display the "Police Preferred Specification" mark.
Secured by Design identifies technical standards and evaluations which test the competence of security products and their resistance to criminal attack. The tests and evaluations are carried out by UKAS approved test houses.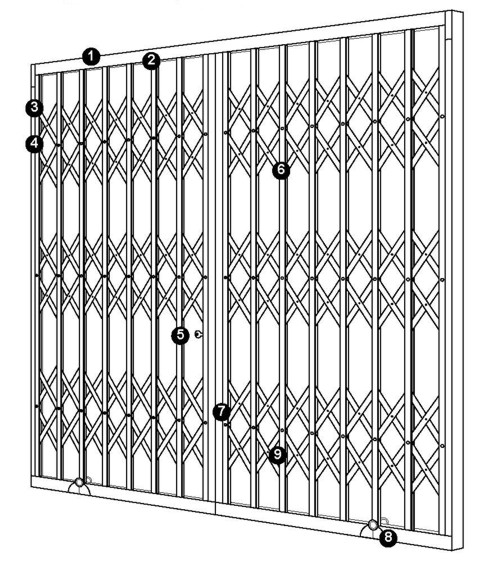 1 Top hung on nylon coated steel bearings
2 All galvanised steel construction
3 Powder coating in a range of colours
4 Fits within or around the reveal
5 4 point locking from a single key with the lock mechanism shielded by a steel plate
6 Strong steel lattice with smooth durable finish
7 Overlapped locking profiles
8 Optional folding bottom track
9 The 1001 has a specially designed lattice assembly system utilising high grade steel screws (patented).

SECEUROGUARD 1001 HIGH PERFORMANCE SECURITY, NO SACRIFICE IN APPEARANCE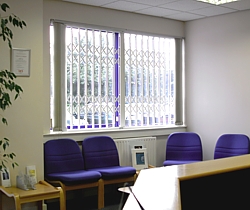 Strong - Made from galvanised steel with a patented fixing system.
Versatile - Custom built for almost any opening, gates fit internally in either the window reveal or around the opening in either single or double-sash configuration
Ease of use - Smooth top running operation with an option of a folding bottom track to leave doorways unobstructed
Secure - Multi-point locking (4 point in most cases, with three point on smaller gates) operating from a single key which is out of view of potential attackers whist remaining easy to operate from either side
High quality maintenance free finish - Supplied in high quality white powder coated finish as standard. Optional colours are available from stock
A floating sash version is available
A fixed frame version is available when retraction of the gate is not required

When extra security and strength is needed, SeceuroGuard 1001 is the insurance approved option. Stylish, yet deceptively strong, unobtrusive, essentially maintenance free and easy to use, the SeceuroGuard 1001 offers LPCB certified and approved protection.