Carteck Overview
Jump to: Styles // Finishes // Browse Sectionals
Why Would you Buy a Carteck Sectional Garage Door?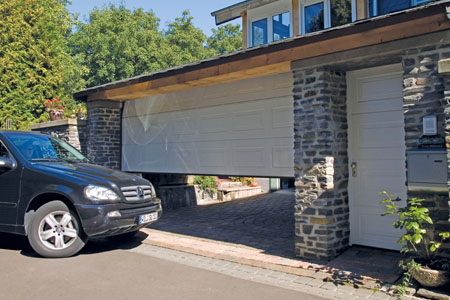 Carteck doors are manufactured by Teckentrup in Germany and their range of sectional garage doors are of exceptionally high quality. All of the doors are double-skinned, 40mm thick steel with a foam core, resulting in excellent insulation and panel strength. The operating mechanism differs from other sectional doors; the lifting springs are located at a high level in steel containers, which are above the horizontal lifting tracks and require no fixing at the front to the lintel, making this door ideal for garages with limited headroom internally or most flat roof garages. The standard headroom requirement is only 115mm for the majority of door sizes and only 140mm on the largest standard domestic door sizes, making the Carteck ideal for all garages with limited headroom internally.

An additional benefit of a Carteck sectional is the larger range of standard heights available from stock - 15 to be exact!! There are no for large infills above the top door panel and comprimises on the door height when there are this many sizes to choose from as well as purpose made sizes if required.
Security
Carteck sectional garage doors feature security as standard, with multi-latch two point locking and optional bolts on all manually operated doors. Patented, galvanised, wear-resistant hinges make the inter-locking door sections extra secure, with quadruple folded steel at all hinge fixing points for solid attachment of the hinges to the panel sections.
Each sectional door panel section is incredibly strong by design with doubleskinned, high strength, galvanised steel enclosing a rigid layer of environmentally friendly insulating foam in 40mm thick panels.
When closed, the garage door is held within the frame and tracks at ten seperate points to ensure a solid, tight fit with no obvious gaps for the opportunist thieft to attempt to jimmy. With automatic doors, it is common not to have any handle, making less points where force can be attempted.

A sectional garage door operates vertically and does not go through the opening at any point during operation. Available up to nearly 6 metres wide at almost any size, and 3 metres high, it has the versatility for many openings where traditional up and over doors just won't work – even if the opening is arched.
Rubber sealing is standard to the sides and head of the steel frame with a large rubber compression seal affixed to the bottom door panel to prevent leaves, dust, rain and the like from entering your garage.
Styles
Carteck sectional doors are available online in options of two attractive designs – Georgian panelled and Horizontal ribbed - both options available in the 40mm panel thickness as standard. Different options are available in the standard ribbed door panel designs - Centre Ribbed, Standard Ribbed and Solid Ribbed, all in one of the external finished of woodgrain, smooth (plain), stucco or micrograin. Click for details >
A woodgrain textured steel finish to each door panel is the standard, pressed into the steel panels before final powdercoat finishing.
Carteck sectional doors are available in a choice of three finishes – polyester powder coated, high grade laminate woodgrain or polymer paint finish, all giving a beautiful low maintenance, durable exterior.
Carteck sectional garage doors are built to last with a 5 year warranty on all parts, and a further 10 year warranty is given on the exterior finish, delamination, floor and side seals and material and manufacturing faults on all frame parts.
Choose from four door styles, all available with optional glazing...
The CarTeck range comes in a range of four finishes, all of which can be combined with any style or colour combination:
Solid Panels

This remarkable unribbed sectional garage door is impressive in appearance due to their puristic design. The large elements bring their own visual charm, which gives any property a modern, clean and unique look. This garage door is available in all surface styles, stylish glazing options and a wide range of colours according to your own ideas.

Available textures: Plain, Stucco, Micro-profile and Woodgrain

Centre Ribbed

As an alternative to the standard ribbed garage door, the centre ribbed design is reduced to only one rib per section. This lends to a very smooth, clean and stylish modern twist in the sectional garage door range. Available in all four finishes and colours this garage door suits every type of property.

Available textures: Plain, Stucco, Micro-profile and Woodgrain

Standard Ribbed

This elegant, in vogue ribbed garage door design is one of the most popular of the CarTeck sectional garage door range. Comprised of three evenly spaced horizontal ribs there are four beautiful and unique surface structures available for this design making it very versatile and appropriate to any type of property. Choose from the beautiful natural appearance 'woodgrain', 'stucco', 'micro-profiled' or as an eye catching, minimalist design, 'smooth'.

Available textures: Plain, Stucco, Micro-profile and Woodgrain

Georgian Panels

Attractive and stylish this sectional garage door is the timeless classic. The elegant surface with the large cassette elements gives this garage door a high-quality, impressive appearance. The beautiful woodgrain finish available as standard and there are eight different window styles to choose from to compliment your garage door choose and almost any colour you can imagine.

Available textures: Woodgrain

Georgian White finish is embossed. Georgian Wood Design texture is smooth
Four different finishes
A texture for every application...
The CarTeck range comes in a range of four textures, most of which can be combined with any style or colour combination:
| | | | |
| --- | --- | --- | --- |
| Plain | Stucco | Micro-profile | Woodgrain |
Safety
The Carteck sectional door is designed for absolute ease of operation with a unique multiple spring tension system, ensuring a very smooth and easy operation at any of the available sizes, large or small. The springs are safely housed in a steel box at high level away from little fingers and other potental hazards.
The Carteck door also incorporates a host of innovative and protective safety features to make it one of the safest you can buy. There are double springs on each side as well as multiple springing, supporting the door in the unlikely event of spring or cable failure and preventing the door from dropping, whilst still being able to operate.
Interior and exterior finger protection also feature on this door, preventing dangerous narrow openings between panel sections during operation. In addition, there is hand protection at the side of the guide rails in order to prevent accidents between the frame and the guide rail.
Finishes
The Carteck is available in many different finishes to the front face exterior. The standard finish is polyester powdercoat white with options available to have any RAL colour powdercoat finish for an additional charge.
To truly match existing Upvc doors and windows in different finishes, there are now four woodgrain laminate finishes available: Golden Oak, Rosewood, Winchester and Dark Oak. These finishes do not have a woodgrain texture in the steel finish like the powdercoated doors, but they do have a woodgrain design in the pattern on the laminate. To see a close up of the standard white woodgrain finish, click here >
Blazing Red

RAL 3000

Moss Green

RAL 6005

Fir Green

RAL 6009

Anthracite Grey

RAL 7016

Light Grey

RAL 7035

Window Grey

RAL 7040

Grey Aluminium

RAL 9007

Cream White

RAL 9001

White Aluminium

RAL 9006

Quartz Grey

RAL 7039

Deep Black

RAL 9005

Sepia Brown

RAL 6014
Three laminate woodgrain finishes are available at extra cost and delivery time:
| | | |
| --- | --- | --- |
| Rosewood | Golden Oak | Winchester |
Special satin metallic effect Trend colours:
TT 703

Grey Tone: Grey with micaceous iron ore particles.

TT 8014

Brown Tone: Sepia brown with micaceous iron ore particles.
(Note: TT9011 is priced as Wood Design and therefore does not qualify as a TREND colour promotion door)
RAL/BS colours:
If the colour you require is not available as a Trend colour, we are able to coat our standard panels to a RAL or BS colour. For doors coloured in this way, they are made and cut to size from white panels and then sprayed to the required colour.
The spraying process is of a very high standard, but will not be as uniform as the pre-coated steel of Trend coloured doors. Any variations in sheen or density will, however, be minor and may only be visible at very close proximity or at oblique angles in strong directional light. Effects of this nature should not be discernible from a distance of 3 metres - a standard set by the DHF (Door & Hardware Federation).
The surface finish is low gloss and it is customary to only colour the outer surface of the door, however the inner face can be coated to match as an optional extra.
Remote Control Operation
Any of the Carteck door options can be fitted with various remote control operators, either when you install the door or at a later stage. However, Garage Doors Online recommend using Carteck's own range of operators as well as any of the Hormann operators featured in this site - a range also giving excellent options for automation and control options.
It goes without saying that any of the remote control operators have all the very latest in safety features as standard and will always reverse in either direction if obstructed. Extra safety items can also be added if the door is near a busy public area, etc.
Guarantees
Carteck garage doors offer the following guarantees:
- 5 year 'safe and reliable operation' (provided it is maintained according to the manual)
- 5 year 'mechanical parts' (on rollers, hinges, springs, pullies and cables, max 5 open/closing cycles per day)
- 10 year 'installed parts' (all immovable frame parts)
- 10 year 'delamination' (steel coming away from the foam)
- 10 year 'panel corrosion'
- 10 year 'seal degredation'