SWS Sectional Doors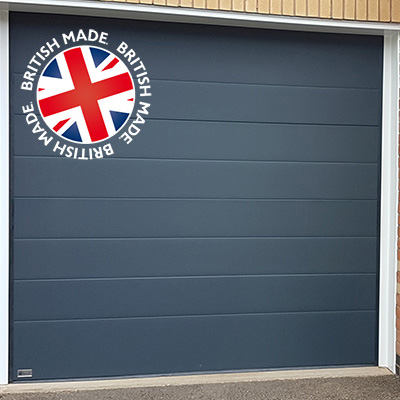 The Seceuroglide Sectional Doors are unlike any other products from other manufacturers, every Seceuroglide Sectional door is unique and made-to-measure to the mm ensuring a perfect fit.

The Sectional design makes the most of the space both inside and outside of the garage. Sectional doors open vertically, meaning you can park right up to the door.
As standard, the Seceuroglide Sectional doors are remote controlled electrically operated for maximum convenience and ease of use.
The Black Edition Motor comes with 2 Chrome Deluxe handsets. The simple design of the remote control results in a door which is extremely easy to use. Access to your garage door is as simple as a click of a button.
The Black Edition motor is mounted to the ceiling of the garage and operates quickly and quietly.
Up to 10 Year Warranty
All Seceuroglide products are guaranteed against defect of material or workmanship by SWS UK subject to correct installation, maintenance and operation for a period of 2 years from the date of purchase.
In addition Golden Oak textured woodgrain finishes carry a limited 10 year guarantee.

The Black Edition motor comes complete with a 5 year warranty. 7 Year Warranty available on the motor if registered.



Reasons to buy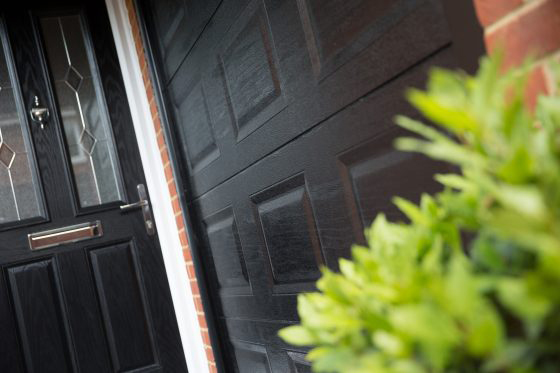 Insulated Panels
The Seceuroglide Sectional doors have 40mm thick insulated steel panels. The panel design features a high density, CFC-free polyurethane core that is sandwiched between two steel sheets in the finish of your choice, and then coated in one of the extensive ranges of colours and finishes. Even more, the panels are filled with an environmentally friendly, fire safe core.

The standard finishes feature superior performance against corrosion and weathering. The surface is easy to clean with water and natural soap, and the hard-wearing PVC film coating provides superior resistance to UV, reducing the risk of colour fading over time.

Made in the UK / Quick Turnaround
The Seceuroglide Sectional Doors are made-to-measure by skilled craftsmen in the UK, which means the turnaround for delivery is quick and your door can be installed in a matter of weeks.

Choose the perfect door to suit your needs.
| | | | |
| --- | --- | --- | --- |
| SWS Sectional - Centre Ribbed | SWS Sectional - Georgian | SWS Sectional - Unribbed | SWS Sectional - Ribbed |


Measuring for Sectional Doors
The Seceuroglide Sectional doors are split into three options: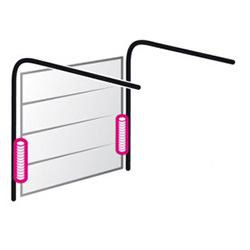 The Seceuroglide Elite Sectional Doors are suitable for openings up to 3.25 metres wide:
Manual or electric operation
Minimum side room required: 85mm
Actual drive through height (manual): DOH - 230mm
Actual drive through height (electric): DOH - 20mm
Minimum head room required (manual): 100mm
Minimum head room required (electric): 130mm

Elite - side mounted spring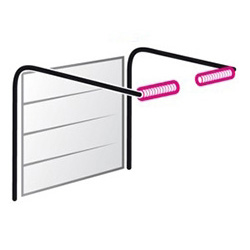 The Seceuroglide Compact Sectional Doors are suitable for openings up to 5.5 metres wide*
*(excluding the Georgian which is available up to 5m wide):
Electric operation only
Minimum side room required: 85mm
Actual drive through height (manual): N/A
Actual drive through height (electric): DOH - 85mm
Minimum head room required (manual): N/A
Minimum head room required (electric): 90mm

Compact - rear mounted spring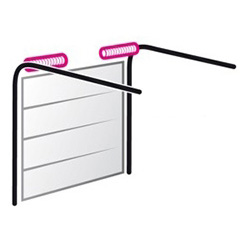 The Seceuroglide Plus Sectional Doors are suitable for openings up to 5 metres wide:
Manual or electric operation
Minimum side room required: 85mm
Actual drive through height (manual): DOH - 170mm
Actual drive through height (electric): DOH - 0mm (zero)
Minimum head room required (manual): 160mm
Minimum head room required (electric): 190mm

Plus - front mounted spring