Carteck Insulated Sectional Garage Doors

Top class quality insulated sectional doors constructed in steel, aluminium & timber.
Carteck sectional garage doors are one of the very latest garage doors for the UK available to buy through garagedoorsonline.co.uk . Manufactured in Germany to the very highest engineering standards, it is a sectional garage door combining security, style and safety.
The Carteck offers some very unique features compared to other sectional garage doors and has a spring system that is constant throught the entire range, making installation simple with a great degree of versatility in its applications.
Fast delivery for certain sizes from stock and fast delivery for made to measure sizes in standard colours.

Choose from four door styles, all available with optional glazing...
The CarTeck sectional garage door comes in a range of four finishes, all of which can be combined with any style or colour combination and an option of the surface finish on the outside.
This remarkable unribbed sectional garage door is impressive in appearance due to their puristic design. The large elements bring their own visual charm, which gives any property a modern, clean and unique look. This garage door is available in all surface styles, stylish glazing options and a wide range of colours according to your own ideas.

Available textures: Plain, Stucco, Micro-profile and Woodgrain

As an alternative to the standard ribbed garage door, the centre ribbed design is reduced to only one rib per section. This lends to a very smooth, clean and stylish modern twist in the sectional garage door range. Available in all four finishes and colours this garage door suits every type of property.

Available textures: Plain, Stucco, Micro-profile and Woodgrain

This elegant, in vogue, ribbed garage door design is one of the most popular of the CarTeck sectional garage door range. Comprised of three evenly spaced horizontal ribs there are four beautiful and unique surface structures available for this design making it very versatile and appropriate to any type of property. Choose from the beautiful natural appearance 'woodgrain', 'stucco', 'micro-profiled' or as an eye catching, minimalist design, 'smooth'.

Available textures: Plain, Stucco, Micro-profile and Woodgrain

Attractive and stylish this sectional garage door is the timeless classic. The elegant surface with the large cassette elements gives this garage door a high-quality, impressive appearance. The beautiful woodgrain finish available as standard and there are eight different window styles to choose from to compliment your garage door choose and almost any colour you can imagine. Georgian White finish is embossed. Georgian Wood Design texture is smooth.

Available textures: Woodgrain

Choose from four different finishes - there's a texture for every application...
The CarTeck range comes in a range of four textures, most of which can be combined with any style or colour combination:
| | | | |
| --- | --- | --- | --- |
| Plain | Stucco | Micro-profile | Woodgrain |
Benefits of Carteck Sectional Garage Doors at a glance: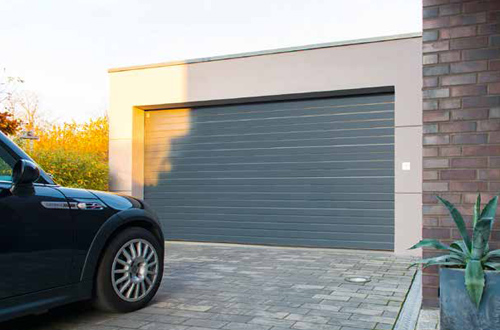 - Attractive selection of designs and colours
- Excellent security through incredible panel strength and mechanism.
- Space saving technology, vertical operation and neat spring system
- Insulation properties, safe and robust - all doors are 40mm double skinned in steel range
- Low noise operation, weathersealed all round the perimeter
- Easy installation with unique spring balance system, one of the safest available.
- Fantastic electric operation options for security, safety and convenience.
- Ideal for renovation projects with many standard sizes other doors do not have unless they are purpose made and on longer delivery times.

A sectional garage door opens vertically and does not go through the garage opening at any point during operation. Available up to 6 metres wide at almost any size and 3 metres high it has the versatility for many openings where traditional up and over doors just won't work – even if the opening is arched. A wider range is also available up to 8000mm wide and 4000mm high using heavier duty torsion springs and operating mechanism. See the Carteck Super Size sectional doors in our shop.
Carteck sectional doors feature two point locking as standard (up to 5000mm) and optional bolts on all manually operated doors. Patented, galvanised, wear resistant hinges make the interlocking door sections extra secure, with quadruple folded steel at all hinge fixing points for solid attachment of the hinges to the panel sections



Each sectional door panel section is incredibly strong by design with double skinned high strength galvanised steel enclosing a rigid layer of environmentally friendly foam in 40mm thick panels. The double skinned design gives the door panel great strength and rigidity at all sizes.
The garage door when closed is held within the frame and tracks at 10 separate points to ensure a solid, tight fit with no obvious gaps for the opportunist thief to attempt to jemmy.
The Carteck sectional doors are available online in two attractive designs – Georgian panelled and Horizontal ribbed with four variations available in the panel designs for the ribbed design doors only.



A woodgrain textured finish to each panel is standard and is pressed into the galvanised steel panels before final finishing. Smooth, stucco and micrograin surface finishes are now available for the ribbed doors with a superb range of RAL paint colour options to match almost any colour scheme.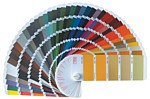 Carteck sectional garage doors are available in a choice of three finishes – polyester powder coated, high grade laminate woodgrain or polymer paint finish, all giving a beautiful low maintenance, durable exterior. You can choose from a limited range of standard colours for a small extra charge or have a door in any RAL colour to choose if required to perfectly match feature on your home.


The Carteck sectional door is designed for ease of operation at any size, opening vertically with no swing out at all, ideal for short length driveways or shorter internal length garages.
The spring tension system ensures a very smooth and easy operation at any of the sizes, large or small and is neatly contained within a steel box situated high up away from little fingers and other potential intrusions.
Flame Red

RAL 3000

Moss Green

RAL 6005

Fir Green

RAL 6009

Anthracite Grey

RAL 7016

Light Grey

RAL 7035

Window Grey

RAL 7040

Grey Aluminium

RAL 9007

Cream White

RAL 9001

White Aluminium

RAL 9006

Quartz Grey

RAL 7039

Jet Black

RAL 9005

Sepia Brown

RAL 6014

Steel Blue

RAL 5011

Umbra Grey

RAL 7022

Flecked Grey

Special Satin Metallic Effect TT 703

Anthracite Textured

7016
Wood Effects:

Carteck Sectional Doors with Windows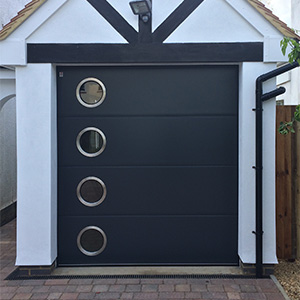 The Carteck Sectional Garage Doors are all available with a multitude of different windows. There is a wide range of window designs, including modern and contemporary round stainless steel and more traditional styles such as the rectangular cross mullion.
Latest options include windows with built in LED lighting, ask for details.
Choose from three glazing options: Clear, frosted and satin finish.