Ease of Installation
Canopy Doors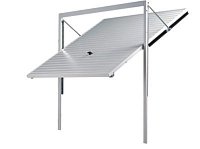 Order a Hormann canopy garage door and all the necessary parts are factory fitted for you ready to install either to an existing timber frame or delivered with the steel sub frame factory already fitted. The only part to actually fit to the door is the handle set. If you order the steel sub frame, which is always recommended, you will receive a blister pack with a set of steel brackets for installing the steel frame to the structural opening.
If you install all of these fixings there are three down each side of the frame, one at the head and two optional floor fixings.
Once the door is secured to the structural opening (or timber frame) two transport brackets can be removed and the door should operate with spring tension pre set at the Hormann factory. The handle set can be installed and after some minor adjustments you should have a smooth, easy to operate and safe new canopy garage door.

Installation Instructions for a canopy Hormann garage door (with the new canopy bow arm) >
Installation Instructions for a canopy Hormann garage door (old version) >

Retractable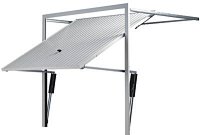 Just like a canopy door, Hormann retractables will be delivered with all the tracks, springs and operating parts factory installed. With the steel frame option, again the frame is factory fitted (only on doors up to 9 feet wide - larger retractable doors have the steel frame as a seperate pack, which is easy to assemble). The only difference with a Hormann retractable door on installation is fixing the horizontal guide rails for the top door rollers.
These tracks can be hung from the ceiling or the garage wall, whichever is closer or more appropriate. The retractable operating mechanism is perfect for remote control electric automation as the 'boom type' operator only has to push and pull directly on the top part of the panel for effortless movement. This type of electric operator can usually be installed to this type of door in less than one hour.

Installation Instructions for a retractable Hormann garage door >

HORMANN - THE ORIGINAL UP AND OVER | WHAT MAKES A HORMANN DOOR SO SPECIAL? | CLASSIC DESIGNS IN STEEL | NATURAL BEAUTY OF TIMBER
ELEGANT AND DURABLE GRP DOORS | DESIGN YOUR OWN DOOR | WINDOWS AND HANDLES | ELECTRIC AUTOMATION | TECHNICAL DETAILS | ONLINE PRICES >