Carteck Sectional Garage Doors

We are offering you a breathtaking £120.00 Off!
Offer valid on ALL Carteck Insulated Sectional Garage Doors Now!*
*When ordered with an Operator. Excludes any existing offers.
Select from the following door styles below and get your Extra £120 Off using Voucher Code: WINTER120 now!!

Carteck Centre Ribbed
Sectional Garage Door
Carteck Georgian
Sectional Garage Door
Carteck Solid
Sectional Garage Door
Carteck Standard Ribbed
Sectional Garage Door

All CarTeck Sectional Garage Doors are supplied as standard in 'Traffic' White (similar to RAL 9016) finish on the outside and 'Grey' white (RAL 9002) to the inside with white steel fixing frames. Trend colours are selected shades that have generally come to be considered as the most popular colours for garage doors. The colours are held as coated steel from which door panels are made to order. The process for creating the coloured steel involves coating the steel at the mill during rolling. As a result the finish is very uniform and has a low gloss finish.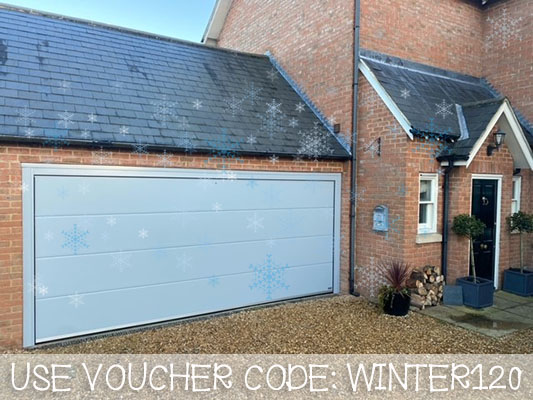 The Carteck GSW40 sectional door uses a different spring balance mechanism to most other sectional doors, meaning that the headroom requirement is only 120mm for most of the sizes, and are available up to 5000mm wide. However, unlike other 'low headroom' optional systems, the Carteck will give you a full drive-through height when fully open, using any one of their remote control electric operators.
This is a great benefit; their strength in many garages with rooms above them, flat roofs, limited headroom, or just anywhere where you want to maximise the drive-through height. The unsightly rear mounted spring used by all other manufacturers is not the way Carteck do it, preferring to use horiziontally positioned tension springs at either side instead mounted at high level for safety
Carteck also offer many more intermediate standard heights at the same price than other manufacturers do, and this will maximise the sealing and insulation by providing a door the same height as the underside of your lintel, avoiding an infill section which is not typically insulated.

OFFER ONLY VALID WHEN ORDERED WITH AN ELECTRIC OPERATOR!


Excludes any existing Offers. Offer Ends 31/01/2021