SeceuroGlide Roller Garage Doors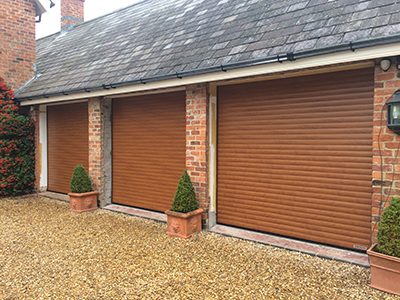 The U.K.'s original, most secure and reliable electric aluminium roller shutter garage door brought to you by GarageDoorsOnline - Manufactured in the UK by the number 1 specialist online supplier for standard and bespoke garage doors of all kinds.
The SeceuroGlide insulated roller shutter garage door is an elegantly simple, well proven door design with robust, reliable and secure features, offering excellent protection and total convenience for your vehicle and home. The door is made to order to the millimetre, creating a perfect fit and ensuring the very best use of your garage aperture.
No comprimise; order the perfect size with no extra costs involved. Simple, easy, on-site installation and set up.
The SeceuroGlide is quieter, more secure and built to be more reliable in its components than any other insulated roller door in standard form on the UK market. This is backed up by a manufacturer backed warranty of up to 7 years with 5 years as standard.
Don't be fooled by aluminium roller doors that are far less money; these are the best value for money electric aluminium roller doors you can buy today, with one of the highest specifications and unique features for any insulated roller door in the UK. Cheap insulated roller doors are not worth even a second glance if you dont want the stress when they fail.
Others may claim a lot, but deliver very little in a claimed comparible specification!
The Seceuroglide garage door is constructed from tough twin-walled aluminium slats with an insulating core, the roller door curtain is held in place with high performance webbing that provides an extremely quiet door operation. The strong extruded top slat and unique locking mechanism also effectively resists attack from would-be intruders.
The high performance weather-stripping in the side guides ensures a good level of sealing and, when closed, the garage door has excellent acoustic and thermal properties. The patented method of joining the slats together ensures a very quiet and reliable operation unlike all other roller doors using nylon or metal 'endlocks', a system used in industrial doors and very noisy in windy conditions. This tough nylon webbing also forms part of the overall security in resisting a forced attack by binding all the slats together far better than basic endlocks.
Maintenance, oiling or greasing is not required on the side guides. A rubber weather seal that is equipped on the bottom slat provides excellent weather protection, as well as housing the latest in safety edge sensors for complete peace of mind.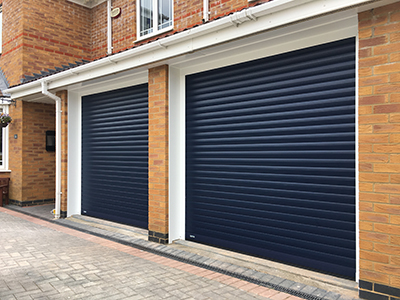 A key feature to SeceuroGlide garage doors is the vertical opening - maximising space on the drive and inside the garage. Park right up to the door, outside or inside, and you can still open or close it. The internal space requirements are also minimal, enabling maximum use of your roof space in the garage and internal space for shelving, etc.
Each roller garage door is individually manufactured to exact sizes to maximise your garage opening. The SeceuroGlide roller door is remote control, electrically operated as standard, using the SeceuroDrive motor unit. The electric motor is located inside the curtain roll barrel, meaning it does not sit outside the roll like many other roller doors, and making for a simple, neat and versatile installation. Supplied with two hand-held radio transmitters as standard and with the very latest rolling code technology, you can rest assured when your door is closed as it is only you that can open it with your transmitter. The built-in courtesy light in the control box and internal manual override are also a standard feature. Safety is a key feature; with a bottom slat sensor and anti-drop device fitted as standard on all doors, as well as additional safety photo cells that can be added if extra protection is required, i.e. if your garage is near to a public area or pathway.

SeceuroGlide garage doors now come with a SeceuroDrive motor as standard, and a 7 year warranty on the motor. The SeceuroSense receiver now comes with a 7 year warranty.


Colours Available

With options of seventeen powdercoat and five woodgrain laminate finishes, you have every opportunity to match your home exterior with powdercoated guides to match or compliment your chosen curtain finish. A further 40+ laminate woodgrain finishes are now available on request if you require lighter or darker colours than already available. Please ask for details as the availability is constantly changing.
| | | |
| --- | --- | --- |
| Fir Green | Brown | Navy Blue |
| Burgundy | Black | Light Beige |
| White | Light Grey | Heritage Green |
| Anthracite | Metallic Silver | Ivory |
| Duck Egg Blue | Graphite | Chartwell Green |
| Walnut | Natural Oak | |

Any RAL colour is now possible with a brand new painting technique from SeceuroGlide, enabling you to have almost any of the RAL or BS colours available if required.

This process is priced per square metre, so if you need a price please contact us with the relevant RAL or BS number for the colour you require.

| | |
| --- | --- |
| Secured by Design as standard | The police preferred specification has been operating since 1989 and SBD developments boast a reduction of 87 per cent in crime on new developments and are up to 75 per cent less likely to be burgled. |
| Space Saving | Tighter, space-saving coiling is created through helical collars whilst specially flanged rollers limit any lateral movement of the curtain. Leaving more space in your garage door for you. |
| SeceuroDrive | SeceuroDrive range of powerful motors make a reiable choice for SeceuroGlide roller garage doors - even better with an extended 7 year warranty. |
| Never be locked in | Every Seceuroglide comes supplied with a simple manual override crank, ensuring you will never be accidently locked in your garage - even in in a power cut. |
| Courtesy light | Making your garage a safer place when parking at night Seceuroglide utilises the tried and tested Seceurosense Plus control unit, which combines a courtesy light with both remote and push control functions. |
| Remote Control | Choose two remotes from our wide choice of remote controls with every door purchased. Open your door without leaving the car. |
| Maximum weather protection | Seceuroglide is engineered to block cold draughts and keep your garage warm and usable with guide rails that are lined with a dense brush strip and a shaped rubber seal on the bottom slat. |
| Options and Accessories | |
| Powdercoated end plates | When you order a half or full box enjoy complimentary powder coated end plates to ensure your door is fully matched. Plus, when you choose one of our woodgrain colours this is complimentary regardless of box choice and will be done in a colour closely resembling your door. |
| Low level external override kit | The low level external override kit enables the door to be opened manually in emergencies from both the inside and outside of the garage. If the garage door is the only means of entry you will require a low level external override kit. |
| Full box | A full box completely conceals the roll. This option allows Seceuroglide Original (Classic) and Seceuroglide Compact doors to be fitted outside the garage. Boxes are supplied in white or brown as standard. They can also be supplied in any of the plain colour finishes or painted woodgrain finishes for an additional surcharge. |
| Matching Guides | Now comes with free matched colour guides including painted woodgrains, to create the perfect visual appearance for your door. (Not available with Renolit Finishes). |
| SeceuroSeal | The optional SeceuroSeal helps reduce further water ingress, keeping the garage dry and clean from outside debris - even in the worst British weather. Fitted on the ground underneath the door, SeceuroSeal is ideal for garages with uneven floors or those that lie at the bottom of a sloping driveway. |