SeceuroGlide Roller Garage Doors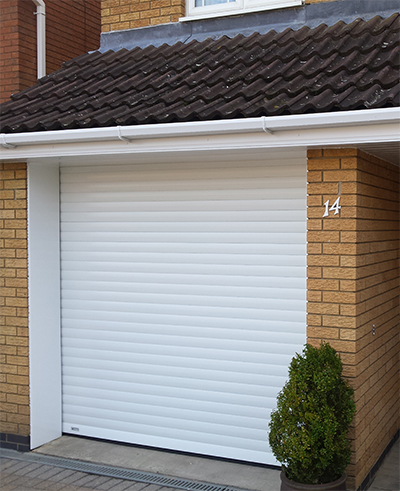 The U.K.'s original, most secure and reliable electric aluminium roller shutter garage door brought to you by GarageDoorsOnline - The U.K.'s number 1 specialist online supplier for standard and bespoke garage doors of all kinds.
The SeceuroGlide insulated roller shutter garage door is an elegantly simple, well proven door design with robust, reliable and secure features, offering excellent protection and total convenience for your vehicle and home. The door is made to order to the millimetre, creating a perfect fit and ensuring the very best use of your garage aperture.
No comprimise; order the perfect size with no extra costs involved. Simple, easy, on-site installation and set up.
The SeceuroGlide is quieter, more secure and built to be more reliable in its components than any other insulated roller door in standard form on the UK market. This is backed up by a manufacturer backed warranty of up to 7 years with 5 years as standard.
Don't be fooled by aluminium roller doors that are far less money; these are the best value for money electric aluminium roller doors you can buy today, with one of the highest specifications and unique features for any insulated roller door in the UK. Cheap insulated roller doors are not worth even a second glance if you dont want the stress when they fail.
Others may claim a lot, but deliver very little in a claimed comparible specification!
The SeceuroGlide garage door is constructed from individual double-skinned, foam-filled aluminium slats that are 77mm deep and 20mm thick, all sliding in extruded aluminium guides with absolute minimum noise, and virtually no maintenance required. The technology is derived from the millions of aluminium window shutters sold throughout Europe over the years by SWS and Alulux, the German manufacturer of these slats. The platform for basic construction was always based on security.
The high performance weather-stripping in the side guides ensures a good level of sealing and, when closed, the garage door has excellent acoustic and thermal properties. The patented method of joining the slats together ensures a very quiet and reliable operation unlike all other roller doors using nylon or metal 'endlocks', a system used in industrial doors and very noisy in windy conditions.
This tough nylon webbing also forms part of the overall security in resisting a forced attack by binding all the slats together far better than basic endlocks.
Maintenance, oiling or greasing is not required on the side guides. A rubber weather seal that is equipped on the bottom slat provides excellent weather protection, as well as housing the latest in safety edge sensors for complete peace of mind.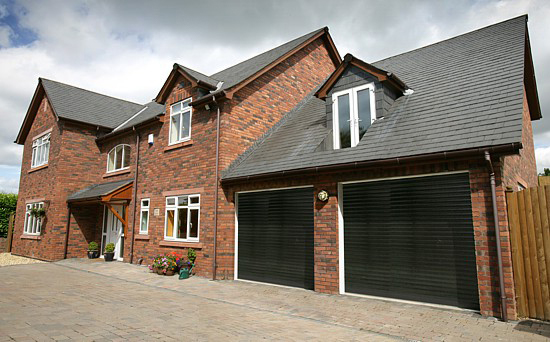 A key feature to SeceuroGlide garage doors is the vertical opening - maximising space on the drive and inside the garage. Park right up to the door, outside or inside, and you can still open or close it. The internal space requirements are also minimal, enabling maximum use of your roof space in the garage and internal space for shelving, etc.
Each roller garage door is individually manufactured to exact sizes to maximise your garage opening. The SeceuroGlide roller door is remote control, electrically operated as standard, using the SeceuroDrive motor unit. The electric motor is located inside the curtain roll barrel, meaning it does not sit outside the roll like many other roller doors, and making for a simple, neat and versatile installation. Supplied with two hand-held radio transmitters as standard and with the very latest rolling code technology, you can rest assured when your door is closed as it is only you that can open it with your transmitter. The built-in courtesy light in the control box and internal manual override are also a standard feature. Safety is a key feature; with a bottom slat sensor and anti-drop device fitted as standard on all doors, as well as additional safety photo cells that can be added if extra protection is required, i.e. if your garage is near to a public area or pathway.

SeceuroGlide garage doors now come with a SeceuroDrive motor as standard, and a 7 year warranty on the motor. The SeceuroSense receiver now comes with a 7 year warranty.
With options of seventeen powdercoat and five woodgrain laminate finishes, you have every opportunity to match your home exterior with powdercoated guides to match or compliment your chosen curtain finish. A further 40+ laminate woodgrain finishes are now available on request if you require lighter or darker colours than already available. Please ask for details as the availability is constantly changing.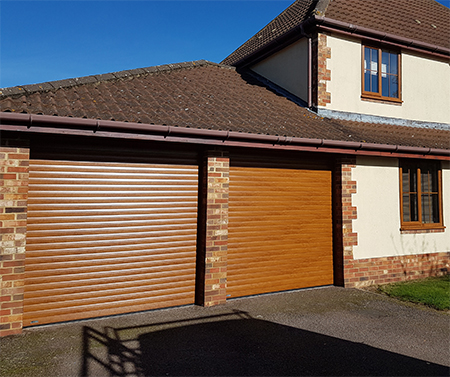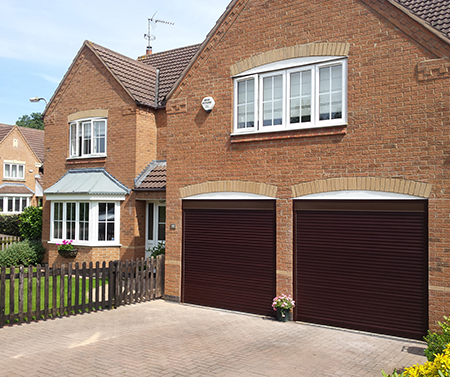 Colours Available
| | | |
| --- | --- | --- |
| Fir Green | Brown | Navy Blue |
| Burgundy | Black | Light Beige |
| White | Light Grey | Heritage Green |
| Anthracite | Metallic Silver | Ivory |
| Duck Egg Blue | Graphite | Chartwell Green |
| Walnut | Natural Oak | |

Any RAL colour is now possible with a brand new painting technique from SeceuroGlide, enabling you to have almost any of the RAL or BS colours available if required.

This process is priced per square metre, so if you need a price please contact us with the relevant RAL or BS number for the colour you require.

Seceuroglide Quality and Safety Features
Still not sure about the unique quality and safety features of a SeceuroGlide? - then read on..... We have produced a table showing standard and unique features of the SeceuroGlide roller door below:
| | |
| --- | --- |
| SeceuroGlide Roll Curtain | Unique to SeceuroGlide? |
| Alulux foam filled slat in a choice of 15 standard colours | No |
| LPC and SbD approval on Seceuroglide Excel AND now the standard Classic door | Yes |
| Doors are delivered by own transport minimising risk of damage through mishandling | No |
| All parts protected by manufacturers 2 year warranty | No |
| 10 year warranty on laminated finishes - now over 40 finishes to choose from | No |
| Packed in bubble wrap, polystyrene and cardboard to reduce potential of damage | Yes |
| Chamfered "shoulder" ensuring that water runs off and results in lower likelihood of marking on curtain | Yes |
| Double ribbed design | No |
| Webbing used to keep slats together which is stuck and screwed in place. Benefits of this are: | Yes |
| Webbing slightly increases coil diameter resulting in a quicker operating door than the endlocked version | Yes |
| The door immediately "lifts" when transmitter is activated, unlike endlocks which have to gather the slack in the curtain | Yes |
| The security is enhanced as each slat is secured in place and cannot slide out if the curtain is penetrated | Yes |
| The nylon webbing ensures that the door is quieter in operation than an endlocked door | Yes |
| Security is enhanced by using an extruded top slat to connect the rest of the curtain to the locking attachment | Yes |
| Curtain available in laminated wood effect finishes | No |
| Where wood effect is used, extruded bottom slats have the same film applied to match | No |
| Also available with a 55mm profile on the Compact version for low headroom requirements | No |
| Curtain finishes half way up end plate providing better insulation and reducing the need for the extra cost of a fascia | Yes |
| SeceuroGlide Guide Rails | |
| 75mm or 90mm extruded aluminium | No |
| Choice of colours as standard | No |
| Deep brush pile on 75mm guide offers quieter operation and better insulation | Yes |
| Double brush profile on 90mm guide | No |
| Endplates | |
| Galvanised steel endplates with three fixing holes incorporated, making installation easier and endplates more secure | Yes |
| Steel endplates have returning lug which is much stronger and less brittle than cast aluminium | Yes |
| Incorporates "u cup" for ocatagonal plate to secure barrel making installation easier | Yes |
| Can be powder coated to match guides/curtain | No |
| Available in 300mm or 350mm versions | No |
| Compact version offers 205mm endplate for low headroom requirements | No |
| Incorporate locking teeth which is an element of the unique locking system | Yes |
| Available with half box or full box | No |
| Barrel/Locking | |
| 100mm round fluted barrel used on all sizes of doors giving extra rigidity and therefore security | Yes |
| Extruded aluminium locking attachments secure curtain to the barrel. Benefits include: | Yes |
| Higher level of security compared to generic locking systems available | Yes |
| Attachments are protected by nylon collars causing less marking on curtain | Yes |
| Locking bolt locates postiviely into endplate comb minimising risk of "lift up" attacks to the door | Yes |
| SeceuroGlide Operation | |
| Remote control operation with integral light and two transmitters | No |
| Transmitters come complete with cover to prevent accidental operation | No |
| Receiver unit includes push button controls | No |
| Safety edge system detects obstructions at any point in the downward travel complying to current legislation | No |
| Spring is used as an anti fall back device to comply with legislation - these cannot be falsely activated as per safety brakes | Yes |
| System includes drawing in prevention which will stop the door operating if an item is inserted in the coil | No |
| Alarm option available | No |
| Internal manual override is supplied as standard | No |
| External manual override is supplied as an option | No |
| Powered by Somfy motor with five year guarantee | No |
| Manual operation available on standard door with mid height locking profile and grab handle | Yes |
| Manual door incorporates grab handle at the bottom of the door as well as the middle | Yes |
| Manual door uses rolling brackets to ensure smooth linear operation | Yes |
The SeceuroGlide roller door is the garage door for the 21st century. Click here to get a price, or order your SeceuroGlide garage doors online today.