Hormann Rollmatic Garage Door


Hormann Rollmatic - A revolution in insulated electric roller garage doors!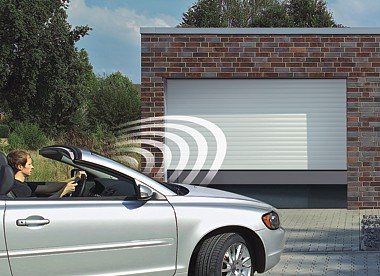 The Rollmatic is a remote control, electric operated, aluminium insulated roller shutter garage door constructed from the highest quality double skinned aluminium foam filled slats to produce a very strong, smooth external finish roller door curtain that is always purpose made to suit your garage opening perfectly.

It is remote control electric operated as standard with control of the door using any of the range of current Hormann Bi Secur access control accessories available.
Standard specification offers 2 Bi Secur remote control handsets and an internal pushbutton on a wall mounted control panel with an integrated light on the control box unit as well as a pushbutton for operation. The light will come on for a short period as a courtesy feature, ideal for the darker winter months. Manual override is a simple pull of a cord to then be able to operate the door manually as it is spring balanced, no winding handle required at all!!
What makes it so different?
The Hormann Rollmatic has been designed from the outset using the tried and tested technology of the existing Hormann low voltage 24V DC electric motor from their existing and very succesful electric garage door operators. Driving the roller door from the left hand side via a geared drive with a tension spring balance on the other side the door balance is perfect.
Because the Rollmatic door uses a 24V external electric motor, unlike nearly every other roller door which uses a tube motor requiring additional safety accessories, the Rollmatic is safe, simple and very reliable and fully compliant with all the very latest CE and construction products directives regarding remote control electric doors.
The Rollmatic is fully CE compliant with all the latest requirements governing the use of remote control electric roller doors and you should be very aware of these requirements as many roller doors are being sold throughout the UK that are not compliant and use only infra red beams as the main safety device. These are not compliant!

Many so called insulated roller doors sold are simply not strong enough, either using small, insufficiently strong slat types that are only meant for heat and light control on continental style window shutters. These roller doors will fail in the first strong winds and are flimsy and generally not fit for purpose!! No names can be mentioned, but beware!
The emergency manual override is a simple to use internal pull cord release enabling opening and closing of the door effortlessly whilst engaged rather than using a winding handle system. Of course for ultimate peace of mind consider the battery back up device offering several operations even during a power failure.
What is the standard Package?
> Internal impulse control panel with light.
> 2 hand held transmitters (HSE2 BS)
> Automatic safety cut out with obstacle detection
> Soft start and soft stop operation for minimal wear and tear
> Emergency release from inside with pull cord
> Full aluminium hood to enclose roll and provide fascia at front when required
> Colour matched guides and fascia for ALL colours even Decograin finishes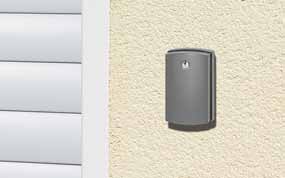 > Wind load rating Class 5 from standard storm anchors in the guides
> Integrated mechanical door security kit
> Insulated fully colour finished surface
What other accessories are available?
> Emergency exterior manual release
> Emergency Battery back up
> Acoustic door alarm security kit
> Glazing sections (maximum of 10 in door)
> Compensation Kit (fitted as standard) - to accommodate for unevenness on the building structure when fitting behind the opening.
> All the Hormann accessories for control in the standard garage dor operator range including various transmitters, finger readers, card readers, timers and many more
What standard colours are available?

The Hormann Rollmatic is finished in Traffic White (RAL 9016) as standard however the 8 colours shown below are available at no extra cost.








Light Grey
RAL 7035
White Aluminium
RAL 9006
Steel Blue
RAL 5011
Moss Green
RAL 6005






Ruby Red
RAL 3003
Terra Brown
RAL 8028
Anthracite Grey
RAL 7016
Jet Black
RAL 9005

Cream


RAL 9001

Light Ivory


RAL 1015

Decograin foil finishes in timber effect designs at extra cost

Golden Oak

- medium brown,
yellow & gold surface

Rosewood

- reddish brown
striped timber design
The inside of a Decograin curtain is always brown paint finish
New Decopaint Finishes


Decopaint Golden Oak
Decopaint Rosewood
The New Decopaint finish gives a 'wood look' but in a painted finish rather than foil coated like the Decograin doors.
Size availability:

The Rollmatic is supplied in any size from 1900mm wide up to 5000mm wide (plus the side guides) and 1900mm high up to 3000mm high (at 3500mm wide only).
These sizes refer to the internal opening size of the door (unlike other insulated roller doors) and you have to allow for the 110mm guides either side on the width and the curtain roll and hood enclosure on the order height which is either 290mm up to 2300mm high and 335mm over 2301mm high.

In our online shop you will see the sizes expressed as 'up to' and the width is first and the height second. The price given is the price up to that width and height and you can then tell us the exact size you require in the 2 boxes that follow.



Specify and Buy Online Now in our Online Shop >

Technical Details:
The Rollmatic door can be installed behind or inbetween any structural opening and as mentioned above the side guides and fascia will always be the same finish as the chosen door finish even in the Decograin finishes. The motor drive mechanism is inboard so is not an issue when installing inbetween any opening.

Installation Video



Rollmatic PDF colour brochure

The motor unit is always on the left hand side and the spring tension on the right (as viewed from inside).
Guides are 110mm each side whatever the door size is and have storm anchors built into the guides as standard
The clear drive through height is 70mm less than the ordering height of the door.

ORDERING
The order sizes for a Rollmatic refer to the inside dimensions of the guides and the underside of the hood so in other words, the daylight opening sizes.
You order a 2400mm wide and 2100mm high and you have to add on the 110mm guides each side and the 290mm hood with the roll inside (up to 2300mm) OR 335mm when the door is above 2300mm high so for this size your overall dimensions would be 2600mm wide and 2490mm high.




Still need some more images to work it out?