15 Years of GDO - 10% Off Hormann Insulated Sectional Doors

We would like to offer you an Extra 10% Off the best selling Hormann Sectional Door when purchased with a motor
Just use the voucher code: BIRTHDAYHS at the checkout
Fast becoming one of the most popular doors in the UK, sectional doors in general hold many advantages and great features, including:
- Space saving vertical operation allows you to park up close to the garage doors whilst still enabling them to open.
- All-round weather seals help protect your garage from wind and rain, whilst it can not guarantee water tightness it is certainly far better than most other garage doors.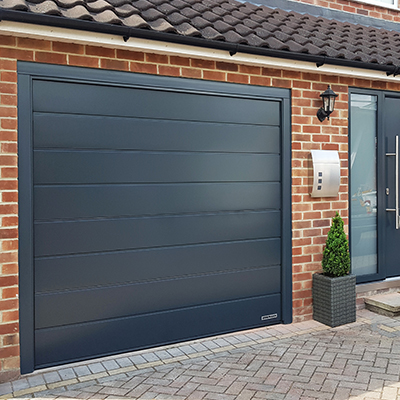 The Hormann LPU42 is a 42mm thick insulated double skinned steel sectional garage door of the highest quality construction and is the flagship sectional garage door in the Hormann range of domestic garage doors.
- Double-skinned 42mm thick insulated panels
- Available in a choice of 15 standard colours and 5 different designs
- Vertical operation for maximum height clearance potential
- Excellent value with high levels of sealing, insulation and security
- A high performance door with widths up to 16ft wide
- Up to 10 Year warranty
The Hormann LPU67 is a Thermo energy saving door with high levels of thermal insulation due to the 67mm thick sections with thermal break.
- Highest levels of insulation with thermal break
- Available in a choice of 15 standard colours and Medium or Large ribbed designs
- Energy saving door with excellent thermal insulation
- Secured by Design accreditation with electric operator
- Multiple glazing and window options
- Up to 10 Year warranty



This offer cannot be backdated or used in conjunction with any other offer, discount or future promotion.
Extra 10% Off Hormann Insulated Sectional Doors when purchased with a motor. Offer Ends: 04.01.2024
Use Voucher Code: BIRTHDAYHS